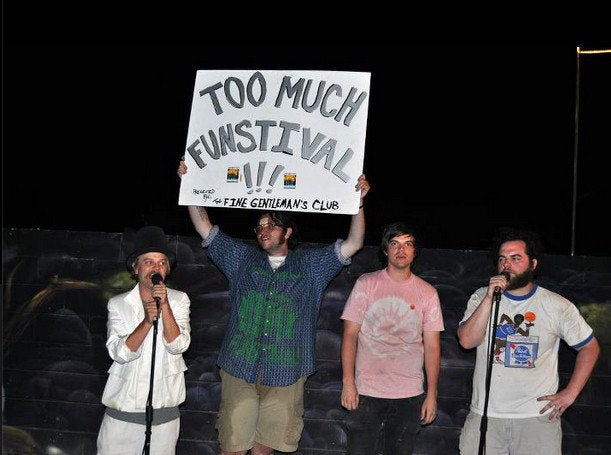 Denver's Fine Gentleman's Club, also known as Denver stand-up comedians Sam Tallent, Bobby Crane, Chris Charpentier and Natan Lund, know how to have a good time. And for the second year, the four gents, who perform a weekly show at the Deer Pile under nearly the same name of "Too Much Fun!," have brought back their Too Much Funstival comedy extravaganza to Denver beginning this Thursday.
The Funstival is packed with days of comedy goodness and if you've just discovered the booming Denver comedy scene or are a longtime fan, this a must-see.
Sam Tallent, one-quarter of the Fine Gentleman's Club, recently chatted with The Huffington Post about what to expect from Too Much Funstival in 2012.
For those that missed last years fest, what is Too Much Funstival?
Funstival is an explosion of creativity, an orgy of giggles, a clusterfuck of fun, etc. We wanted to combine all of our funny friends in Denver -- which is full of crushers, just lousy with mic minsters -- with the amazing music scene in this town. We work with lots of bands and the crossover is necessary. We all do rad, amazing shit, let's show it off, and sharing demographics is a plus. But pretty much we work our ass off producing this four-day sensory barrage, raising money via donations at shows and dance parties and the Denver comedy scene pitches in and we hassle people to donate onine and wrangle up free stuff from cool local companies like Sexy Pizza and Wax Trax and then use all these resources to rent bounce castles and dunk tanks and as much beer as we can muster and we throw a four-day party to end the Summer! its community supported in the literal sense. None of us or the performers get paid aside from hi-fives and tongue kisses. Funstival is the party you need in the best city in the union.
Who is performing and when?
Many acts are performing. We flew in Sean Patton and Ron Funches, both from CONAN, the Conan O'Brien show. Lots of great yet-to-break comics like David Gborie from San Francisco and Kevin White from Chicago. Local heroes like Troy Baxley and Hippieman are on board. And the music is nuts! It's all of our friends' bands and our friends are talented and special. Night Of Joy, Mike Marchant, Pictureplane, Bad Weather California and Wheelchair Sports Camp are just some of the bruisers on board. And we have Lucha Libre wrestling too. Because why not. Viva la raza. We don't perform, just showcase our friends. We party and host. (Scroll down for full schedule of Too Much Funstival)
How did you organize this and get everyone involved?
Denver is the best stand-up scene, pound-for-pound, in the nation. I'd put our dudes and ladies up against any city and be confident we'd hold our own. We got everyone we think is funny and fun. All these people are the weirdos you'd want to hang out with at a party. We trust them to rep this great city and we are glad as hell to be their peers. We made a list of who we wanted and then we asked. These comics are our foot soldiers for Funstival (along with the citizens of Mouth House. They are the ones that help us run the actual events. Mouth House is integral in Funstival). We are lucky and happy to have everyone we have. And compared to meeting with the city about elephant rentals (illegal in city limits, trust us we tried), booking comics is easy.
Funstival is for the people and by the people (for the freaks and by the freaks) and the entire event is donation based. We raise money at our weekly show Too Much Fun! by passing a hat. Our crowd is a gift: smart, altruistic, community minded and above all they love comedy (and having a good time). so their donations go a long way, but all the money we raise goes directly into the fest. We want it to be as free as possible, but we have to pay for plane tickets and venue rentals and dodgeballs, so some events might cost $5. All the bands and comics are working pro bono because they support what we do and we are grateful for that. if an event costs money, it's to offset something. We spend every penny on beer and water baloons and condoms and slip and slides.
For those that want to support Too Much Funstival, they can donate to toomuchfunstival@gmail.com on Paypal.
What's next for Sam Tallent and The Fine Gentleman's Club?
Next for me is the road. I'm writing this from Humboldt, California, I'm here for the SHITS and Giggles Comedy Fest this weekend. Then I'm doing a tour from Sept. 2-15 with David Gborie, Kevin White and Kevin O'Brien. We booked it ourselves like a band would. Bars and houses and "spaces" in about eight different states. DIY. Then Oct. 3 to Nov. 3 I'm going from Denver to San Francisco to New York City back to Denver in a van with my band REDvsBLACK. We are playing every night, and I'm doing the San Francisco Comedy and Burrito Festival. Then I was invited to the New York Film and Television Fest, so we booked a tour arund those fests. And hopefully November will be a tour with the Fine Gents and Harpoontang, a great local group from Denver. Hot Congress Records is going to put out my record. Fucking pumped for that! They're a killer local label. I dropped two CDs on my bandcamp this year, I had to make all those CD cases myself, so the fact that some one cool like Hot Congress is willing to put out an actual vinyl is fucking fantastic. I love the road and all I want to do is comedy and travel and lay with my head in my lovely girlfriend's lap.
Too Much Funstival 2012 Schedule:
THURSDAY, AUG. 23, outside at Meadowlark
9 p.m.
-Music from Napz Turner and the Tmmrrw Ppl
-Comedy from Ron Funchies, Ben Roy, Adam Clayton-Holland, Dave Gborie, Clare O-Kane, Hippieman, Andy Sell, Nate Balding, Kevin O'Brien and Brent The Great.
FRIDAY, AUG. 24, parking lot of City O' City
5 p.m. - 10 p.m.
-Music by Mike Marchant Outerspace Party Unit, Total Ghost, Night Of Joy, Men In Burka, Tjutjuna.
-Featuring a dunk tank and many of Denver's best comedians.
Late night
-TBA late night dance party featuring the music of Pictureplane and Hollogramz.
SATURDAY, AUG. 25 at Curtis Park
Noon - 5 p.m.-ish
-Music by Fiction Is Fun and Cougar Pants.
-Featuring kickball, dodgeball, free beer, free food -- dress for wet and prepare to party.
5 p.m. - 7 p.m.
-Music by Dream Police and Sparkler Bombs.
-Bounce Castle dinner at Mouth House featuring bounce castles, slip and slides, more food and beer.
8 p.m. - 2 a.m.
-Rock and roll at The Marquis Theater with Wheel Chair Sports Camp, Bad Weather California, Knight Sauna (School Knights/Sauna supergroup), Negative Degree, Jeff The Chef and a TBA special guest.
SUNDAY, AUG. 26, closing ceremonies at Casselmans Bar & Venue
8 p.m. - midnight
-Featuring: Lucha Libre wresting
-Comedy by Sean Patton, Troy Walker, Rob Gleeson, Troy Baxley, Alison Stevenson, Erik Anker, Cameron Vanninni, Kevin White, Kerstin Rand, Mara Wiles and Jordan Doll
-Music by Harpoontang
-Presentation of the "Funstival" trophy.
Listen to Sam Tallent's Jokelife: Vol. 1 via Bandcamp, below:
Videos, photos of the Fine Gentleman's Club and the 2011 Too Much Funstival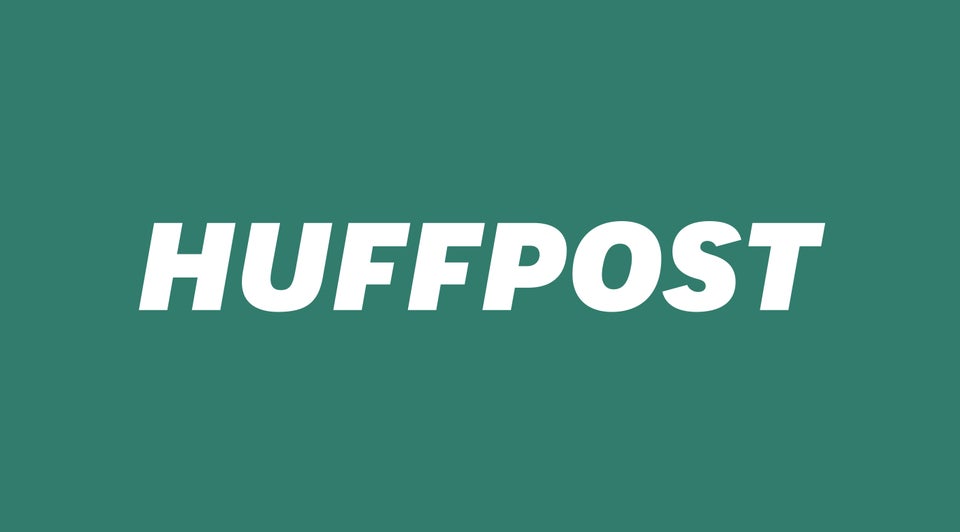 Too Much Funstival 2012
Popular in the Community