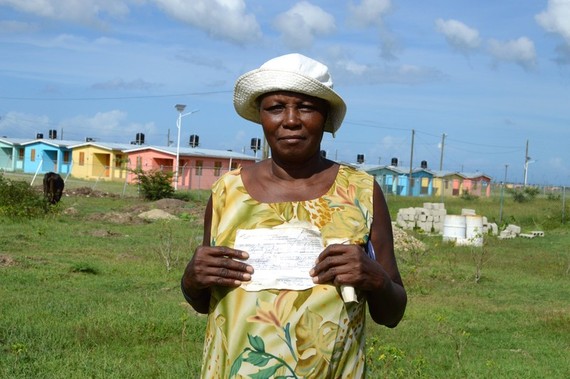 Marie Marthe Rocksaint is one of more than 1,000 farmers forced off their land when construction of the Caracol Industrial Park started
Co-authored by Kysseline Jean-Mary Chérestal, Senior Policy Analyst, ActionAid USA
In a recent piece on The World Post blog, Henri-Claude Müller-Poitevien from Haiti's tripartite HOPE Commission, was quick to dismiss criticism of the U.S-backed Caracol Industrial Park. While we agree that progress has been made rebuilding Haiti after the devastating earthquake of Jan. 12, 2010, the industrial park - part-funded by US emergency relief funding - represents a clear violation of the land rights of Haitian farmers. More than 1,000 farmers were forced off their land with only a few days' notice to make way for the park, and the crops they were growing on some of Haiti's most fertile land were dug up and replaced with concrete. At least a quarter of U.S. emergency relief money was spent on the Caracol Industrial Park, in an area far outside the earthquake disaster zone. But the farmers were not consulted before losing their land and livelihoods, and received wholly inadequate compensation, months after they had been forced to leave.
With some of the companies occupying the warehouses at the Caracol site being granted large tax breaks by the Haitian government, the actual benefit of the park to Haitian communities is vastly over-stated. Although approximately 5,000 new jobs have been created, the figure is far short of the 65,000 projected by the U.S. State Department - jobs that were supposed to be provided at the park itself, not in areas indirectly linked to the park, as Mr. Müller-Poitevien writes.
The local communities that ActionAid works with say that the location of the park has led to a big rise in the cost of food and housing. With jobs at the park paying around U.S. $5 a day, the wages on offer are poverty wages - far below what is needed to feed a family and meet their other basic needs.
The farmers that used the land were able to produce food for their families, as well as to earn an income, despite decades of under-investment in agriculture by their government. In fact, evidence from around the world shows that agricultural production growth has a greater impact on poverty reduction than any other sector.
With Haiti on the brink of another food crisis, the decision to spend a quarter of USAID emergency funds building the Caracol Industrial Park looks even more absurd.
Calling all HuffPost superfans!
Sign up for membership to become a founding member and help shape HuffPost's next chapter