On Tuesday afternoon at the Clinton Global Initiative America meeting, Chelsea Clinton is expected to announce a new Too Small To Fail campaign that will promote learning activities in laundromats. In collaboration with the Coin Laundry Association, Too Small To Fail will be providing 5,000 laundromats in disadvantaged communities with a "Talking is Teaching: Talk, Read, Sing" toolkit, containing resources designed to close the "word gap" between low-income and affluent kids.
The Laundry Project, a group that helps provide laundry services to needy families, will spread the initiative during the group's "free laundry days." Volunteers from that group, First 5 Alameda County and Encore.org -- trained by Jumpstart and the University of Arkansas College of Education & Health Professions -- will help distribute materials and engage with parents.
Volunteers from the Laundry Project read to kids. (Photo Courtesy of University of Arkansas College of Education & Health Professions)
Research shows that profound "word gaps" between poor and rich children set low-income children back before they even enter school. By the age of 3, poor children are typically exposed to 30 million fewer words than their more affluent peers.
Low-income families often spend long hours in laundromats, the organizations say. Children and their families can use those hours to engage in literacy activities instead of letting them go to waste.
"We're going to be able to reach parents and families in what is not often thought of as a critical setting," Patti Miller, director of Too Small To Fail for the Clinton Foundation, told HuffPost. "We know the average laundromat visit takes about two hours. Laundry time is valuable time for parents to engage in language activities with their kid."
Too Small To Fail plans to build new playgrounds filled with conversation prompts. (Photo Courtesy of Landscape Structures )
"We want to reach parents in the informal everyday places they go with their children," she said.
Too Small To Fail will also announce plans to build new playgrounds with Shane's Inspiration, a group that promotes inclusive playgrounds for children with disabilities, and Landscape Structures, a playground design firm. The playgrounds' structures will contain conversation prompts for families, shown below.
This post has been updated with more details about the volunteers involved with the initiative.
Support HuffPost
The Stakes Have Never Been Higher
Before You Go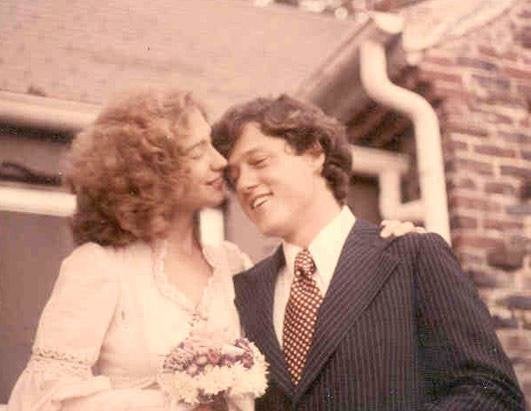 Hillary And Bill Through The Years
Popular in the Community