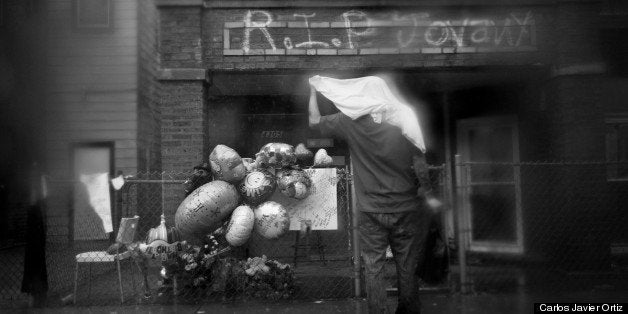 Two years ago, the names of towns like Newtown, Conn., Aurora, Colo. and Oak Creek, Wis. didn't sound all that different from anywhere else in the country — but today, for most Americans, each is synonymous with tragedy.
With the grim distinction of having the most murders of any U.S. city last year (though a number of other cities had a higher per-capita rate), Chicago, too, has become a word interchangeable for some with bloodshed — usually delivered from the barrel of a gun.
Chicago's harrowing homicide rate is a fact Puerto Rico-born, locally-based documentary photographer Carlos Javier Ortiz (@cjophoto) is well familiar with. Over the last seven years, Ortiz has poured himself into an ongoing project titled "Too Young to Die," a photo series exploring the tragedy gun violence has exacted on Chicago's streets.
(Scroll down to view Ortiz's work.)
Today, Ortiz says he feels that might just be changing.
"Everyone's paying attention to the violence now," he told HuffPost. "I think the Sandy Hook shootings were a real awakening. We've had these problems in Chicago for a long time now and it's been kind of ignored. But now people are waking up to it."
Story continues below the slideshow.
PHOTO GALLERY
Carlos Javier Ortiz's 'Too Young To Die'
Having taken over 20,000 photos for the project to date, Ortiz is now working with a designer on a book combining his photographs with a number of writings from himself as well as from families and friends of victims of gun violence. Ortiz told HuffPost he is working to secure funding to get the book printed.
He also stays in contact with some of the families depicted in his work, including the family of Siretha White, who was fatally struck by a stray bullet in the city's Englewood neighborhood while celebrating her surprise 10th birthday party in 2006. White's story is one that inspired Ortiz to pursue the "Too Young to Die" project.
On March 7 of this year, Ortiz said he attended a special family reunion organized by White's mother to mark what would have been her daughter's 18th birthday. He said seeing Siretha's brothers and sisters all grow taller, some of them beginning families of their own, taught him an important lesson about resilience.
"I think it was her [mother's] way of her saying goodbye after seven years, but also a way of saying that this is not going to stop me."
Still, even amid the increased attention on gun violence in Chicago, much of the coverage, Ortiz said, remains superficial or even sensationalizing when it comes to the underlying factors contributing to the continuing bloodshed. The answers, he said, "are all in front of us."
"It's important to find out why these people are suffering," he told HuffPost. "Why a mother, who might not have her husband at home, why is her child picking up a gun and shooting or robbing people? Is he not getting attention? Is he hungry and doesn't know what else to do? Is it the war on drugs? ... This is happening in our back yard and we're not working to help pick up the pieces. We've got to ask these questions."
REAL LIFE. REAL NEWS. REAL VOICES.
Help us tell more of the stories that matter from voices that too often remain unheard.
BEFORE YOU GO