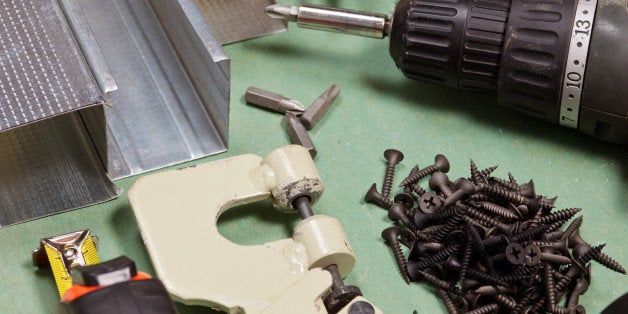 As a renter, it's important to equip yourself with tools to maintain a home. While you may not take on major home improvements, a basic toolkit goes a long way to help you accomplish minor repairs or small projects around your home. Basic tools come in handy for the entire lifecycle of your rental, from the day you move in and set up your new space, to the moment your last box is packed and ready for move out. Plus, these essentials won't take up much space and can be purchased at a low cost.
This small, low cost tool is critical in setting up your home upon move in. Use it to measure spaces in your home, make sure your furniture fits through doorways and hallways, plan the layout of your space and hang art. A 25-foot tape measure will suit most rentals and is available at local hardware and convenience stores.
Extensions Cords & Power Strips
The number of power outlets in a home is usually not the deciding factor when it comes to signing a lease and is not something that's easily altered. Fortunately, power strips and extension cords offer renters an easy fix and come at a low cost so you don't have to worry about accommodating extra lamps or electronics.
There's no need to keep a professional grade hammer around when a small lightweight hammer will suffice for any minor home improvements or interior design projects, like building furniture and hanging photos.
Assorted Nails, Hooks & Screws
Minor home repair projects can arise unexpectedly, so it's a good idea to keep an assortment of nails, screws, hooks and other accessories in your home. Most hardware stores sell these assorted items in compact packages so you won't have to worry about keeping them organized.
This handy device saves you from buying multiple screwdrivers and can assist with various projects around your home whenever they should arise.
While your phone might make for a good flashlight replacement when navigating your home at night, in the case of real emergency a proper flashlight is a must. It's a good idea to keep multiple flashlights in your home for easy access at all times if you're ever caught off guard. Even in non emergency situations, a flashlight provides a more powerful and reliable source of light and well worth investing in. You can find flashlights at low price points in battery-powered, manually-powered or solar-powered varieties.
Your phone may not be the most powerful or reliable flashlight, but it does make for an effective alternative to a physical level. You can download a free level application in the App Store or Google Play for an easy way to measure wall hangings without taking up additional space in your home.
The ultimate tool for renters, this magic compound can hold pretty much anything together, including frames, table legs, carpet, even dishes!
This lightweight putty is perfect for quick repairs to walls. You can find patching repair kits for less than $10 and since you use only a small amount for each repair, one kit will last throughout the lifecycle of your rental.