These innovations are evident both on-stage and backstage. Theatre education departments are also experimenting with new approaches as the cost of technology diminishes and social media makes online interaction more familiar to teachers, students and parents.
The proliferation of web-based broadcasting tools and other similar technologies certainly provides audiences and theaters with new possibilities, but invites questions about costs and benefits. Does the web-theatre experience somehow dilute what we in theatre most value -- "the live" aspect? And if students are trained to have these tools available at the touch of a screen, will they ever engage in the medium in the traditional sense as audiences and artists in real time?
While the jury may still be out on the impact of live performance streaming -- for example, many say the Metropolitan Opera's simulcasts are cannibalizing regional opera companies, and some theaters view the British companies' streaming programs as unwelcome competition -- the use of technology in expanding and enriching theatre education programs seems mostly positive at this point.
For several years, Impact Creativity member theatre Manhattan Theatre Club (MTC) in New York has utilized its TheatreLink platform to encourage distance collaboration between high school students in the U.S. and around the world. Students collaborate in writing and presenting their plays across state and national borders. Last spring, I had the pleasure of joining Smithtown High School East students as they watched students in Thessaloniki, Greece perform a play written by their U.S. counterparts. The post-show discussion, also streamed live, showed how much the American students got out of seeing their play produced, even if the production they saw took place 4,500 miles away and was only visible on a screen.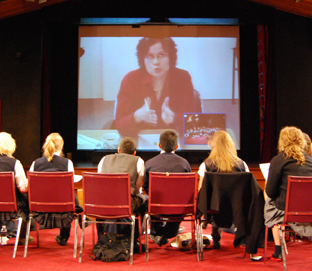 Photo: MTC TheatreLink teaching artist Judy Tate conducts a videoconference with students in Ontario, Canada

MTC Education Program Director David Shookhoff explained that the technology really serves as an enhancement tool. Students, teaching artists and teachers are still engaged in traditional theatre collaboration -- writing the plays, preparing them for production and rehearsing scenes. And of course the performance, even if it is live-streamed, is taking place live in front of an audience. The enhancement is that the technology provides the added benefit of a global platform and diverse audience for the students' productions.
"The students experience what any playwright does when they see the choices the director, designers and actors make when presenting their plays," Shookhoff said. "But now we have a multi-cultural element. When a school in Houston presented a play written in Johannesburg, South Africa, the school also got a student-produced video glossary of the Johannesburg slang used in the play."
The play written by the Thessaloniki students for their American counterparts dramatized the impact of the Greek economic crisis on a young couple. As I watched the American students rehearse a scene, one could see the reality of the Euro crisis come alive in a Long Island high school rehearsal room.
Other theaters active in projecting their programs online include Denver Center Theatre, which offers modules on Shakespeare through its e-Shakespeare program, and StageNotes, which compiles study guides based on Broadway shows and tours, among other productions. Beside the teleconferencing and streaming components, the creation and posting of curricular materials, study guides and content are also helping bring theatre resources to students and teachers who cannot attend theatre-based programs in person.
Non-profit theatre is not the only sphere optimizing technology for larger ends. Glyndwr University and Circus Starr in the UK have just launched an app that helps prepare children on the autism spectrum to attend the circus. Indeed, special needs access is perhaps one of the most promising frontiers of technology and theatre.
Access to arts education resources is one of the most problematic aspects of our school system, with wealthier schools invariably being better served than poor ones. Technology promises to help bridge that gap, as well as that of distance. Plans in place at various regional theaters include coaching students for undergraduate acting school auditions, bringing theatre teaching to rural students and many more.
Theatre education is proving to be a ripe ground for innovation whereby the integration of technology enriches, rather than diminishes, the live experience, especially for students. Share your thoughts on bridging technology with theatre and arts education on my Twitter: @bewhitacre
Calling all HuffPost superfans!
Sign up for membership to become a founding member and help shape HuffPost's next chapter