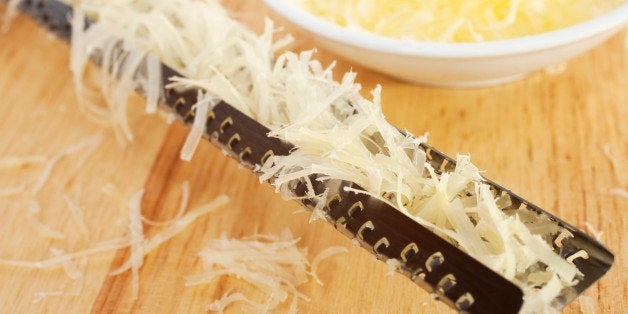 As you stroll through your local mall, you may someday be tempted by the siren call of such seductive purveyors of kitchenware as Williams-Sonoma or Sur La Table. Heck, even the housewares section of your favorite Target will beckon and whisper nowadays. Abandon hope, all ye who enter here! Your head will be a-whirl with visions of molded exotic custards and towering fantasy cakes; row upon row, shelf upon shelf of mysterious gadgets designed for who knows what purposes will parade themselves before your bedazzled eyes. Your will to resist will vanish, and you will soon be the dizzy possessor of dozens of esoteric products that will never see the light of day in your kitchen.
Stop! Take a deep breath, and let me steer you to just a few objects on those clamorous shelves, carefully curated tools that will make your life easier and your cooking skills legendary.
Who would have thought that a utensil inspired by a woodworking tool could become so indispensable in the kitchen? This recent addition to the roster of kitchen tools makes everything that preceded it obsolete. Etched instead of stamped, its razor-sharp edges make your old box grater a has-been wimp.
Want to produce perfectly fluffy and aromatic citrus zest for your key lime pie and lemon bars? Get a microplane. Need grated chocolate for the top of your birthday cake, delicate parmesan to shower on your favorite pasta, a whisper of truffle for your scrambled eggs? A scatter of nuts for your tart, ginger for your teriyaki, fresh nutmeg for your nog? That's right - a microplane.
Now that I have it, I can't imagine how I ever cooked without it. Get started with the classic zester/grater; if you get inspired, try other versions with larger and smaller holes, or shaving slots for chocolate and such.
Another indispensable item for even the most basic kitchen. And no, you can't use your blender instead. If you want to make a perfect hummus or a flawless mayonnaise, if you love salsa and sambals and relishes, if you need tons of uniform shredded carrots for your holiday cakes, you've come to the right place.
Another latecomer to the kitchen party, the food processor began its evolution in commercial kitchens and made its way into the home in the 1970s. From bread to budino, from flourless chocolate cake to latkes and spinach dip, this baby performs any number of time-saving tasks effortlessly and speedily.
Do your homework as always, read the reviews, figure out what you'll use it for, and then choose your model, features and capacity accordingly. Just make sure you add this to your kitchen arsenal.
Oh, and give your food processor its very own "baby" - a mini-processor. Ideal for chopping a couple of cloves of garlic or a handful of nuts, it handles the tasks that your full-size processor is too grown up for. And a perfectly decent one won't set you back more than $20 or so.
A few years back my sister-in-law sent me one of these, and in my foolish snobbery I pooh-poohed it, thinking it was yet another useless invention foisted upon a gullible public. Wrong! Another brilliantly simple idea that makes cooking faster and easier. Chop your onions and celery, lift and flex this supple sheet, and whoosh, right into the soup pot without a single escapee. Making a salad? Chop everything right there, mix it about, and slide it into the bowl - again, not one errant vegetable in sight. Chocolate for melting, turkey for chili, veggies for steaming - they all transfer smoothly with a bend of the board.
In further proof of their cleverness, you can get them in three-packs with designated icons for vegetables, chicken, and meat, so no fear of cross-contamination. And they're dishwasher-safe, so you can get them truly clean.
When you're ready to try out your newest acquisitions, get started with these handy recipes...
Roasted Brussels Sprouts w/ Turkey Bacon & Shallots
This tasty preparation will make a believer out of all those family members who claim to "hate" Brussels sprouts!
2 lbs. small to medium Brussels sprouts, trimmed & halved
2 large shallots, peeled & coarsely chopped
1/4 cup blood orange olive oil
1 tablespoon microplaned blood orange zest
1 teaspoon ground cumin
3 slices turkey bacon
Slice turkey bacon into half-inch pieces; saute until crispy. Drain on paper towel and set aside.
Toss Brussels sprouts and shallots with orange olive oil & zest, sprinkle with cumin. Arrange in a single layer on a foil-lined sheet pan with cut sides down. Roast in a pre-heated 400 degree oven for 20-25 minutes, until they are tender and easily pierced with a knife, but not mushy.
Add salt & pepper to taste and garnish with bacon bits.
When you're craving an old-fashioned tuna sandwich, or a classic chicken salad, nothing beats this easy-to-make homemade mayo...
1 whole 'pastured' egg
2 'pastured' egg yolks
1 rounded teaspoon dijon mustard
1/2 teaspoon kosher salt
1 tablespoon fresh lemon juice (preferably Meyer lemon)
2 teaspoons microplaned lemon zest
1 1/2 cups best quality delicate olive oil or salad oil -- all one kind or a
combination (I use half olive oil and half safflower oil)
White pepper to taste
In a food processor using the metal blade, process the egg, yolks, mustard and salt for fifteen seconds. Add lemon juice & zest, and process another ten seconds. Finally, with the processor on, in a very thin stream pour in the oil through the tube on top very slowly until the emulsion forms. You can add the rest ever so slightly faster.
When oil is completely added, stop machine and check for flavor and consistency. Add the pepper to taste. You can add more lemon juice for flavor and a few drops of water to lighten the mixture if it seems too stiff. Pulse several times to incorporate the new ingredients.
Keep refrigerated. Makes about 2 1/2 cups.
A version of this post appears in my "Kitchen Matters" column in Better Nutrition Magazine.