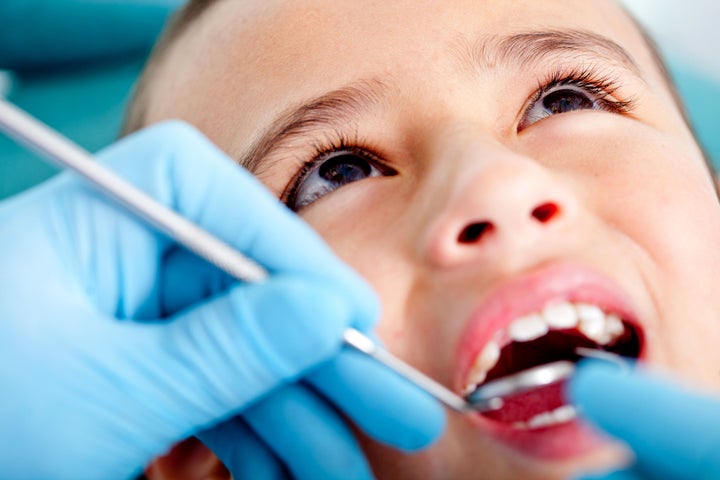 A recent New York Times article has parents of toddlers and young kids running for their Crest tubes -- it says that tooth decay in kids as young as 2 is becoming more and more common. Dentists regularly see preschoolers with ten cavities at a time, and the problem is "so severe, that many kids require that they often recommend using general anesthesia because young children are unlikely to sit through such extensive procedures while they are awake."
The Times spotlights Devon Koester, a 2-and-a-half-year-old, who had 11 cavities in 20 of his baby teeth. His dentist had to extract two incisors, perform a root canal on a molar, and put fillings and crowns on the remaining teeth.
And Koester isn't unique. The LA Times reports that over 50% of children will have some tooth decay by the age of 5 and that oral infection is the number one chronic disease in kids.
Dentists say the reasons for this growing issue aren't hard to pinpoint. According to The Times, severe tooth decay in young kids can be caused by:
"...endless snacking and juice or other sweet drinks at bedtime, parents who choose bottled water rather than fluoridated tap water for their children, and a lack of awareness that infants should, according to pediatric experts, visit a dentist by age 1 to be assessed for future cavity risk, even though they may have only a few teeth.
Dr. Nancy Snyderman, NBC's chief medical editor spoke to the issue yesterday morning on the "Today" show. She said that while brushing twice a day isn't a new recommendation, many kids don't get into this habit. Mom of Owen Wilford, 5, who had two cavities in two weeks, said her son hating brushing his teeth, so it was a battle. Snyderman points out, it's a battle worth fighting.
She offers advice to avoid decay in children's teeth:
"Besides brushing, if you want to limit your child's problems, limit the number of cavities, well, guess what? Sit down, cut down on the snacks, all the sweet stuff -- raisins, which parents pack have a lot of sugar in them. And tap water is a great natural source of fluoride. We have turned to bottled water increasingly, good old-fashioned tap water is great."
Kathleen Roth, president of the American Dental Association, told ABC News in 2007 that because parents give kids so much juice and bottled water, they're not getting fluoride from tap water that "has traditionally kept kids' teeth strong." Roth reiterates that fluoride is crucial in preventing dental disease.

Popular in the Community