Terminals that evoke the 1970s and standard boarding gates may not seem like the best places for a photo shoot at first glance. But airports across the world are increasingly improving their terminals by populating them with enticing attractions like life-size artwork, zen gardens and performances. So, the next time you're at the airport waiting to board or connecting between flights, look around. The perfect photo opportunity may be just around the corner.
Cheapfights.com scouted the best airports for an impromptu airport photo shoot. Grab your friends (or your selfie stick) and say cheese.
Denver International Airport, Denver, Colorado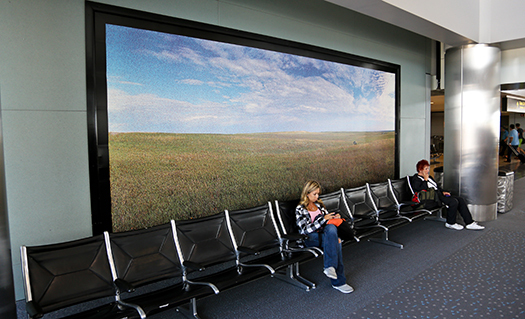 Image: Photo courtesy of Denver International Airport
Denver International Airport's art and culture program features 30 works, including sculptures and murals. Part of the airport's permanent art collection, "Art Chronicles" by Alex Sweetman, is a photo series based on the construction of the airport. There are seven gigantic photo murals chronicling the airport's development installed in the east and west ends of the C gates that make great backdrops for documenting your visit to Denver.
Incheon Airport, Seoul, South Korea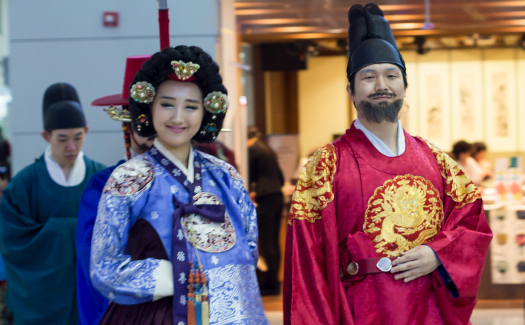 Image: Joel Riedesel, Incheon Airport via Flickr CC BY 2.0 A roving procession of costume-clad performers at Incheon Airport is too irresistible not to Instagram. The royal procession, a costumed group of performers reenacting the royal family from the Joseon Dynasty, walks around the Duty Free area, third-floor passenger terminal and Korean Cultural Street located in the passenger terminal four times a day. If you miss the group, take a stroll along the Korean Cultural Street, which features replicas of giwa (traditional tiled roof houses) and jeongja (pavilions) on the fourth floor of the passenger terminal.
Changi Airport, Singapore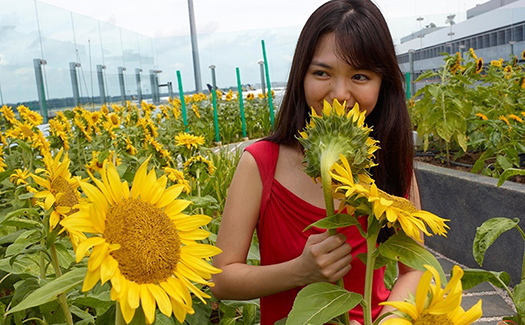 Image: Changi Airport Group
From the Butterfly Garden on levels two and three in Terminal 3 in the departure transit lounge to the rooftop swimming pool on level three in Terminal 1 in the departure lounge near the D gates, there are seemingly endless options for photo ops at Changi Airport. Our favorite spot is the Sunflower Garden with 500 beautiful sunflowers grown in Changi Airport's very own nursery on level three of the departure transit lounge in Terminal 2.
Vancouver International Airport, Vancouver, British Columbia, Canada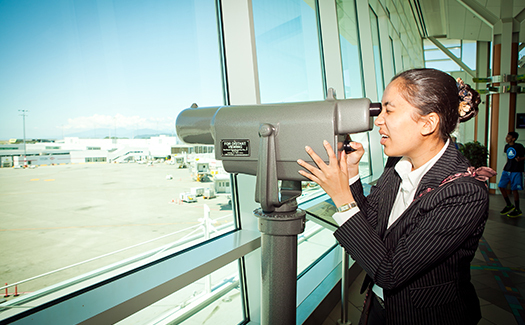 Image: Vancouver International Airport
Thanks to its pre-security location, the interactive Public Observation Area at Vancouver International Airport is a popular attraction for both travelers and the general public. Located on level four of the domestic terminal, the Public Observation Area is not only a fun place to pass the time, but an ideal spot to take dramatic photos of the airport at work and the beauty of Sea Island through massive floor-to-ceiling windows.
Amsterdam Schiphol International Airport, Amsterdam, Netherlands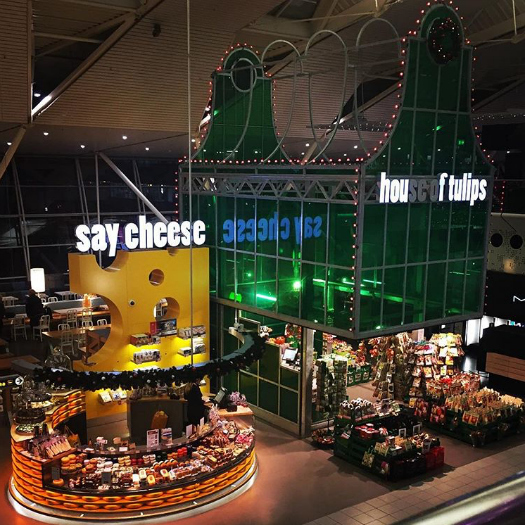 Photo: Instagram.com/LesleySillaman
Located in Terminal 3 at Amsterdam Schiphol International Airport, the House of Tulips is an architectural wonder that is as fun to admire as it is to pose in front of. The awe-inspiring structure represents two iconic Dutch structures: a typical townhouse façade and the ubiquitous greenhouse. To the delight of travelers, the giant green glass house lifts up via a hydraulic system at the start of each day to reveal a bustling and colorful flower market beneath.
Dubai International Airport, Dubai, United Arab Emirates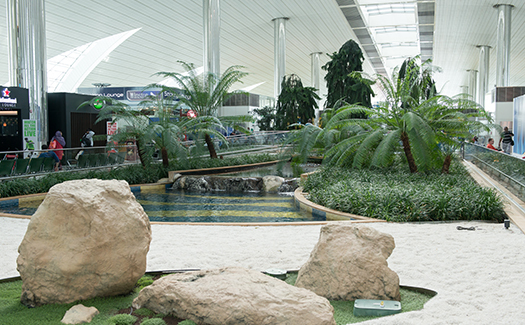 Image: Dubai Airports
Enjoy a moment of zen - and incredible photos - at the Zen Gardens in the sleek, modern and expansive Dubai International Airport. The lush greenery and calming gardens are peaceful oases located near Gate B7 and Gate B27.
Wellington Airport, Wellington, New Zealand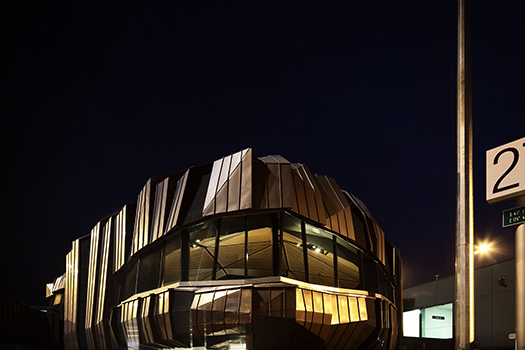 Image: Wellington Airport International Terminal 'The Rock'
Wellington Airport's The Rock, a copper encased international passenger terminal that reflects the local sea-battered coastal geography, has won many architectural awards. The architectural marvel is a sight to behold and one worth capturing at any angle from both the outside and the inside.
Chicago O'Hare International Airport, Chicago, Illinois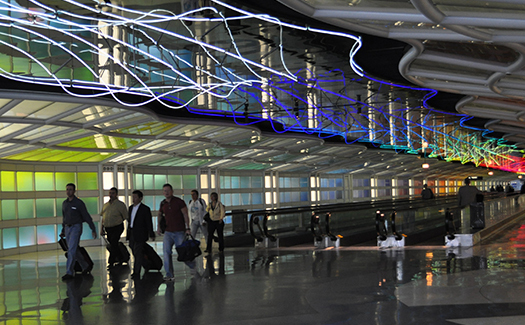 Image: Chicago Department of Aviation (CDA) Part of Chicago O'Hare International Airport's public art program, "The Sky's the Limit" by Michael Hayden is a one-mile long piece of artwork that is worth arriving early to see. The public art program has dozens of sculptures, paintings, murals and exhibits that rival the area's art museums. "The Sky's the Limit" is a kinetic sculpture crafted from 23,600 square feet of mirror reflecting over 466 neon tubes in a kaleidoscope of colors. The rainbow-hued setting is located after security in the tunnel connecting Concourse B and Concourse C in Terminal 1.
Beijing Capital International Airport, Beijing, China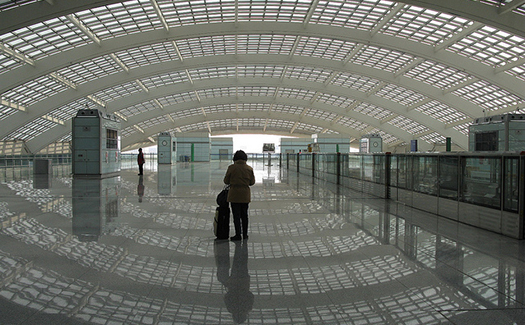 Image: Caitriana Nicholson, Beijing Capital Airport via Flickr CC BY-SA 2.0
The vast, two-mile long Terminal 3 at Beijing Capital International Airport might seem like a minimalist location for a photo shoot, but there is no need for fancy filters or editing here. The dramatic natural light created by sunlight shining through the mesh ceiling is enhanced by red and yellow artificial light, creating the perfect color filters for travel portraits.
Hamad International Airport, Doha, Qatar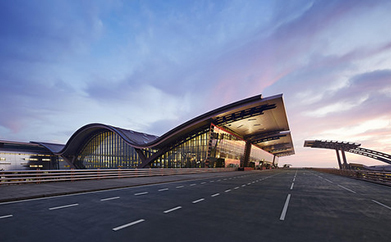 Image: Hamad International Airport
You won't find a picture-perfect postcard backdrop within Doha, Qatar's Hamad International Airport. But step outside and you'll find the airport's ultra-modern steel and glass exterior is the perfect setting for a selfie. The airport terminal, which resembles ocean waves or sand dunes, evokes the landscape of Qatar and is a fitting setting for a last-minute photo before liftoff.