For lovers of art and design, a travel itinerary should always include a good bookstore among its listings of local museums and art galleries. After all, a great bookstore is often a destination unto itself. Here are of ten of the most sensational bookstores around the world where the selection of books on contemporary art, design, architecture, fashion and photography is unsurpassed.
Japanese glossies and international art titles stack up on tables and fill wall racks in a long row known as "Magazine Avenue" at this enormous bookstore. Branching off to the right, an excellent assortment of design and architecture books offers an afternoon's worth of browsing, while the art section on the other side is filled with fabulous rare finds. Brimming with style, the architecturally stunning three-building complex also houses two cafes.
In a chic corner of Mitte, the cultural heart of the former East Berlin, a wonderfully curated collection of books, journals, and magazines is carefully arranged in a shoebox of a shop. The main wall is covered in an ever-changing tableaux of esteemed international titles like L'Officiel, Numero, and Apartemento as well as independent, freshly launched editions, while the back table features a hand-selected cache of contemporary art, architecture, photography, and design books.
Beyond the dynamic orange facade of this vibrant bookshop on Paris' Canal St. Martin, a smorgasbord of colorful tomes invites a lengthy browse. Dedicated to art and design, the spectacular selection ranges from books about fashion and photography, to graphic design and landscape architecture, to graffiti and urban art.
Founded 38 years ago by Sol Lewitt and Lucy Lippard, this revered New York non-profit features over 37,000 titles by artists and small presses. In the midst of the Chelsea gallery district, the street level storefront houses a precious stock of limited edition publications, out-of-print materials, and rare books by celebrated artists and emerging creatives.
With a loyal customer base of industry insiders and discerning bibliophiles always on the lookout for a new gem to add to their burgeoning book collections, this esteemed store stocks a massive trove of new and used books on art, fashion, photography, film, design, and architecture. Its new location in the Helms Bakery complex provides a bright, airy space for perusing rows of metal shelves full of exquisite books.
Beyond a magical secret courtyard, arched windows offer a glimpse into a book lover's paradise in central Vienna. Run by former literature student Lia Wolf, the enchanting bookstore is chock full of beautifully bound hard-cover art classics as well as newly pressed volumes from an international array of photography, advertising design, graphic design, typography, and fashion book publishers.
Sifting through Artland Book Company's massive trove reveals titles like "World Shopfront Design," "New Brazilian Gardens," and "One Hundred Seashells." The art book importer has been offering the most comprehensive collection of art and design books in Taiwan since 1985, and it's all arranged in a sleek, luxurious, den-like space.
A groundbreaking initiative with roots that go back to Canada's 1960s conceptual art scene, Art Metropole is hallowed ground for media art devotees. Initially established to archive and document "pictures," the venerable non-profit has evolved into an eclectic venue where art events and exhibitions take place among an exclusive stock of artist-created books, publications, videos, and audio recordings.
From Kenzo to Brancusi, this long-standing, family-run livraria features a wide range of books on art and design icons. Publishing heavyweights like Assouline, Rizzoli, Taschen and other international presses line the shelves of the industrial-chic space accessible by a ring of the doorbell. Past Freebook's edgy facade, a private library stocked with Sao Paulo's most amazing selection of art and design books awaits.
Owner Rania Naufal opened her elegant and inviting bookstore in Beirut's Mar Mikhael neighborhood five years ago. Eye-catching children's books, graphic novels, and travel guides compliment her excellent collection of art and design titles, which fill the floor to ceiling shelves on one wall, while across the room, two hundred magazines sweep down the length of the shop. She also serves coffee, tea, and homemade cake.
Explore more of ARTPHAIRE's Top 10 lists here.
--Celeste Sunderland has lived in New York, Berlin, Paris and the San Francisco Bay Area. A graduate of The University of Rhode Island's Journalism School, she spent nearly a decade working in digital media production, and has been writing professionally for print and online publications for over fifteen years. In addition to writing for ARTPHAIRE, Celeste has her own blog Tidepooler.com, Inspired by a photograph by the German photographer Olaf Otto Becker.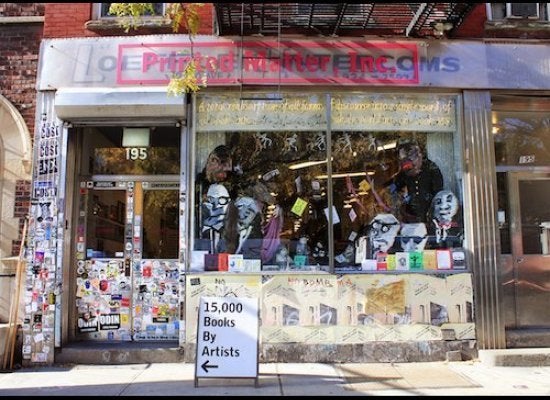 Top 10 Art & Design Bookstores
Popular in the Community