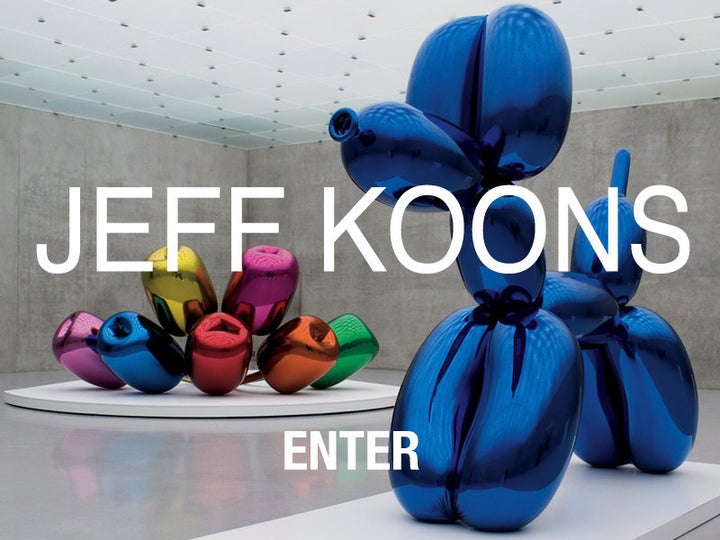 Sure, everyone knows Koons' greatest hits, like the thousand-plus-flower "Puppy," the balloon dogs, and the titillating self-portraits with his porn-star ex-wife Cicciolina. But the artist's comprehensive Web site includes copious images of lesser known treats, like his tiny stainless-steel Bob Hope sculpture, a 1979 coffee pot, and his 1986 "Mermaid Troll."
One enters Martin Creed's site by clicking through a wardrobe. Inside, there is music, video, and an ordered list of his numerically-titled works. In addition, Creed's online store lets fans buy dozens of items, from a $232 paper ball to a $.99 MP3 called "nothing."
8. AA Bronson, aabronson.com
Bronson's old collaborative group, General Idea, is enjoying newfound critical acclaim, and he has plenty of information for interested parties on his site, including a link to a General Idea screensaver.
Known for painting fish, leaves, and his name (over and over again), this New York-based painter has been rigorously documenting every one of his works on his Web site for 10 years. The output can be sorted by year and medium, and many are photographed with a catalogue number, like criminal suspects being booked at the local precinct.
Richter is the oldest artist to make this list (he's 78) and the most established in the art-historical firmament, but he's not content to rest on his laurels. His site contains a breathtaking array of documentation of his work (including his massive "Atlas" series of images), videos with scholars like Robert Storr, and a link to a Twitter account that shares Richter news as it happens.
While the archives on the site of one of America's greatest painters are only current up to 1992, the quality of the images is first-rate and the selection is astounding. Paintings can be searched by title (which is perfect, given Ruscha's verbally-memorable subjects) and there is even a section for works that have gone missing.
4. Olaf Breuning, olafbreuning.com
This site is about ten times more fun than it needs to be: it includes a rollicking introduction, a blog entitled "A Man's Boring Life," and strange drawings of five-headed dragons. Oh, and there's plenty of images of Breuning's consistently silly sculptures and installations.
It is perhaps no surprise that this tech-loving Dane also happens to have a well-equipped Web site, notwithstanding its dubious ".net" extension. Eliasson's has images dating back to 1990 and includes a few choice views behind the scenes of his studio. A selection of catalogue texts by the artist, which would normally require serious library work to track down, are available on the site -- quite a bonus.
Like a smart saleswoman, this Gilmore offers a tantalizing glimpse at what she has to offer -- her site has clips of more than 25 video-performance pieces she has done -- but cuts off the samples right before one has a complete sense of what is taking place, leaving the viewer wanting more. Luckily, the artist has become a staple of group shows everywhere, so fans with piqued interest won't have far to look.
1. David Shrigley, davidshrigley.com
This Glasgow-based master of the faux-naive drawing has everything you would expect on his site: images of art, a CV, information about upcoming shows, and so forth. But he also has photographs of fans that have tattooed themselves with his art, details about a skateboard park he decorated, and a very strange "help desk." Hours and hours of enjoyment.
Related
Popular in the Community