Even when Americans do manage to pull themselves away from work to travel domestically or to cities abroad, they manage to remain plugged in just in case the boss needs a report written or a last-minute project completed. This defeats the purpose of a vacation--leaving work and worries behind to relax, de-stress, and unwind.
The fact that Americans skimp on time-off means that vacations need to be relaxing and restorative rather than hectic: No more running from city to city only to return home needing another break. It also means that the barrier to entry has to be lowered.
Planning a vacation can sometimes be a hassle. Handling details like where to eat and which activities to sign the kids up for is stressful. Therein lies the beauty of the all-inclusive resort--a place where food, drink, sports and other activities are made more accessible.
From Mexico and Barbados to Aruba and the Dominican Republic, here are the top Expert Rated all-inclusive beachside resorts where you can unplug and unwind.
1. Azul Beach Hotel, Puerta Morelos, Mexico
Expert Rating: 4.85/5 stars
Number of restaurants: 4
Number of bars/lounges: 4
Number of pools: 3
Number of rooms: 98
2. Dreams Resort, Los Cabos, Mexico
Expert Rating: 4.75/5 stars
Number of restaurants: 5
Number of bars/lounges: 5
Number of pools: 3
Number of rooms: 308
3. Casa Velas Resort, Puerto Vallarta, Mexico
Expert Rating: 4.75/5 stars
Number of restaurants: 2
Number of bars/lounges: 2
Number of pools: 2
Number of rooms: 80
4. Le Blanc Resort, Cancun, Mexico
Expert Rating: 4.65/stars
Number of restaurants: 5
Number of bars/lounges: 5
Number of pools: 3
Number of rooms: 260
5. Mango Bay Hotel and Beach Club, St. James, Barbados
Expert Rating: 4.55/5 stars
Number of restaurants: 1
Number of bars/lounges: 1
Number of pools: 2
Number of rooms: 76
6. Barcelo Langosta Resort, Tamarindo, Costa Rica
Expert Rating: 4.55/stars
Number of restaurants: 2
Number of bars/lounges: 2
Number of pools: 1
Number of rooms: 198
7. Excellence Punta Cana, Santo Domingo, Dominican Republic
Expert Rating: 4.55/5 stars
Number of restaurants: 8
Number of bars/lounges: 10
Number of pools: 2
Number of rooms: 452
8. Almond Beach Village, Almond Beach, Barbados
Expert Rating: 4.55/5 stars
Number of restaurants: 5
Number of bars/lounges: 5
Number of pools: 10
Number of rooms: 395
9. Club Med, Ixtapa, Mexico
Expert Rating: 4.55/5 stars
Number of restaurants: 4
Number of bars/lounges: 3
Number of pools: 3
Number of rooms: 298
10. Divi Aruba, Oranjestad, Aruba
Expert Rating: 4.55/5 stars
Number of restaurants: 4 (guests also have access to 5 additional restaurants at Divi Aruba's sister resort--the Tamarijn Aruba)
Number of bars/lounges: 3 (also access to 2 bars at the Tamarijn Aruba)
Number of pools: 2 (also access to 1 additional pool at the Tamarijn Aruba)
Number of rooms: 203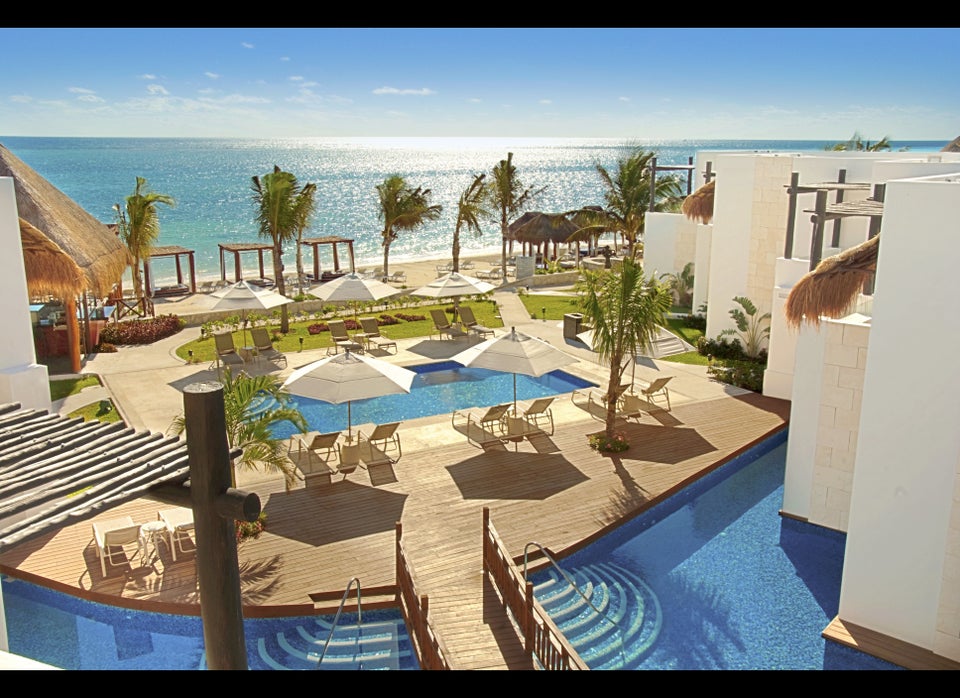 Top 10 All-Inclusive Resorts