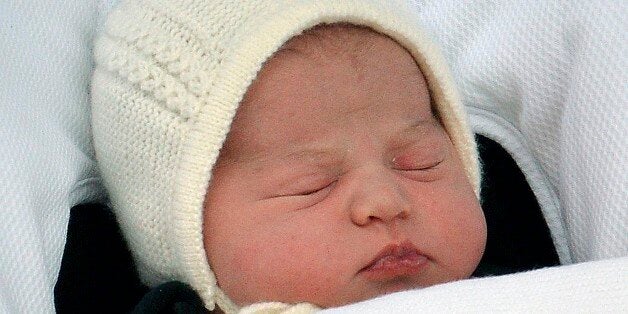 Well, it's nearly six months into the new year and we already have seen some wonderful (and less than wonderful) baby names from top celebrities world-wide. Below, Mallory Moss, co-founder of BabyNames.com, lists the most recent contenders for best baby names of 2015.
Charlotte Elizabeth Diana. Likely the most eagerly awaited baby of 2015, William & Kate welcomed their little princess on May 2, 2015. The names chosen mean free (Charlotte), God is my oath (Elizabeth), and Divine (Diana). Although #10 on Social Security Administration list of popular baby names in 2014, Charlotte is the #1 girl name among registered users of BabyNames.com. All three names are nods to family royals.
Nash Skan. This baby is sure to show athletic prowess as he is the newborn son of skier Bode Miller and fellow athlete Morgan Beck. Of note, Bode (and variations Bodie and Bodhi) is the fastest rising boy name for newborns in 2014. The meaning of Bode is messenger. The meaning of Nash is "dweller by the ash tree." Skan is lesser known and sometimes used as the short name for Skanawati, a Native American name meaning "beyond the swamp." In Norweigian, Skan is a bit of an insult so we will assume they meant otherwise.
Silas Randall. Parents Justin Timberlake and Jessica Biel have named their new baby boy, Silas (meaning "man of the forest") Randall (shield wolf). I love the play on meaning with the name Timberlake and man of the forest. Shield wolf reminds me of the dire wolves from Game of Thrones - it is clear this baby means business!
Isaiah Michael. More traditional in their name choices, Carrie Underwood and Mike Fisher named their baby son Isaiah Michael , defined as both a statement (God is salvation) and a question (who is like God). Both names are of Biblical origin. They employed the technique of using the dad's first name as the son's middle name, a nice alternative to the junior/senior naming heuristic.
Wilder Frances. Daughter of Donald Faison and CaCee Cobb, Wilder is the second baby for the couple, whose first child was toddler Rocco. The meaning of Wilder is wild animal and the meaning of Frances is free or "of French origin." We anticipate this baby to be both unique and without constraints while growing up!
Dashiel Edon. Milla Jovovich and Paul W.S. Anderson continue their unusual choices of baby names with their pick for baby girl Dashiel (page boy) Edon (paradise). Their first daughter was named Ever (always) Gabo (the shortened version of the French surname Gabouray, meaning one who jokes).
Edith Vivian Patricia. Cate Blanchett and her husband Andrew Upton chose traditional names for their daughter, Edith (rich war), Vivian (alive) and Patricia (noble). Edith is a relatively rare name nowadays but is seeing a resurgence thanks to the ill-omened character on Downton Abbey.
Matteo Oliver. Married for two years, Stanley Tucci and Felicity Blunt lost no time making a baby! I love the fact that they chose both Biblical and fanciful names for their son Matteo (gift of God) Oliver (elf army). Also different but interesting is their Italian variation of the name Matthew, an homage to Tucci's parents, both of Italian descent.
Sailor Gene. Liv Tyler and David Gardner recently welcomed baby Sailor Gene. Unsurprisingly, the definition of the name Sailor is "boat man." Gene is an English name with the meaning of "well born." Sailor's older (half) brother is named Milo, which is an English name meaning "soldier."
Sasha (Pique Mebarak). Parents Shakira (Isabel Mebarak Ripoll) and Gerard Pique have been joined by a bouncing baby son Sasha, which means defender of the people. Sasha is being doted upon by older brother Milan, meaning "from the middle of the plain."
So which is your favorite name so far? My winning choice for a girl is Dashiel Edon; for a boy, I'm in love with Matteo Oliver. As you know, the year is only half over, so I will keep you updated on the celebrity babies soon to walk the red carpet at the hospital, including those of Lena Headey from Game of Thrones, Oscar nominee Keira Knightley, and we can't forget my favorite Sherlock...Benedict Cumberbatch.
Popular in the Community