Every parent has concerns about children's health and safety, but sometimes it helps to know that you are not alone. The C.S. Mott Children's Hospital publishes a national (US-wide) poll based on an annual survey, and this year's results are as revealing as they come. Read the full report here.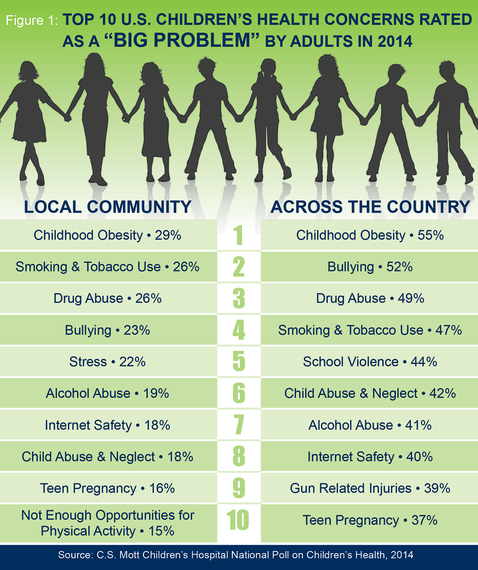 Some key points
Childhood obesity tops the list overall.
Internet safety is among the top concerns in the local community and nationwide.
Bullying nearly tops the list nationwide.
At Mobicip, we are intimately familiar with the risk that internet safety and bullying pose in combination. Add this to the risk of exposure to age-inappropriate content on the web, and how it can sometimes lead to unpredictable consequences. Little wonder that Internet safety remains one of the biggest worries for parents today. A recent article on how the "Internet is a lawless jungle" for children builds on this intuition and advocates public policy changes.
First, Prof. Sonia Livingstone from the London School of Economics:

"Our recent research suggests that bullying overall is fairly stable but that the proportion of bullying that involves internet or mobile devices is increasing. Nonetheless, only a small minority of children report receiving nasty or upsetting messages online, so the internet is far from a lawless jungle.

On the contrary, it is subject both to national law and to social conventions which are, our research also shows, strongly shaping of most children and young people's online behavior. Those that ignore the rules and conventions are, often, children who suffer some form of disadvantage - in other words, often the 'bullies' are, in other areas of their lives, also 'victims', making tough law enforcement solutions quite inappropriate for children".

Next I turned to Dr. Justin Patchin, Co-Director of the Cyberbullying Research Center:

"The Internet is no more a 'lawless jungle' than the schoolyard, the shopping mall, or the living room. There is no evidence that I am aware of that the risk of physical (or even emotional or psychological) harm is higher among children who regularly use the Internet compared to those who don't.

Here in the US, it is clear from numerous data sources that young people are more likely to be victimized at school than online. And that is really saying something because the school is one of the safest places for kids to be. Every study that I have looked at that has explored both bullying at school and bullying online shows that the former occurs with greater frequency than the latter".
"Let's help kids to become resilient, by helping themselves and then helping others," Mr. Balkan concludes. It is more important to educate and empower young minds to learn how to stay safe online rather than create a culture of fear. That is why it makes sense to start early, given that kids as young as 2-5 are online today, and use the right tools and have the right conversations to reinforce the point over time. Better safe, as they say, than sorry!