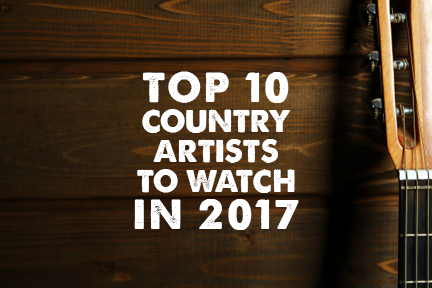 2016 proved to be an amazing year for the artists spotlighted on last year's Artists To Watch list. Maren Morris nabbed four Grammy nominations and the CMA for New Artist of the Year, Granger Smith had his first number one at country radio and seems poised to repeat that feat with single number two, and Mitch Rossell spent most of the year opening for Garth Brooks. Kane Brown scored the biggest debut album for any country artist this year, Brothers Osborne won the CMA for Duo of the Year, Tucker Beathard's "Rock On" was one of this year's biggest smashes, and almost every other artist had their best professional year ever.
Luckily for country fans, the new talent parade isn't ending anytime soon! The ten newcomers below stand poised to rival—and perhaps even surpass—the feats of last year's artists. Here, ranked from 10 to 1, are this year's Top 10 Country Artists To Watch and the songs you need to check out right now!
10. Jackie Lee // "Getting Over You"
Jackie Lee inked a record deal with Broken Bow in 2014, but it appears 2017 is going to be the Maryville, Tennessee native's breakout year. He says his new single, "Getting Over You," is the first song that's truly captured who he is artistically. Hopefully that means many more like it will follow, because this song is a hit!
9. Luke Combs // "Hurricane"
Asheville, North Carolina native Luke Combs credits Eric Church's Grammy-nominated album Chief with inspiring him to move to Nashville. So far, that decision has been a great one: Luke landed a Top 10 single on the iTunes country chart with "Hurricane" and has opened for acts including Travis Tritt, Old Dominion, Eli Young Band and Kelsea Ballerini.
8. Seth Ennis // "Woke Up In Nashville"
Seth Ennis is originally from Valdosta, Georgia, but Nashville is the town (and song!) that he's best known for now. His debut single on Arista Nashville isn't the only place you'll hear him on the radio right now: he co-wrote Tyler Farr's new single, "Our Town," too. 2017 will be a busy year for Seth: he'll be opening stadium shows for Florida Georgia Line while he puts the finishing touches on his debut album.
7. Kaitlyn Baker // "Coal Train"
Kaitlyn Baker's first paying gig came at age nine. Now 22, the seasoned vet has played festivals and fairs from coast to coast. Despite gracing countless stages, Kaitlyn's favorite place to perform is still her hometown of Pound, Virginia (population 1,073). She even stars in a tourism campaign for Virginia's Appalachia region—with a song she co-wrote! With a new EP slated for early next year, 2017 is poised to be this real-life coal miner's daughter's best year yet.
6. Ryan Hurd // "City Girl"
Kalamazoo, Michigan native Ryan Hurd tried his hand at songwriting after getting his sociology degree at Belmont. So far, it's working out pretty well: he scored a #1 song (and a Grammy nod) with Blake Shelton's "Lonely Tonight," and almost a dozen other stars—including Tim McGraw, Dierks Bentley, and Rascal Flatts—have recorded his songs. Now, Hurd is stepping in front of the microphone. His sexy single "City Girl" sets up what's sure to be a dynamite 2017. You can catch Ryan on the road with girlfriend Maren Morris and Thomas Rhett next year.
5. Runaway June // "Lipstick"
If you haven't seen Runaway June perform live yet, add them to your must-see list for 2017. The trio's harmonies are amazing, a la early Dixie Chicks. Naomi Cooke, Hannah Mulholland, and Jennifer Wayne (real-life granddaugther of John Wayne. NBD.) met and formed in Nashville after "running away" from their hometowns to chase their music dreams. Their fun debut single, "Lipstick," is an upbeat anthem every girl needs to hear.
4. Bailey Bryan // "Own It"
You'll be hearing a LOT about Bailey Bryan in 2017, starting with the Grammy Awards: she's nominated as one of three "Artist of Tomorrow" picks. She was chosen by Lady Antebellum's Hillary Scott for the honor. Speaking of famous friends, she's also the only artist on this year's Ones To Watch list to be a label mate of Fetty Wap, via her deal with 300 Entertainment/Warner Nashville. A video for her debut single "Own It" will be released early next year. Another fun fact? Her hometown of Sequim, Washington is the lavender-farming capital of the world.
3. Caitlyn Smith // "Tacoma"
You've probably already heard of Caitlyn Smith. And you've definitely heard her songs: she's written for some of the biggest names in music, including Dolly Parton, Jason Aldean, Garth Brooks, and Lady Antebellum—not to mention Meghan Trainor's #1 duet with John Legend, "Like I'm Gonna Lose You." Her Starfire EP was released in July, and every song on it is absolutely incredible. "I wanted to unlock my heart and dig around inside a little," the Cannon Falls, Minnesota native said about the release. Mission accomplished! Look for a full-length album from Caitlyn in 2017.
2. Brett Young // "Sleep Without You"
2016 is ending on a high note for Orange County, California native Brett Young: his debut single "Sleep Without You" is at the top of country radio charts. Followup single "In Case You Didn't Know," from Brett's self-titled EP slows things down a bit, but still showcases the singer's so-called "Caliville" sound. He'll hit the road with Justin Moore and Lee Brice early next year (show up early so you don't miss the soon-to-be-smash-hit "Like I Loved You!").
1. Carly Pearce // "Every Little Thing"
Carly Pearce is making MAJOR waves in country music, and she's doing it without a record label. You may recognize her voice from Josh Abbott Band's "Wasn't That Drunk," or from SiriusXM's The Highway, where she's currently blazing up the charts. "Every Little Thing" got stamps of social-media approval from stars like Kelsea Ballerini, Lucy Hale, and Cam when it was released last month, and now every little thing seems to be going right for Carly. This Taylor Mill, Kentucky native be crushing it in 2017 on the CMT Next Women of Country Tour with Caitlyn, Runaway June, and several other amazing female artists.
Popular in the Community