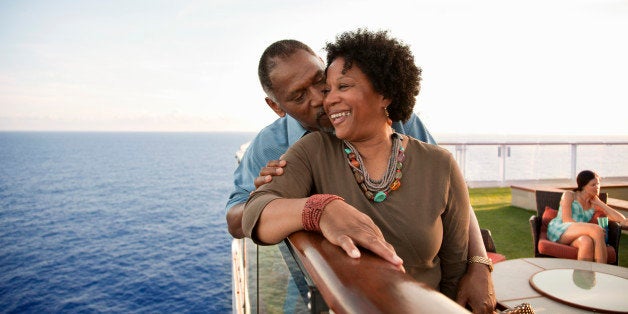 Today, we continue sailing along (Hey, another cruise pun) through my crazy cruise tips to make not only your next luxury cruise more enjoyable but your entire life as well. Quite a lofty goal, huh?
I know you all have been following my tips with fervid passion but if you happened to miss any of the past 6 articles you can "click" on any of the links below to catch up.
So, let's talk a little bit about making your time more enjoyable on board the ship during "Fun at Sea" days.
Yes, that's what Carnival Cruise lines calls the days you spend on the ship while traveling between ports.
We got to experience 2 "Fun at Sea" days on this last cruise and let me tell you that you need to be ready for them.
You have to remember there are 3000 other "less than considerate" passengers on the same ship as you, sharing the same amenities as you and trying to do the same things you are without falling over each other. This could be war !!
Overall, these were fun and relaxing days but there is one critical thing YOU NEED TO PREPARE FOR..................
TOP 10 CRAZY CRUISE TIPS FOR BABY BOOMERS
#7 "Save the Deck Chairs"
Forget "Save the Whales."
When you are on a luxury cruise ship and it's a "Fun at Sea" day your battle cry from the time you wake up should be "Save the Deck Chairs."
It's a battle. It's war. It's a life-size game of chess with 3000 players and winner takes all. Don't be bashful or afraid to make a sport of it.
See how many you can save at once. See how long you can save them for. See how creative you can be in placing items on the chairs to persuade other passengers from not trying to take your "saved" chairs.
Be aggressive, pugnacious, determined and industrious. Don't worry about drawing a little blood or breaking a few bones. All's fair in love and deck chairs.
A day without a deck chair is like a day without sunshine. You wander aimlessly around the ship looking for a place to put your towel and flip flops. Where are you going to put your frosty cold adult beverage? Even scarier, how is a waiter going to find you to serve you a frosty cold adult beverage if you don't have a saved deck chair?
For sanity's sake I am going to repeat that: I'm just kidding !!! No blood and no broken bones please.
Here's how I came to understand the deck chair game. The first "Fun at Sea" day we got up late, ate a leisurely breakfast and then headed back to our cabin to change into our swimming/sunning attire for a restful day on deck laying in the sun reading and sipping on frosty cold adult beverages.
Who knew what we would encounter when we first walked out into the pool area at 7AM that morning?
Well, when we hit the main Lido deck it was a mad house.
Every freaking lounger on the main deck as well as the next two decks up was already in some primitive state of being "reserved".
By reserved, I mean there were towels and books and bags and hats and t shirts and coffee cups and debris and all kinds of personal belongings left on them.
Many of them had the top parts folded forward.
Some were tied together with towels and women's scarves.
I observed endless "shell-game" schemes whereby uncaring groups of guests monopolized multiple deck chairs for their own use.
These people (usually just one or two pre-appointed family members or friends) "monopolized" anywhere from 3 to 8 deck chairs, placed towels and personal crap on some of them, and moved the sun shades to be in the middle of the lot.
They then moved the personal items on the deck chairs around and alternated lying amongst the different chairs in their "campsite."
Two people with 6 to 8 deck chairs.
It was quite a task.....and fun to watch.
You would think that common courtesy should preclude cruise passengers from this type of behavior.
I remember when we first boarded the ship we saw signs near the pools and on the sides of the sun decks that stated that loungers could not be "reserved" and "if they were left unattended for over 40 minutes they were to be forfeited."
Well, were we innocent and naive?
It appears that regular cruisers (aka "Chair Hogs") know that they can get away with getting up before the sunrise and throwing their crap on the most desirable loungers to save them.
Then they go back to bed or go eat breakfast or whatever they wish knowing that they have squatter's rights on their loungers all freaking day.
So, on this first day we wound up on the topmost deck at the back of the boat next to "kiddie land" where the wind blows strong and the waiters seldom tread.
We still had a fantastic day in the sun but it would have been nice to be closer to the action.
We're social animals you know.............So we had to learn quickly.
On the second "Fun at Sea" day we were up at the crack of dawn to secure our loungers just like the rest of the shameless rabble. At 5AM we found 2 nice chairs right by the main pool and close to a bar.
We placed our snifty "Carnival Cruise Lines" duffle bags on a the chairs.
Hey,we may cheat like everyone else but at least we are loyal marketers for the ship we are on. We also tied red bandanas to the chairs and decorated them even further with towels, old magazines, water bottles and even a pair of my dirty socks.
Hey, I'm a huge advocate of good manners and almost always try to exhibit behaviors that separate me from the animal kingdom but in this case you could tell it was eat or be eaten. Why fight it?
Become part of the game I say !!!
Besides, what else are you going to do on your "Fun at Sea" day?
Hope to find a couple of open loungers at the back of the boat on the upper most deck and brave the wind and screaming children? Then, every hour or so, take the 10 minute trek down to the closest pool to cool off and then work yourself back into a dripping sweat returning to your chairs in the exiled part of the ship. Or, even worse, you can walk around the deck all day pretending you are looking for someone.
I say fight for your right of relaxation and shout to the high seas "Save the Deck Chairs!"
After some research upon returning home, I discovered that the Carnival Cruise Line as well as most major lines actually have a written policy to prevent this type of behavior.
Here's what I found on the website CruiseCritic.com.
Carnival Rolls Out New "Chair Hog" Enforcement Policy Fleet-wide
September 1, 2012.

"After testing a new deck chair policy aboard Carnival Breeze, Carnival has decided it is a success and will begin using the program on all ships. The new policy will have attendants patrolling the open decks, looking for deck chairs that are unoccupied but have the usual territorial markings of the infamous deck "chair hogs" - a pool towel, a paperback book, a pair of flip-flops, and similar items - tossed on the chairs so the miscreants can go on about their day and have a deck chair (or several in the case of some inconsiderate families) waiting for them when the time suits them. These chairs will have a sticker with the current time attached. As attendants patrol they will look for chairs that have been vacant for 40 minutes based on the sticker time. In these cases the personal items will be gathered up and secured at the pool attendant station."
For the well mannered traveller or the weak at heart that is really good news.......on paper.
For us "gamers" that news just makes us more excited.
While on our last cruise, we saw absolutely no indication of this policy being enforced nor did we see any "attendants" (or "pool butlers" as us high class well mannered travelers like to call them) actually watching how long chairs were being reserved.
But, the fact there is actually a policy giving us reason to aggressively try to embarrass the "chair hogs" of the world is great news.
Here's what I foresee us doing on future cruises to support the Carnival "deck chair" policy and civil obedience in general:
1. Sporting watches - really big watches worn on both wrists so you can point to them when "chair hogs" leave their chairs to do something else.
2. Handing out large day glow stickers with time stamps on them that the passengers can place on "reserved" chairs used to pinpoint "chair hogs"
3. Wearing T shirts on deck during "Fun at Sea" days that state : "There's no place here for Chair Hogs."
With my advanced social skills, I could even see starting "Barney Fife" types of citizen patrols to police the pool deck areas.
Everyone can be armed with water pistols.
Like I said earlier, let's make a sport of it.
Have fun and "Save the Deck Chairs."
Popular in the Community