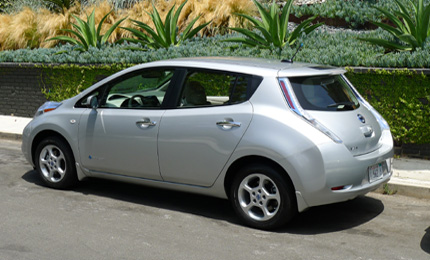 No longer restricted to tiny two-seaters and experimental designs, modern electric vehicles come in all shapes, sizes and price ranges. GAYOT.com's Top 10 Electric Cars range from high-performance sports cars to value-oriented family sedans.
Base price: $71,070
Range: 208 miles w/60 kWh motor; 265 miles w/85 kWh motor
Horsepower: 362 hp
Speeding from 0-60 in 5.6 seconds and achieving a top speed of 125 mph, the all-new Tesla Model S challenges preconceived notions of what an electric car is and can do. Of course, efficient performance is only one aspect of what makes this futuristic sports car great. Advanced amenities like a touchscreen driver interface, Wi-Fi Internet access and a sweeping panoramic roof give the Tesla Model S a luxury feel.
Base price: 3-year, $389/month lease
Range: 82 miles
Horsepower: 123 hp
Utilizing a 20 kWh lithium-ion battery pack with advanced super-charge ion battery modules, the Honda Fit EV offers quick acceleration and even quicker charging -- going from fully depleted to 100 percent in just three hours. Boasting 189 lb-ft of torque (that's a 77 percent increase over the gas-powered Fit), this electrified five-door hatchback handles well on the road and makes for a great everyday driver. And with a combined EPA rating of 118 MPGe, you'll never have to worry about enjoying your Fit too often.
Base price: $29,650
Range: 73 miles
Horsepower: 107 hp
This zero-emissions electric vehicle, powered exclusively by a rechargeable lithium-ion battery, is the first of its kind to see a large-scale commercial release in the US. Capable of reaching top speeds of 90 mph and traveling distances of over 70 miles on a single charge, the Leaf provides an exciting glimpse into the possibilities of an all-electric automotive future.
Base price: $49,800
Range: 103 miles
Horsepower: 154 hp
Boasting 154 horsepower and an impressive 0-60 time of 7 seconds, this electrified take on the Toyota RAV4 isn't your average EV. With spirited performance and no loss of cargo space over traditional, gas-powered models, this stylish SUV makes an ideal vehicle for eco-conscious drivers who demand a lot from their vehicles.
Base price: $21,625
Range: 62 miles
Horsepower: 66 hp
While the Mitsubishi i-MiEV's small size is sure to garner some scoffs, city-dwellers will appreciate the convenience this all-electric subcompact has to offer. Powered by a 66-horsepower AC synchronous permanent magnetic motor, the i-MiEV has a range of 62 miles and earns an impressive 112 MPGe.
Base price: $35,200
Range: 76 miles
Horsepower: 143 hp
Featuring a 23-kWh lithium-ion battery-powered motor, this electrified take on Ford's popular hatchback boasts a range of 76 miles and an EPA equivalent of over 100 mpg. Inside, an on-board computer makes tracking your vehicle's efficiency easy, while upholstery made from recycled materials and bio-based foam cushioning prove the Ford Focus Electric to be eco-friendly in more ways than one.
Base price: $31,800
Range: 87 miles
Horsepower: 111 hp
Powered by a 111-horsepower lithium-ion battery pack, the Fiat 500e boasts a 108 MPGe highway rating and a driving distance of up to 87 miles. Perfect for urban commuters, this compact hatch can easily be charged overnight at home or during the day at work. Along with an in-dash EV information center, drivers can also monitor battery charge level, view energy consumed and even locate nearby charging stations with their smartphones, giving a futuristic feel to this retro-styled eco machine.
smart fortwo electric drive
Base price: 3-year, $139/month lease
Range: 68 miles
Horsepower: 74 hp
Transferring the smart fortwo's already-eco-friendly outlook to an all-electric platform, the smart fortwo electric drive uses a small but efficient 55-kilowatt motor that gives the green micro machine an impressive range of nearly 70 miles. An innovative battery rental program keeps the cost of your vehicle down, and also covers maintenance costs for ten years with no mileage limits.
Base price: $32,495
Range: 100 miles
Horsepower: 47 hp
After a successful launch in Europe, THINK has begun to expand its brand globally, with the cute two-seat electric car now available for purchase in the United States. Combining a zero-emission electric engine with body parts that are up to 95 percent recyclable, the THINK City is a truly environmentally conscious urban car.
Base price: $19,185
Range: 82 miles
Horsepower: 130 hp
Boasting an athletic 130 horsepower and 400 lb-ft of torque, the Chevrolet Spark EV offers the type of performance not often seen in electric cars. Already available for order in California and Oregon, look for the Spark EV to see a wider release in the near future.
REAL LIFE. REAL NEWS. REAL VOICES.
Help us tell more of the stories that matter from voices that too often remain unheard.