All over the world, folks of all ages are turning their backs on the traditional nine-to-five grind and setting off for travel, fun, adventure, and profit. And they're getting paid while they're at it.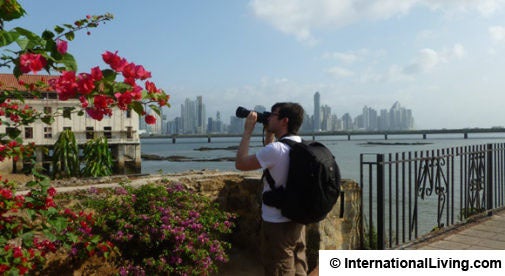 Their "offices" are wherever they open their laptops…on white-sand beaches, in tropical mountain valleys, and in vibrant university towns. They seek income opportunities online—which keeps them tethered only to an Internet connection. And they can live better while they spend less, by earning in dollars and living (and spending) in places where the cost of living is much lower than in the U.S.
These mobile earners are commonly known as Digital Nomads—and joining the tribe is easier than you may think.
Earning remotely—and working for yourself instead of clocking in at the office, hospital, shop, or factory—is a trend that's gaining popularity. PeoplePerHour, an online freelance marketplace, forecasts that one in two people in the U.S. and the UK will be freelance by 2020.
Some Digital Nomads country-hop every few weeks and live in dozens of countries every year. "I'm free," says Nimisha Walji, who took what she knows about yoga and turned it into an online income. "I can go where the wind takes me and live any place I choose! If I hear about somewhere nice, or feel like a change, I can pursue that in a matter of days. Sometimes hours."
There are all kinds of different ways to make money as a Digital Nomad, so it's not hard to find one that both suits your interests and could fund your dream lifestyle.
It's a lot easier to embrace the Digital Nomad lifestyle than you might think. You don't need a special degree. You don't need special equipment, other than a laptop and a reliable internet connection. Simply fire up your computer and, boom, you could be making money.
The ranks of freelancers, which include independent workers in many fields, swelled to 55 million in 2016, an increase of 3.8% over the past two years, according to Freelancers Union, a nonprofit organization that represents freelancers.
I'm a Digital Nomad myself. Over the past 11 years, I've surfed near-perfect waves at sunset in Bali, Indonesia…run with the bulls at the Fiesta de San Fermin in Pamplona, Spain…celebrated Oktoberfest with a few steins of lager in Munich... and trekked through rice paddies in Sapa, Vietnam.
I've been able to afford these adventures, and had the freedom to do so, because I write freelance for companies that need copy to sell their products. Today, I live on the tiny tropical island of Koh Phangan, Thailand.
Most days, I'll put in three to six hours of writing in the morning. Then, I'll spend the rest of the day exploring the island's spectacular beaches, catching up with friends, or visiting the night market in town to grab my favorite Thai meal—steamed chicken with rice and soup for just $1.44. Other days, I'll take it easy in the morning, then perhaps do a bit of work in the evening. I never have a boss looking over my shoulder, so it's all up to me.
The internet has made it more simple than ever for aspiring Digital Nomads to discover new places to live; find cheap international flights; secure good short- and long-term accommodation; and meet fellow Digital Nomads, travelers, and expats. I'm not the only one who feels that the social aspect is one of the best parts of being a Digital Nomad.
David and Diane Daniel were early adopters of the Digital Nomad lifestyle. Since 2005, this wandering duo has been traveling to the world's most appealing destinations and earning a great income at the same time. "We were Digital Nomads before it was cool," says 51-year-old Diane. "We take home with us. It's just us, together. That's it!"
"Since 2005, we've been traveling, spending time in Mexico, Italy, and France," says David. "I've also worked from Australia, Ecuador, Canada, and England." For the past few months, the pair has been kicking back on a Caribbean island just off the coast near Cancún, Mexico.
"We've been to Isla Mujeres several times before," says Diane. "It's a great place with mostly stable internet, wonderful restaurants and beaches, and perfect tropical weather. We're housesitting now for some folks who only come down during the winter. We're caring for their dogs, and all we have to do is pay the electricity bill and the internet bill."
When they aren't riding their motor scooter around the island or visiting with friends, Diane manages her own online graphic design business and adds photographs to the couple's stock photo portfolios.
Dan O'Donnell, a former real estate agent from Washington, hosts a meet up for Digital Nomads in Chiang Mai, Thailand every Tuesday at the Sri Paa Restaurant. There nomads can swap ideas, make contacts, discuss new trends, and enjoy a tasty Thai meal.
Dan is a Digital Nomad himself and understands the need to network. His primary source of income is his personal development and team-building board game, Better Me, which he sells through his website. His secondary source of income is ad revenue from his Positive Thinking Facebook page.
On a typical day, Dan works a few hours from late morning to mid-afternoon, goes to eat, then heads to the gym or plays some beach volleyball. Then he'll usually work again in the evening. "The freedom of location and schedule is really nice," says Dan. "Also, the ability to live somewhere I enjoy for well under a thousand dollars a month (about $750 a month) allows me to save money and reinvest in my projects."
When it comes to ways to earn an income as a Digital Nomad, Dan offers plenty of ideas. "There are many approaches, and some fit certain people better than others. If you have an existing skill set or love for a certain type of work, consider what you can do to capitalize on that. Also, if you can find a system so that you don't need to reinvent the wheel—like drop-shipping or selling through Amazon—you can save a lot of time and frustration."
10 Top Digital-Nomad Incomes
If you like the idea of being your own boss, working flexible hours and living anywhere in the world you feel like spending time, here are 10 top opportunities that can produce income fast:
1. Sell products online through your website or a third-party site like Amazon.
2. Earn as an online tutor through Skype or udemy.com. If you have knowledge and experience to share, then folks want to hear about it. You can earn teaching almost anything—Microsoft Excel, photography, marketing, guitar, knitting, and more. You can earn anywhere between $25 and $300 per lesson.
3. Start a blog and earn with affiliate marketing. Affiliate marketing is when you promote a product or company on your blog or website, with a link to the seller. Affiliate networks have different systems. Some pay you for every user that clicks on the link, others require the customer buy a product before you get paid a commission.
4. Become a freelance copywriter. Copywriters write simple letters and emails for companies to help sell their products online. As a copywriter, you'll dictate your own schedule and how much work you want to take on.
5. Provide drop-shipping services. Drop-shipping is a type of online selling where you don't need to pay for storage or manage inventory. You simply market the products and when somebody buys, you have the products shipped straight from the manufacturer to your customer. You don't need warehouse space. You never even see the product. See shopify.com and start creating your own store.
6. Become a stock photographer. Your Digital Nomad lifestyle will take you to new and exotic places, where you'll take colorful and exciting photos. With stock photography, you can turn these travel snapshots into a passive income that makes money on autopilot while you explore the world. See here for more details.
7. Teach English online. As a native speaker you already have the most important tool for teaching English. You can be earning as much as $30 an hour on sites such as italki.com.
8. Become an online researcher performing the behind-the-scenes tasks that ensure the web-based information of businesses and organizations is accurate. With no startup costs and no specialized education needed, online research is one of the easiest Digital Nomad incomes to get up and running.
9. Provide online freelance services. Freelancing websites like Upwork.com are connecting thousands of freelancers with businesses that need their services every day. From graphic design to proofreading to travel writing, it's easier than ever to find work as a freelancer.
10. Earn with e-books. You don't have to be a bestselling author to make money with e-books. You could repackage books that are in the public domain and sell them online or license existing print books, convert them to an e-book, and pay the author part of the royalties.