Six in ten Americans say a major third party is needed, citing disappointment in representation from Republicans and Democrats. There are more than 100 Green Party candidates running for office and they face similar challenges in local elections as in the presidential. Candidates are called 'spoilers' in elections from dog catcher to President and they face major fundraising obstacles as a result of their refusal to accept special interest money that fuels the two corporate parties. Due to a series of Supreme Court decisions from Buckley v. Valeo to Citizens United, money has replaced the vote in American politics and economic power directly builds political power (which, conveniently, directly builds more economic power). The two major parties dominate elections at all levels through aggressive fundraising, with reliance on special interest money to do so, and leveraging the brand awareness of their established reputations, with more than a century to get a "head start."
Each of the candidates below is facing off a Democrat that leaves much desired for progressives and each follows the "Ten Key Values" of The Green Party. To build political power across the nation, third parties need support at the local, state, and national levels. Consistently voting for and supporting Green Party candidates can quell its primary criticism over time, but it will require a new level of engagement, volunteerism, investment, and potential risk-taking — one similar to the evident effort in Bernie Sanders' bid for the Democratic Party's nomination for President.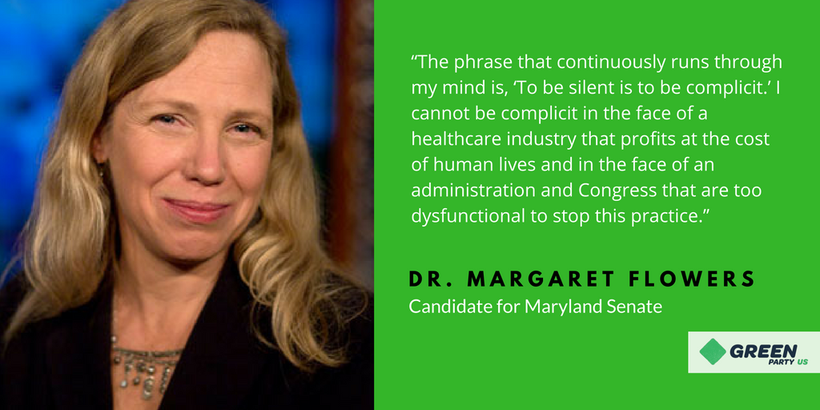 Dr. Margaret Flowers | Maryland Senate
In a move exemplary of the populism Dr. Margaret Flowers campaigns on, if elected, she has stated she will only accept the median Maryland income — approx. $69,000 — and will donate the rest — approx. $100,000 per year — to growing social movements needed to gain popular support for reforms in Washington. Flowers will also reject her personal health care plan from Congress until all people have access. Talk about walking the walk. After graduating from the University of Maryland School of Medicine, Dr. Flowers completed her pediatric residency at Johns Hopkins Hospital in Baltimore. She stopped practicing medicine to become a full-time social and environmental justice advocate, with roots grown deep in single-payer healthcare. Flowers is an ardent activist of the commons — fighting to see healthcare, natural resources, and government representation restored to people who would be empowered by their return. She is co-director of the organization It's Our Economy, acting leadership or active member of environmental organizations and economic justice groups, as well as co-host of a public radio show called Clearing the FOG. Flowers is running for retiring Democratic incumbent Senator Barbara Mikulski's (D) 'Safe Democrat' seat in a three-way race most notably against establishment darling Representative Chris Van Hollen (D), who has raised nearly $10 million in his campaign, with large individual and PAC money equaling more than 75 percent of his contributions.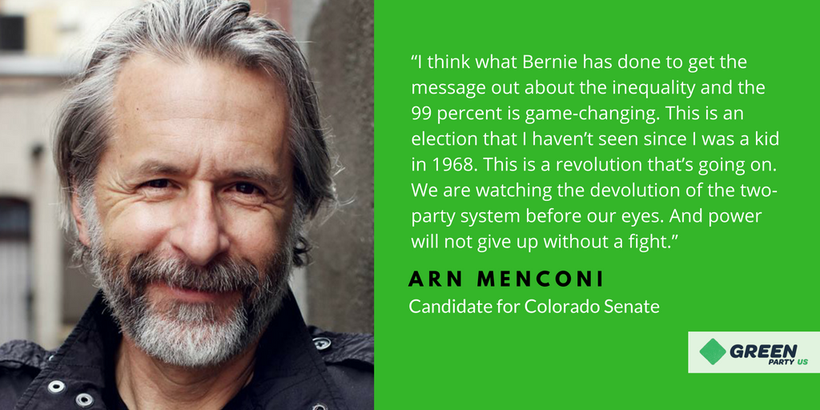 Two-time county commissioner Arn Menconi is running for a Democrat-favored seat in Colorado. Menconi is a 25-year Colorado resident, has invested in the local community with his non-profit SOS Outreach and holds an MBA from the University of Denver. Menconi has an opportunity to draw disillusioned Democrats from a pro-fracking, pro-Trans-Pacific Partnership (TPP) corporate-friendly incumbent — Senator Michael Bennet (D) — who earned public rebuke from the Colorado AFL-CIO and protests at his 2016 campaign kickoff event for his support of the controversial Keystone XL Pipeline. Domestic, environmental and foreign policy issues are seeing peak awareness thanks to Bernie Sanders' campaign for President and Menconi's stance on free public college, single-payer healthcare, reducing income inequality with a $15 minimum wage, and 'reversing' empire-building U.S. foreign policy standards present a true progressive option in one of the most progressive states in the country. Menconi is up against high odds as Senator Bennet has $14.5 million in his campaign war chest, 80 percent of which came from outside the state of Colorado.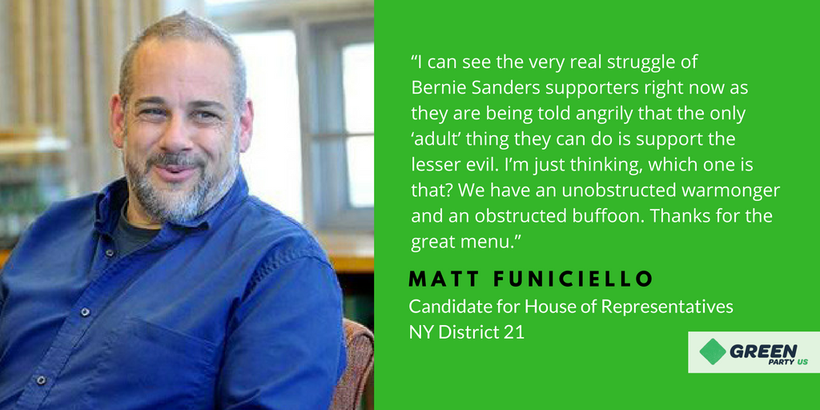 Matt Funiciello | Congressional District 21 in New York
When Matt Funiciello announced his run for Congress, he knew he was up against what he has called "the year of the outsider in CD21" — referring to out-of-district candidates who are "air-dropped" in to win seats with the help of high-rolling supporters. In 2014, he took 11 percent of the vote and, this year, he was endorsed by Ralph Nader, who appropriately deemed him "Democracy's Baker." Funiciello is a community activist and working man as the owner of local favorite Rock Hill Bakehouse in Glens Falls. He is up against two well-funded Republican and Democrat 'carpetbaggers,' who have each criticized the other for not being from the district. Republican incumbent Representative Elise Stefanik has raised $2.2 million for re-election, with significant contributions from corporate donors. Funiciello has proven he wants to be a true public servant through the oft-thankless work of activism. He is currently polling at 20 percent and the seat has been deemed 'one to watch' by national political forecasters. In his endorsement of Funiciello, Nader said, "We look at the world through business eyes, we need to look through civic eyes."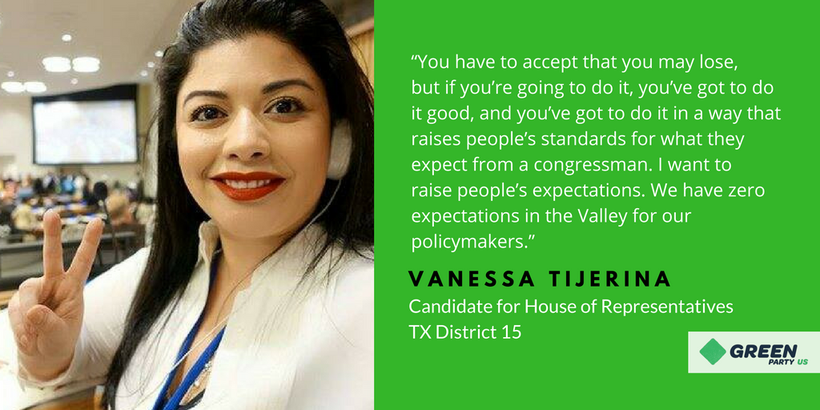 Vanessa Tijerina | Congressional District 15 in Texas
Vanessa Tijerina is challenging for a 'Safe Democrat' seat in the Rio Grande Valley in South Texas. Tijerina has been a nurse for nearly 20 years and is an activist in her community for progressive issues. When interviewed by Texas Monthly, Tijerina said Bernie's campaign for President is what inspired her to run for office and go to law school. She was a young, single mother who, at one point in her life, relied on government assistance and, in a speech rallying community support for Bernie Sanders, said, "I have walked in the same shoes as many of you. I'm a real person living with issues that our current government refuses to address and many issues they refuse to acknowledge even exist."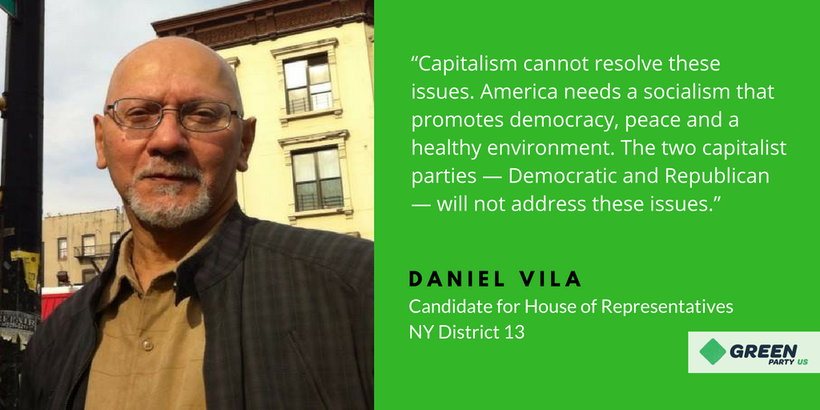 Daniel Vila | Congressional District 13 in New York
In 2014, lifelong labor, peace and community activist Daniel Vila received more than 10 percent of the vote in his run for the House of Representatives. That same year, more than 14.8 percent of voters turned in blank or void ballots, presumably in protest of limited choices as Vila faced off against incumbent Representative Charles Rangel (D), who will be vacating his seat this year. Vila studied at City University of New York and has worked with numerous activist organizations including Latino Workers Center, the NYC Coalition for Peace and Justice, and the American Postal Workers Union. Vila's progressive platform includes ending corporate welfare, investing in free public education from pre-Kindergarten through college, single-payer healthcare, a $15 minimum wage, and restoring labor unions. Vila will work to see the end of deportation for undocumented immigrants and the end of police brutality with a major reform of the criminal justice system.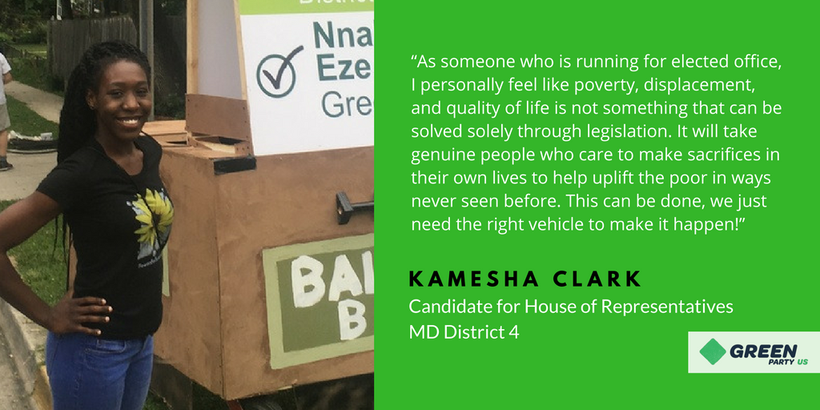 Kamesha Clark | Congressional District 4 in Maryland
Kamesha Clark is running in Representative Donna Edwards' district after Edwards ran for Senate in lieu of re-election for her seat in the House. Clark is 25 years old and her campaign has gone above-and-beyond to recognize Millennial voters with the creation of a 'Millennial General Assembly.' Clark wants to offer much-needed resources to communities in need and help her district transition to a sustainable one with zero waste. She traveled to Philadelphia to take part in the protests of the Democratic National Convention along with Dr. Jill Stein.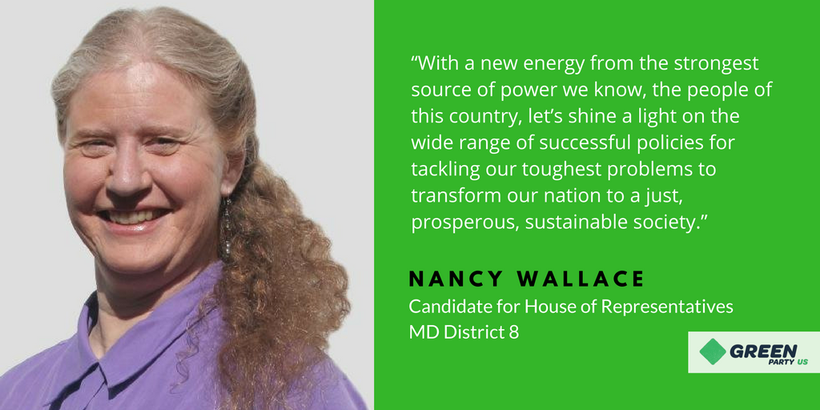 Nancy Wallace | Congressional District 8 in Maryland
Nancy Wallace is a political science graduate from Yale University and environmental activist with a long history of effective civil disobedience. After joining protesters in Norway to occupy a reindeer migration path in temperatures as low as minus 20 degrees Fahrenheit, she spent 14 years lobbying Washington to protect endangered species and support family planning initiatives. Wallace spent four years as Sierra Club's Washington Director and she definitely 'walks the walk' — her house is sustainably powered exclusively by wind energy.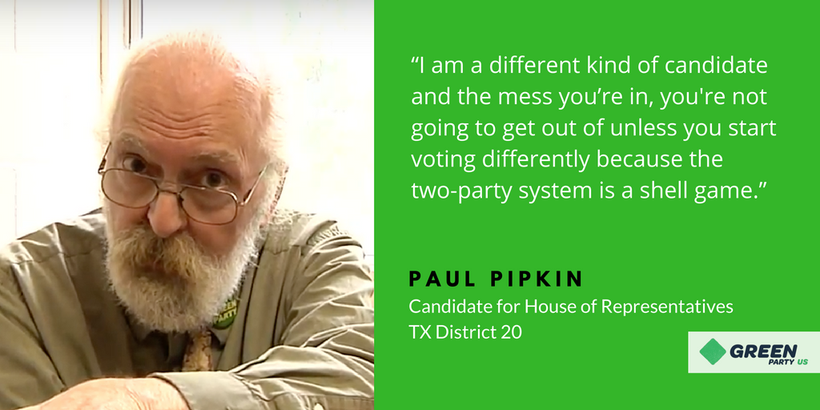 Paul Pipkin | Congressional District 20 in Texas
Paul Pipkin left the Democratic Party in 1998 after he led The Progressive Democrats of San Antonio for a decade. More recently, he served as co-chair of the Steering Committee for the national Green Party. Pipkin has worked in labor and political activism for more than 50 years, most recently marching with Occupy and supporting Occupier-candidates during his race for office in 2012, when he took 8,500 votes against an establishment Democrat challenger. The last time congressional District 20 in Texas supported a Republican for President was 1956, when Republicans 'were' Democrats before the parties flipped during the Civil Rights Movement. Democratic incumbent Representative Joaquin Castro is an establishment Democrat with a twin brother serving in President Barack Obama's administration.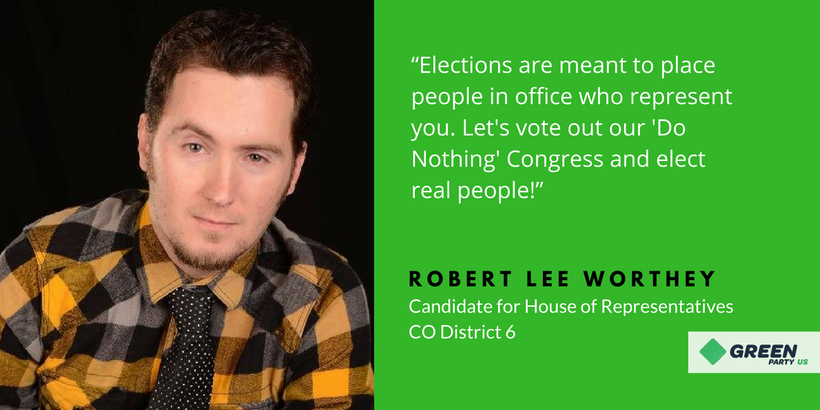 Robert Lee Worthey | Congressional District 6 in Colorado
Robert Lee Worthey is running for the seat of Republican incumbent Representative Mike Coffman, who has held the seat since 2008. During Coffman's first election to the House in 2008, he was accused as then-Secretary of State of improperly marking 6,400 voter registration forms as incomplete and government accountability organization Common Cause filed suit. Coffman is supported by Koch brothers' Americans for Prosperity, pledging a six-figure effort to attack Carroll. Coffman's Political Director JD Key spoke to The Colorado Statesman about Democratic challenger state Senator Morgan Carroll, "Feel the Bern? Voters hungry for an outsider — someone to challenge partisanship and gridlock in Washington D.C. — will take a close look at Senator Carroll's record of partisanship and gridlock and get heartburn." The attack is likely hyperbole, considering the source, however, Carroll did toe the line between Bernie Sanders and Hillary Clinton in the Democratic presidential primary. In contrast with the two primary party challengers, Worthey understands the challenges of student debt and the political disenfranchisement of Millennials that results. He is campaigning on progressive reform of the criminal justice system, free public college and health care as human rights, and practical campaign finance reform to get money out of politics.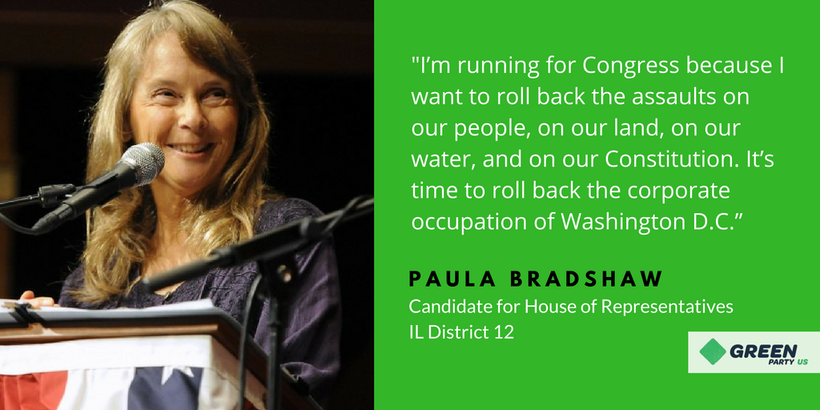 Paula Bradshaw | Congressional District 12 in Illinois
Nearly half of the representatives in Congress listed 'business' as their professional background at the start of the (current) 114th Congress. In Illinois, Paula Bradshaw says we need to stop running America like it's a business and start making government work for the people. In 2014, Bradshaw took 6 percent of the vote and Republican Representative Mike Bost was elected to his first term in the House of Representatives. Bost made national news last year when a video of a 'rant' on the House floor went viral. Democratic challenger C.J. Baricevic faced detractors from the national party with The St. Louis Post-Dispatch reporting of something fishy going on with his campaign finance records. Regarding her opponents in the race, in an interview with St. Louis Public Radio, Bradshaw stated, "The other two are so much alike that there's no real choice. They're both for coal. They're both for war. They're both for fracking. I'm the only one that's different."
"It's time to stand up and fight for our country because we are under assault, even if they don't frame it like that. But what if it was terrorists poisoning our water supply? What if it was a foreign government who overthrew our Bill of Rights and spied on our every move? What if it was street criminals instead of banking criminals throwing Americans out of their houses? [...] We're told every day that America is most under threat from small groups of armed men thousands of miles away overseas, but in the meantime, right here at home, America is sinking into poverty and repression. [...] And the actual country — the land, the water, the trees, the forests, the oceans — are being stripped for parts by a small group of people right here at home." — Paula Bradshaw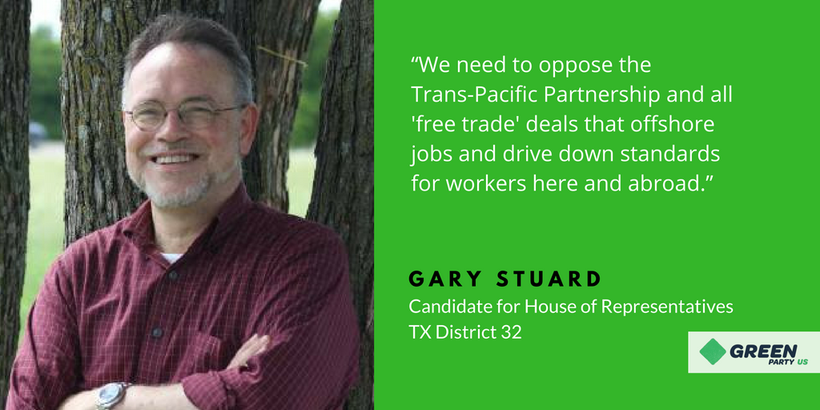 Gary Stuard | Congressional District 32 in Texas
Social worker, "proud union member," and activist Gary Stuard is a native Texan running to represent North Texas district 32. Stuard graduated Summa Cum Laude from the University of Houston and later received a Masters of Social Work from his alma mater. A student of Buddhist monk Thich Nhat Hanh, Stuard has been awarded the Peace Award from the Houston Peace Center. He married his partner of 10 years after the Supreme Court ruled in favor of marriage equality. No Democrat candidate filed to oppose Republican incumbent Pete Sessions. Sessions was famed for claiming Janet Jackson and Justin Timberlake were forcing liberal values on America with half-nudity at a halftime show and subsequently spending thousands to host fundraisers at burlesque clubs. More recently, he blamed now daily occurrences of gun violence on "diversity in America." He has raised just under $2 million in his race for re-election, with only 1 percent of total funds from small individual contributors. Four of his his top five contributor categories include commercial banks, real estate, oil and gas and securities and investments. It's only apropos that Stuard has proudly claimed to be the candidate for the 99 percent — yin to the yang of Sessions' stark lack of support from the lower, working and middle classes. Sessions has a 0 percent rating from the AFL-CIO, denies climate change, voted against the last minimum wage increase and supported the fast-track of the Trans-Pacific Partnership (TPP). In contrast, Stuard strongly supports unions, a path to citizenship, increasing the minimum wage to $15 and strongly opposes the TPP.
REAL LIFE. REAL NEWS. REAL VOICES.
Help us tell more of the stories that matter from voices that too often remain unheard.
This post was published on the now-closed HuffPost Contributor platform. Contributors control their own work and posted freely to our site. If you need to flag this entry as abusive,
send us an email
.