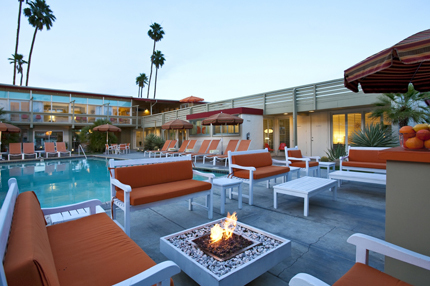 There's no rule stating that an affordable hotel can't have rich character, and that's precisely what GAYOT's Top 10 Hotels Under $150 in the U.S. offer. Let your imagination wander in what was a stopover for survivors of the Titanic, or relive the mid-century in a William F. Cody-designed retro pad. Whichever you choose, prepare to be charmed when you check in.
NEW MEXICO
Taos
Historic Taos Inn
A Taos historical landmark since 1936, this inn is the New Mexicaniest of all New Mexican hotels. Don't believe us? The 44 spacious rooms are all decorated differently. They do, however, all feature pueblo-style fireplaces. Some rooms have wood-beamed ceilings, canopy beds, dark wood armoires and large headboards. At the in-house eatery, Doc Martin's, chef Zippy White cooks up Southwest-accented fare that pairs well with the 400-bottle wine list.
TEXAS
San Antonio
Hotel Havana
When one thinks of this historic Texas town, usually the Southwest comes to mind. So does Mexico. But Cuba? Not really. Unless, of course, you're staying at Hotel Havana. Since 1914 (when it was opened by a grocer), the hotel has hospitably served passers-by. The 27 rooms come in all shapes and sizes, many of which include Turkish rugs and vintage Cuban art on the walls. Bathrooms are stocked with Red Flower body care products. And the location, on the northern part of the Riverwalk, is hard to beat.
CALIFORNIA
La Jolla
La Jolla Inn
La Jolla may be a Southern California playground for the rich and richer, but that doesn't mean you have to pay in gold bullion to stay there. Welcome to the budget-friendly La Jolla Inn. Most of its 23 rooms feature stunning Pacific Ocean views. All of the accommodations (which were part of a recent $1 million renovation) include queen-sized beds with quilted bedspreads, wireless Internet access, coffee makers and hair dryers. In the afternoon, there's a complimentary beverage service that also offers free homemade cookies.
PENNSYLVANIA
Lancaster
Cork Factory Hotel
Fans of historic hotels will jump for joy when they check into this property. Set in a century-and-a-half-old former cork factory and glass factory, this boutique hotel is smack in the center of all things Amish. The minimalist but comfortable 77 rooms boast exposed brick walls and wood-covered ceilings. Diversions include free Wi-Fi, a fitness center and a restaurant that features seasonal fare with an emphasis on re-interpreted Pennsylvania Dutch dishes. It's enough to make you want to hop in your horseless carriage and point it towards Lancaster.
ILLINOIS
Chicago
Longman & Eagle
A gastropub and a hotel? Together? Yes, please. Imagine: you can munch on hearty fare like quail egg-topped lamb tartar or pork belly in a seasonal risotto, washed down by the featured cocktail of the week and then simply walk up a flight of stairs to one of the six comfortable, industrial-chic rooms to sleep it all off.
Related