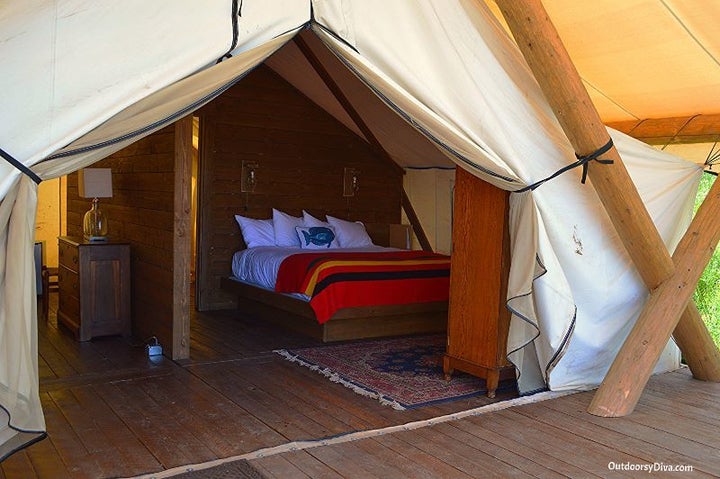 Glamping is the trendy buzzword being thrown around in the outdoor recreation and travel space. However, all glamping is not created equal. So what is glamping? It's glamorous camping. It combines the fun parts of camping with all of the modern conveniences and creature comforts we want while we commune with nature.
One of my favorite luxury glamping experiences was at Conestoga Ranch in northern Utah. They have all of the elements of a glamping stay done right. Here are the top 10 ingredients for the ultimate luxury glamping experience.
1. Accommodations with an actual structure and floors
True glamping has a sturdy structure and preferably a floor and not just the bottom of a tent or dirt. Conestoga's luxury tents have wood floors and rugs. Whether it's a glamping tent, yurt, or cabin, no floors then it ain't glamping.
Luxury glamping means you will sleep in comfort. That's paramount. A cot just won't do. An air mattress is acceptable but it's cutting it pretty close by my standards. A real bed is the ultimate amenity for luxury glamping. You need pillows for sleeping, decorative pillows, sheets, and blankets. I loved the bedding in the Conestoga glamping tents.
Some of my favorite glamping experiences have had air conditioning. However some places have such a cool climate that they can get away with not having A/C as long as the structure allows for ample ventilation.
If the destination experiences colder temps, then they must have a heater of some kind. The best of the best, like Conestoga Ranch in Utah, had a heater and faux fur electric blankets! It was nice and toasty at night and pleasant during the day.
Luxury glamping is all about the ambiance. Strings of lights and lanterns are my favorite element to give a glamping tent that dreamy ethereal feel. I also love decorative touches like sytlish lamps, cute pillows, and other little knick knacks around the space.
Now here is where not all luxury glamping properties are created equally. Some properties have full size refrigerators, microwaves, and gas grills. Others have on site restaurants with ahhmazing gourmet meals. At the very least you do need electricity. No power, not glamping.
There should be some type of service or amenity offered that makes your experience stand out. I loved the fire valet that came to light the fire pit every night at Conastoga Ranch. There was also an outdoor lounge area, an awe inspiring view of the turquois waters of Bear Lake, bikes for use, and horses guests could feed.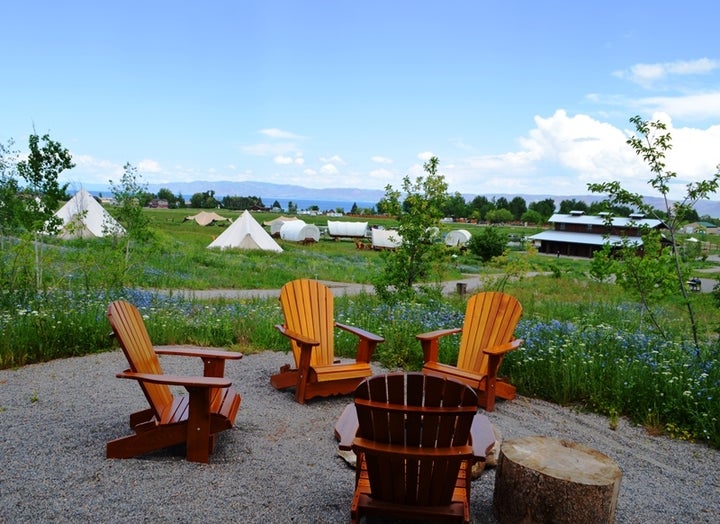 Port-o-potties and glamping do not mix and a bush just won't cut it. If you're glamping then that means a real toilet and running water. Luxury glamping will provide a full private bathroom and shower. I love when I don't have to leave my structure to get there but sometimes it's in a separate structure and that's manageable.
The luxury glamping tents at Conestoga had full bathrooms inside the tent with tubs and showers. They also have a custom hand soap that smells divine!
There should be a way to secure your belongings inside of your luxury glamping structure. If you can't lock it, then there should definitely be a safe for your use.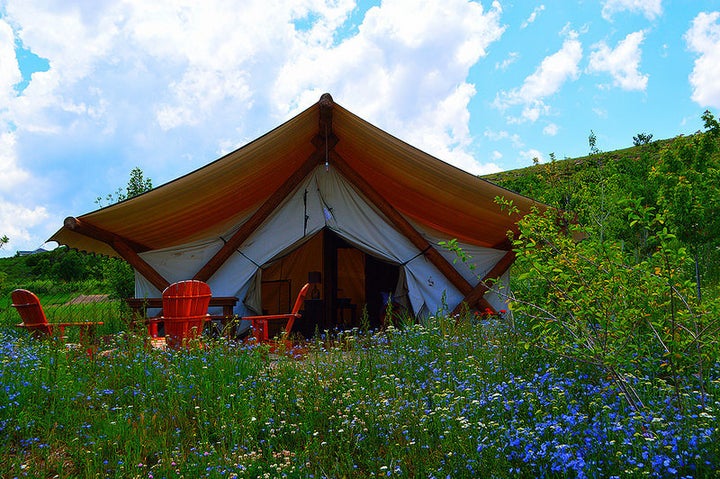 So kids, that's REAL glamping. You need all of these components to qualify. I am a self-appointed glamping expert so I know what I'm talking about. Happy Glamping!
Special thanks to Conestoga Ranch for hosting my family on our visit. All opinions are my own.
Popular in the Community