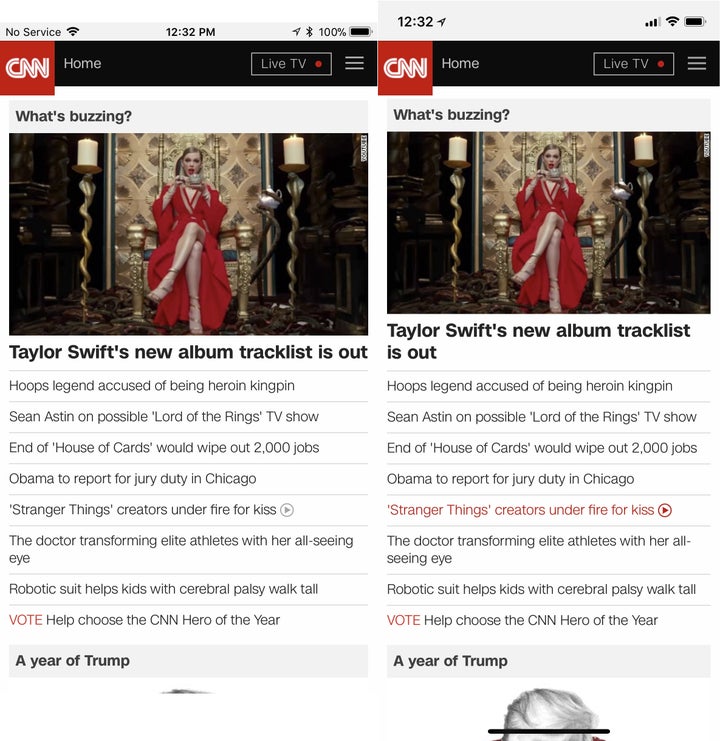 Outside of the weird I=A[?] autocorrect anomaly that is sure to be quickly fixed with an OS update, Apple's iPhone X is garnering nearly universal praise. After a few days, I've found that the Face ID/swipe up unlocking has become second nature. Not only don't I miss the Home/Touch ID button, but I now consider constantly slapping my thumb on the Home button an annoying anachronism on my iPad Pro. iPhone X's OLED (organic light emitting diode) display is brighter and crisper than the LCD on previous iPhones, especially in direct sunshine, its nearly edge-to-edge screen makes it smaller and lighter than the 6/7/8 Pluses, and its fuller and louder speaker makes conversations clearer and music more robust.
But for all its beauty and advancements, I've discovered 10 odd X quirks – sometimes wonderful, sometimes not.
1. Both a Bigger and Smaller Screen: Yes, the iPhone X OLED HDR display measures 5.8 inches diagonally, seemingly slightly larger than the 5.5-inch screen on the three previous Plus iPhone models. And, yes, it packs in 25 percent more pixels, 2.75 million vs. 2.07 million, than the iPhone 7/8 Plus, and 458 pixels per inch vs. 401 ppi on the Pluses. But the extra physical space on the X display isn't proportional – the extra space is all length and sacrifices width. While iPhone X's screen measures 1125 x 2436 pixels with a landscape aspect ratio of 19.5:1, making it perfect for widescreen movie viewing, it physically measures 2.4375 inches across, 3/16th of an inch LESS than previous iPhone Plus models. That doesn't sound like much, but most apps are visibly smaller, unfortunately including Scrabble, and, as you can see in the CNN Web page comparison above (i.e. the CNN Taylor Swift headline and photo), photos are smaller and headlines broken into shorter bits. And a few apps, such as the Wink smart home app, are actually cropped, cutting off vital information from the sides. In most cases, iPhone X's packed pixels provide a sharper image to minimize the size difference, but saying that iPhone X has a "larger" screen than previous iPhones is simply inaccurate.
2. Beware Face ID Failures. In common usage, I've found Face ID to be more accurate, requires less preciseness and faster than constantly laying my thumb on the Home button. But no security method is full proof, including Face ID. For instance, Face ID requires you to be upright; Face ID doesn't work while you're lying horizontally holding the phone in landscape mode, so you'll have to sit up. Reflective sunglasses also pose a problem, and apparently Face ID can't tell the difference between some identical twins. The good news is, and contrary to reports, I found Face ID works in the dark – the light from the screen seems to supply plenty of light for the 3D sensors. Then there's cold weather Face ID pros and cons…
3. Winter is Coming. Not only is winter coming to Westeros, but it's coming to the real world as well, which presents both an advantage and a disadvantage for Face ID. On the plus side, once the freezing weather hits, you won't have to take off your gloves to unlock your iPhone as you did with Touch ID. Just wear smartphone-enabled gloves to keep your digits toasty while you navigate. But if you're wrapped up with a scarf covering the lower half of your face, or if a fuzzy hood frames your visage, Face ID might not recognize you.
4. No Unlock Waiting. You first instinct when initially unlocking your iPhone X is to wait for the animated Face ID lock to unlock before swiping up. No need to wait. Just look at your iPhone X and swipe up in one smooth motion – Face ID will catch up, and you'll find this is actually faster and more natural than fingerprint reading.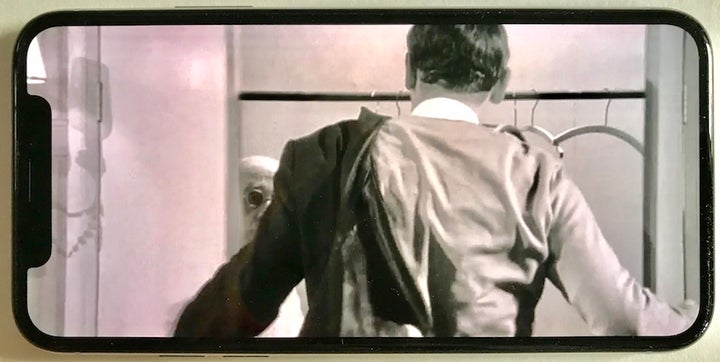 5. About That Notch… I may have gotten used to no Home button, but that notch at the top of the screen, which houses the 3D Face ID sensor and the front-facing camera, is stupid. Apple gave us a wide enough display to view most modern widescreen films full screen sans letterboxing. But going full screen means that notch takes an annoying bite out of one side of the image. (Apple eliminates the notch when you do a screen grab. Shifty. Bonus points for naming the film pictured.) While there's no notch-eliminating solution other than not watching films full-frame, which defeats the purpose, there is a notch-removing solution for wallpapers created by Alex Huberman and detailed in this Business Insider report.
6. No Battery Percentage. One of the casualties of the notch-split status bar is the sacrifice of the battery percentage readout, leaving only the inexact battery meter icon. If you want to see the precise remaining power percentage, you have to swipe down from the right corner to access the Control Center.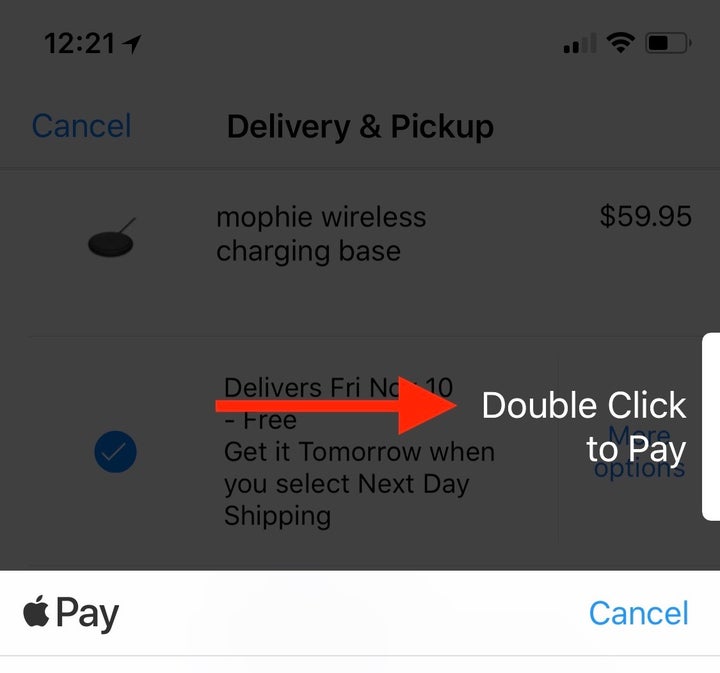 7. Apple Pay Double Click. When you buy something on your iPhone via Apple Pay, you can't just use Face ID to confirm the purchase. You'll have to first double-tap the Sleep/On button on the right side to activate Apple Pay, then look at your phone for Face ID confirmation. Perhaps Apple will one day remove this seemingly unnecessary extra double-clicking step.
8. No Cloning. If you're still waiting for your iPhone X to arrive, one bit of advice on the set-up: don't choose the Quick Start option, which essentially clones your settings from your old phone to the X via Wi-Fi. While kinda cool, this method is ridiculously slow, especially if your phone is filled with photos, music and video. Instead, do an iTunes backup of your current phone to your PC or Mac, and setup your new iPhone X by restoring from this backup via USB cable, which transfers your content to your new phone much faster than Wi-Fi.
9. Missing the Home Button. Okay, there is one Home button function replacement that takes a bit of getting used to. After you press-hold an app icon to delete or move it, there's no Home button to press to return to normal operation. Instead, tap the tiny pill-shaped "Done" icon that appears in the upper right-hand corner.
10. Animoji Excitement. Animoji Karaoke, invented by Fast Company tech editor Harry McCracken (props), may be the first smartphone art form. Just do a Twitter search for #AnimojiKaraoke to sample some of these bizarre videos, and contemplate the future of this capability, especially once Apple inevitably adds an avalanche of new Animoji characters and app developers get into the Animoji game.
Related
Popular in the Community