This week, I'm going to feature my top selection on architecture for kids. When it comes to designing an environment that is both educational and entertaining for children at a young age, there is always the risk of being too serious or superficial. In the past, playgrounds were asphalt areas with basic play areas and kindergartens were considered fine as long as they possessed enough room to accommodate the basic activities preschoolers did - like sleeping, playing and eating. Today, this has changed; there is an understanding that design should be a part of a child's education and that an intelligently designed space could end up being more stimulating to a child than one filled up with all the toys and playground equipment in the world. Imagine that!
A great example of this is the Fuji Kindergarten by husband and wife Tezuka Architects. The architects, who believe that "Good design starts with people", worked closely with the principal and children of the kindergarten to come up with the final design that features a circular building opening to an inner courtyard - a meeting place for the children, encouraging communication. To promote social skills and the removal of hierarchy, the kindergarten's interior environment is also devoid of walls. To double the available play area, the entire roof of the building has been turned into a play-deck whose inclination serves as further encouragement for the children to run around and whose cleverly-devised connections with the yard and interior of the kindergarten encourage the children to explore without any inhibitions.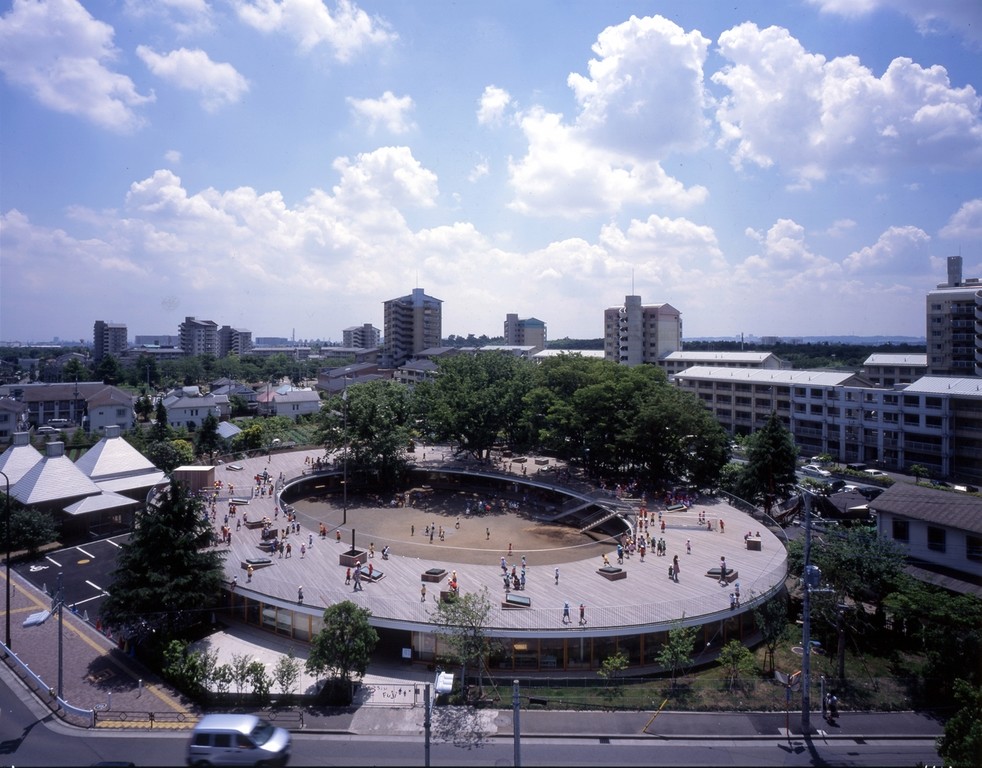 Aerial vew of Tezuka Archtects' Fuji Kindergarten Image: Katsuhisa Kida
Of course, for children, their relationship with space all starts with the design of our homes, which is why I have chosen to show you a series of houses that offer the kind of variety that challenges children to develop both their motor skills and curiosity. Children appreciate freedom, variety, colour and nature. They are naturally curious and love complexity, discovery and illusion. Thus, they are in fact the most open-minded client an architect could ever hope for - they never visited the Acropolis or any modernist masterpiece so they do not expect architecture that is reduced to style; they are not nostalgic - instead they expect spatial and visual challenges. Have you ever imagined what your house would look like, if you could design it just based on your own ideas, comfort and for your own entertainment; if you'd never seen anybody else's and weren't subjected to any biases, nostalgia or peer-pressure? Here are some funky designs that have had the courage to dream - ones that I love and that I'm sure children would too. After all, who wouldn't love a slide in their house !?
The story continues after the break.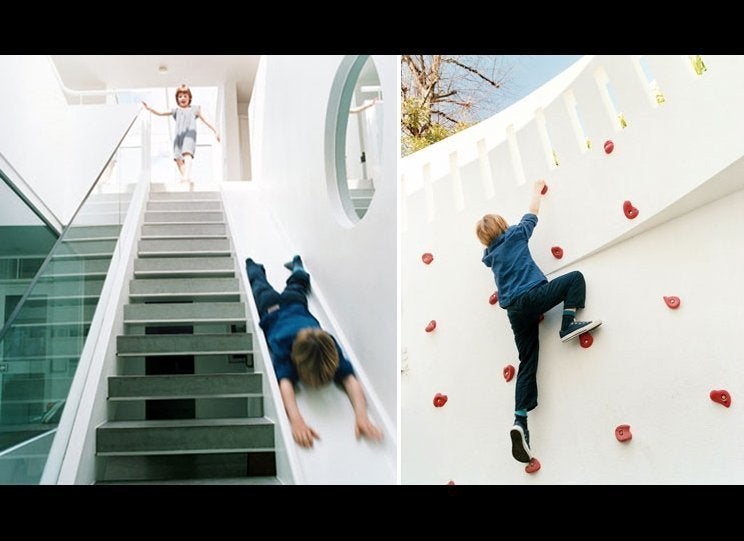 Top 10 Kid-Friendly Houses
In recent research on understanding children's perception towards the built environment Dr. Ismail Said of the University of Technology Malaysia explains:
"Form, shape, color and function are the parameters applied in designing and articulating the spaces inside and outside architecture. The design approach is somewhat inconsistent with the literature on children's functioning in indoor and outdoor spaces..., adults perceive space mostly through form and aesthetics (Matthews, 1992) whereas children see the space as mostly based on its functions rather than aesthetics (Christensen, 2003)... In middle childhood, children are genetically programmed for exploration of the world and bonding with nature (Cobb, 1969)... Therefore, the design of children's spaces must conform to their physical, cognitive and social functioning and development."
Providing kids with an exciting outside-the-box architectural environment, liberated from conventional wisdom and paradigms, could in fact be a great long-term investment in the future of this same environment. In the words of artist and children-focused designer Rebecca Peragine: "Inspire children. Change the world."
Related
Popular in the Community