Two weeks ago I returned from the Rio Olympics having covered the Games for a variety of outlets including People Magazine, the Bravo network and Advocate.com. When asked about my most eye-opening highlight, it has to be the thing that made these Olympics most historic from my perspective: the record number of LGBT athletes. I was truly honored to be one of the few journalists on the ground in Rio who had the chance to interview many of the LGBT athletes from a great cross-section of gender, backgrounds and nationalities.
Upon my return I took some time to reflect upon the stories and examples set by these courageous athletes. In addition to the "out" group, I met an almost equal number of athletes who had made the decision to not publicly speak about their orientation. With respect to this individual choice, I was fascinated to hear the wide spectrum of reasons which led them each to this decision.
In some cases I even witnessed some athletes who were perceptively "out" on social media ask to be removed from the "out Olympians" list, because they wanted to keep the conversation about their personal lives completely separate from their sport. At an event we hosted for the LGBT Olympians, I had the privilege of interviewing USA rower Meghan O'Leary. Before we conducted her first interview since coming out, she told me that she looked at the list of LGBT Olympians and thought that speaking out was the right thing to do. She knew those numbers could and should be so much higher.
Is coming out and the media attention it garners a distraction for athletes, or do professional athletes have a responsibility to the younger generation of athletes looking for an LGBT role model?
Now that football season has kicked-off and baseball gears up for the playoffs, we should recognize that there are currently NO openly gay athletes in either league, nor in any of the big four leagues. This marks a stark contrast to the Rio Olympics, which recently closed out a historic chapter for LGBT athletes.
The Rio Games brought a new level of visibility to LGBT Olympic athletes, with over 50 openly LGBTI athletes competing (and approximately half of them claiming medals - an amazing statistic when you really analyze it). This begs the question of why professional athletes choose to remain in the closet. Over the past few years, we've seen athletes like Jason Collins, Robbie Rogers and Michael Sam come out during their various careers, generally to wide applause. While these athletes have paved a powerful path for others, many are still struggling to follow suit.
Top 10 LGBT moments of Rio 2016
Here is my take on the top LGBT moments of this Olympiad, which many have called "the Gayest Games yet," hoping it will inspire professional athletes to follow the Olympians example.
1) The opening ceremony begins with a gay kiss
It wasn't on TV… but for those in attendance at the ceremony, I reported on social media that the audience warm up included a "kiss cam" and the very first one they showed was two guys! Definitely appropriate in retrospect, given the events to unfold.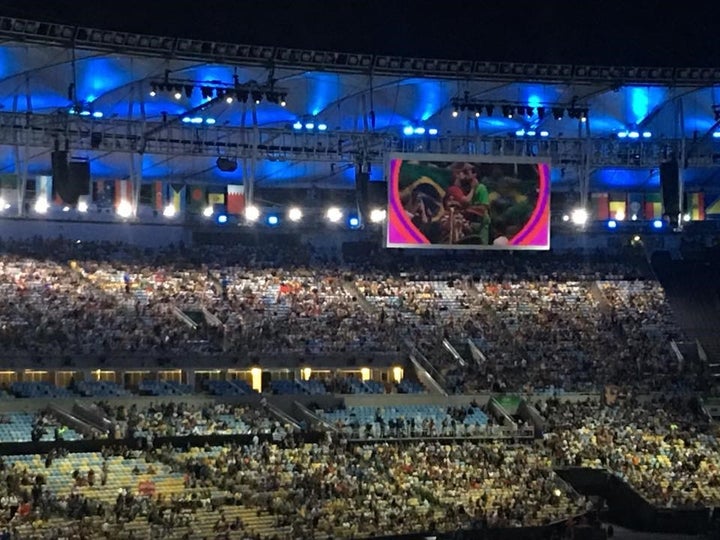 2) Gorgeous trans supermodel is the biking placard bearer for Brazil!
At every Games there are placard bearers for each country - usually lucky volunteers - and this time Leandra Medeiros Cerezo cycled out in Rio with the Brazilian athletes behind her. Later I learned how popular Leandra was amongst the LGBT community, as we'd see her at many local clubs and parties. I would equate her to the Candis Cayne of Brazil!
3) Existence of the second Pride House
Opening Ceremony Day was also the opening of the LGBT Pride House, the first one since its inception at Vancouver 2010. Located in the Lapa neighborhood, this effort was put on by a grassroots team of young Rio Cariocas, who really saw it through given their original funding was revoked by the ROC (Rio Organizing Committee) and a surprising lack of corporate sponsorship. While I was one of the few international media visitors to the House, I gained a lot of admiration for this group, and it was really important for me to profile their story too.
Watch Charley's interview with Erico Santos, the founder of the Rio Pride House on Advocate.com
4) Daily Beast reporter completely shot down by Rio, USOC and media
While the Daily Beast incident – where a straight reporter tried to intentionally out LGBT athletes in the village – was a horrible incident, I would add the public reaction to the top moments. My media colleagues, as well as friends from the Rio 2016 LGBT Advocacy Group, made powerful statements about how wrong this was and how the media needed to be held accountable for reporting in a responsible manner. I particularly loved the reaction of Tonga swimmer Amini Fonua. See interview on Advocate.com.
5) TWO gay marriage proposals!
Following her final rugby match, Isadora Cerullowas proposed to by her girlfriend Marjorie Enya, who was a volunteer for the Games. She grabbed a microphone, before delivering an emotional speech where she said, "I wanted to show people that love wins." Partly inspired by this act, British racewalker Tom Bosworth also proposed to his boyfriend on the beach following his 6th place finish in racewalking. I LOVED meeting and talking to Tom out this historic event. See interview on Advocate.com.
6) Greg Louganis mentors USA Diving and makes a big statement about LGBT equality
Greg Louganis has been a hero of mine since childhood, and it was an honor to sit down with him and hear about his landmark year advancing the movement of equality in sports. I love the way Greg helped mentor many of the young athletes of these Games and acted as a role model for many to come. Witnessing the generational handoff of this important movement was extraordinary. See interview on Advocate.com.
7) LGBT equality celebration at the Fasano Hotel
Feeling the need for a formal celebration of the athlete heroes, my friend David Seale and I, along with Todd Severson who heads the Rio 2016 LGBT Advocacy Group, helped coordinate a special cocktail reception for the LGBT Olympians still in town. Erico from Pride House was also in attendance and presented each of the honorees with a cool Rio Pride House t-shirt.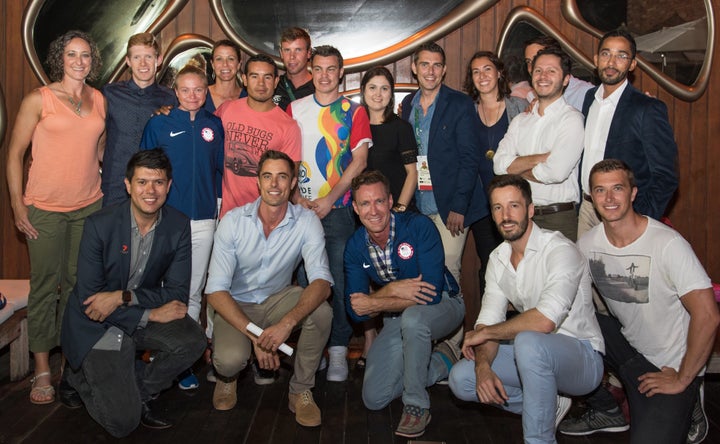 8) Meghan O'Leary comes out in Advocate interview
The above event had one surprise attendee, which was USA Rowing's Meghan O'Leary. While Megan had not appeared on any of the lists of out Olympians, she was inspired by those who were and decided it was important to make a statement. Bringing the American count to nine, Megan accounted her own youth and thought of today's next generation she might influence. See interview on Advocate.com
9) Obama names former NBA baller Jason Collins and Secretary of the Army Eric Fanning to his Closing Ceremony Delegation
While the Obamas couldn't make this year's Games, POTUS again made a big statement about sports equality by naming these two gay and well known personalities to his delegation. I had a chance to have dinner with Jason later that night, and we talked about how amazing and important this step was, especially following an ALL LGBT delegation at the Sochi Opening Ceremony.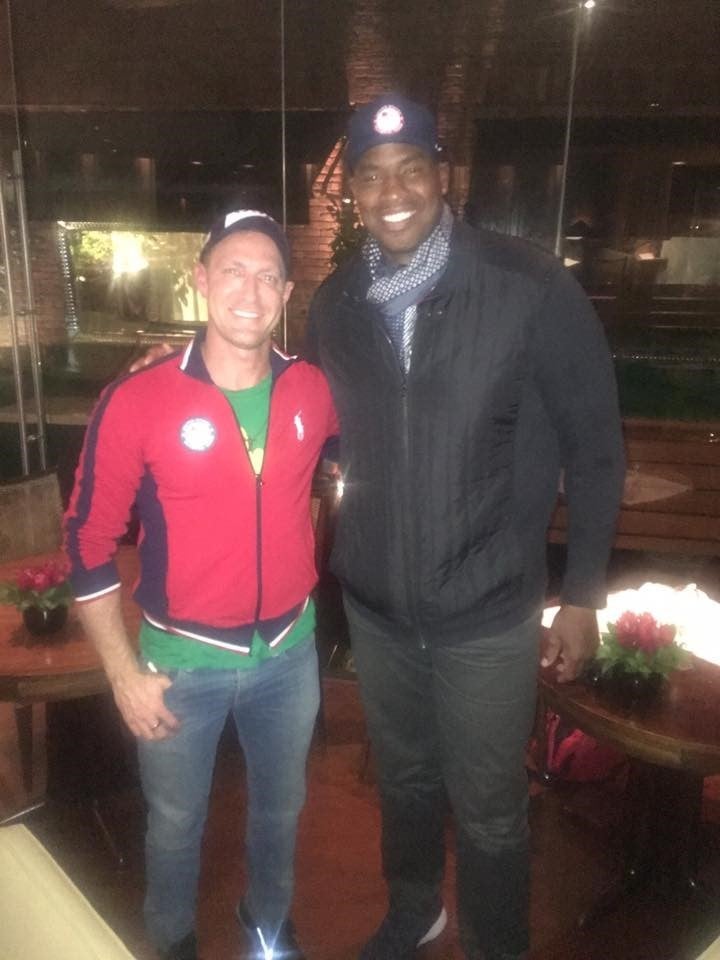 10) At least 25 medals for out Team LGBT!
I loved reading the article from my friend Cyd Ziegler, which reported that of the 53 publicly out LGBT Olympians he knew of, 25 of them won a medal…including 10 gold. That's a medal rate of almost 50%… a rate higher than ANY individual country! What a great statement to be made for this particular Games, and so fun to think that competing as their genuine selves may have somehow contributed to those victories.
REAL LIFE. REAL NEWS. REAL VOICES.
Help us tell more of the stories that matter from voices that too often remain unheard.