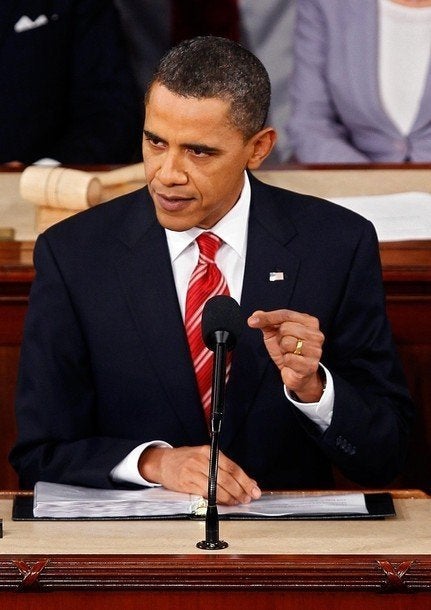 A sampling of some of the most newsworthy lines from President Barack Obama's 2010 State of the Union Address:

"Here's what I ask of Congress, though: Do not walk away from reform. Not now. Not when we are so close. Let us find a way to come together and finish the job for the American people."
"It was not easy to do. And if there's one thing that has unified Democrats and Republicans, it's that we all hated the bank bailout. I hated it. You hated it. It was about as popular as a root canal."
"I realize that for every success story, there are other stories, of men and women who wake up with the anguish of not knowing where their next paycheck will come from; who send out resumes week after week and hear nothing in response. That is why jobs must be our number one focus in 2010, and that is why I am calling for a new jobs bill tonight."
ON A GOVERNMENT SPENDING FREEZE:
"Like any cash-strapped family, we will work within a budget to invest in what we need and sacrifice what we don't. And if I have to enforce this discipline by veto, I will."
"I do not accept second-place for the United States of America. As hard as it may be, as uncomfortable and contentious as the debates may be, it's time to get serious about fixing the problems that are hampering our growth."
ON "DON'T ASK, DON'T TELL":
"This year, I will work with Congress and our military to finally repeal the law that denies gay Americans the right to serve the country they love because of who they are."
"As a candidate, I promised that I would end this war, and that is what I am doing as President. We will have all of our combat troops out of Iraq by the end of this August. We will support the Iraqi government as they hold elections, and continue to partner with the Iraqi people to promote regional peace and prosperity. But make no mistake: this war is ending, and all of our troops are coming home.
"But even if you doubt the evidence, providing incentives for energy efficiency and clean energy are the right thing to do for our future - because the nation that leads the clean energy economy will be the nation that leads the global economy. And America must be that nation."
ON EDUCATION AFFORDABILITY:
"In the United States of America, no one should go broke because they chose to go to college. And it's time for colleges and universities to get serious about cutting their own costs - because they too have a responsibility to help solve this problem."
"You have trimmed some of this spending and embraced some meaningful change. But restoring the public trust demands more. For example, some members of Congress post some earmark requests online. Tonight, I'm calling on Congress to publish all earmark requests on a single website before there's a vote so that the American people can see how their money is being spent."
Calling all HuffPost superfans!
Sign up for membership to become a founding member and help shape HuffPost's next chapter