Today I'd like to discuss the boom of live/work spaces, but let's forget about design for a moment. Let's talk facts first. In the US alone, more than 20 million people work from home, according to the Bureau of Labor Statistics. Why? In the words of Duran Duran's Simon Le Bon (when asked why rock stars always date supermodels): Because they can. The live/work trend is steadily on the rise and I am personally very intrigued about how this will influence and change our homes. But I also find it fascinating how it relates to the bigger picture of society, what it means, where it comes from and where it's taking us.
There is hardly any great novelty in the idea of having one's place of work and one's residential quarters under one roof. Historically, up until the Industrial Revolution, live/work houses were everyone's type of residence. In the Renaissance societies of thriving trade and service provision, descending to one's own street shop from a second level home was the most natural thing to do. This archetypal kind of dwelling has never in fact ceased to exist, especially in the more historical urban areas of our world. It was in the accelerated 20th century that we simply forgot about it because working in big factories or huge corporate offices became the norm.
Today norms are changing again. In the same way that once industrial machines completely changed the game, nowadays information technology shapes the broad mentality and defines the post-industrial society. Economy increasingly revolves around information and creativity (as opposed to manufacturing), and work is becoming more and more a matter of knowledge and less of labor. Portable (and often personal) lightweight laptops are replacing office computers, E-mail killed the fax machine and the copying machine, video chats substitute face-to-face meetings. In the company where I work, people sitting next to each other actually talk on Skype all the time. Add to that the infinite freedom and flexibility that online connectivity gives us and give me one good reason why I should physically "go to work" to work. The classic corporate office is growing obsolete.
So, in the future, will there be any reason for people to even live near their employer's headquarters at all? I recently read a Forbes article that quoted a survey of over 3,000 business owners in the US. More than half (57%) of millennials surveyed plan to at least double their spending on online workers in 2013, while 82% believe within the next 10 years many businesses will be built completely with virtual teams of online workers. It turns out that in the same way that the internet killed the high street, it is now taking down the corporate office tower blocks. Sounds huge, doesn't it?
The story continues after the break.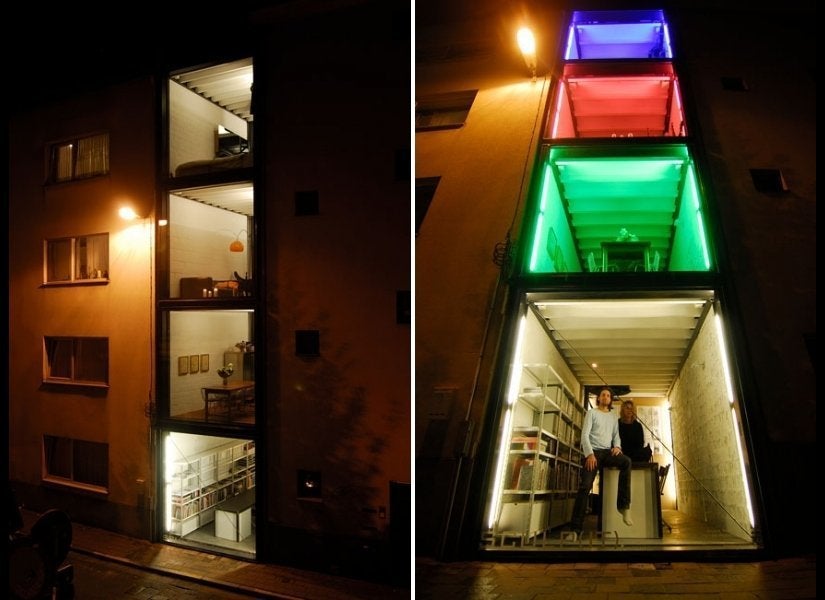 Let's talk about the design implications now. What do we mean by a live/work space anyway? Does every apartment with a home office count as one or is there more to it? The question becomes ever more relevant, as there are many new buildings designed and built especially with a live/work purpose, including by city council planning departments. Thanks to popular culture, most people's idea of a live/work space gets down to a loft-like gentrified former industrial space. And while there is a great deal of boho-chic appeal in that idea, it remains mostly a lifestyle aspiration, which fails to address how that meets the needs of home-based worker.
The projects I have selected to show you today do. They are all very different from your typical widely-marketed live/work space. First of all, almost all of them are not adapted, but especially built around their owners' genuine home-based working needs. This is very clear in the cases of the aptly named Live/Work in Antwerp, Belgium; Cien House on the outskirts of Concepcion, Chile and the Kirchplatz Office + Residence in Muttenz, Switzerland.
On another hand, the projects in this selection couldn't feel any less contrived because of the sensitive way that they fit into their context - from the satirical wink at the former red-light district location in Antwerp to the careful landscaping and detailing in the historical setting of Muttenz. Brunnenstrasse 9 shows us a particularly straightforward lesson in embracing the specific conditions of time and location. Situated in a part of Berlin that is currently the forefront of gentrification, it literally keeps a big door open for a city life immensely affected by globalization.
Then we have some impressive examples of contemporary live/work spaces for the artistically minded. All three house/gallery buildings presented here (Brunnenstrasse 9, Daeyang Gallery and House and the Gallery House by ogrydziak/prillinger) are informed by the cosmopolitan openness of the information technology era, yet at the same time they offer a deeper and more personal contact with art than technology ever could.
Finally, an interesting example of a work/live (as opposed to live/work) space is the 21 House. a21 architecture studio's office space brings a home to the office and not vice-versa. The architects simply discovered that they needed to feel more at home when working on their projects, so they designed the space to deliver coziness and peace of mind.
What do you think - will 21st century see us saying goodbye to the office in favor of live/work, work/live or co-working spaces? What do you imagine they will be like?