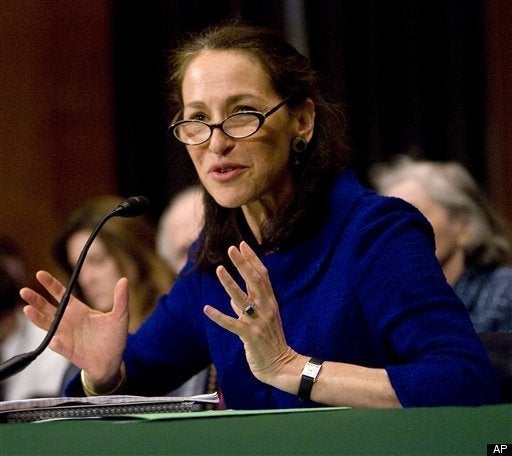 1) FDA: The science of regulation. FDA Commissioner Margaret Hamburg has made the improvement of regulatory science a top priority. What is regulatory science? Put simply: sound science necessary to support good regulatory decision making -- both at FDA and outside the agency. Keeping abreast of developments in all the areas of science that are relevant to FDA -- not just in current therapeutic and device areas, but also in scientific computing, statistical methodologies, emerging technologies (i.e., nanotechnology) -- is a formidable task for the agency to tackle alone. FDA needs resources and partnerships to do this work and to ensure that the agency is ready when innovations are passed on to them for review. Congress, are you listening?
2) NIH is a TRND-setter. In May 2009, NIH created the Therapeutics for Rare and Neglected Diseases (TRND) program. This is more than an extension of NIH's role in promoting research into rare diseases; it's potentially a model for the role NIH could play more broadly in helping promising basic discoveries bridge the "valley of death" between preclinical development and clinical research. TRND's $24 million budget is a rounding error in NIH's $30 billion account, but with support and success we hope it will grow.
3) The Health Internet: There's an app for that. Last fall, a group of leading thinkers and entrepreneurs from a variety of sectors gathered to discuss an idea that originated with Harvard's Isaac Kohane and Ken Mandl -- the development of an "iPhone-like platform" for health information technology (HIT), a more open and flexible approach than the architecture currently being contemplated, and one that holds greater promise for creating a consumer-oriented "Health Internet." Obama Administration officials pledged at the meeting to have a pilot effort launched that could have real-time patient data accessible online this year. We've marked our calendars to watch for progress.
4) Clinical trials: It takes an Army, and some new methods. More than 300,000 women from across the U.S. have signed up for the Love/Avon Army of Women as potential volunteers for breast cancer clinical research studies. Eighty percent of them have never had breast cancer, and most were recruited through social networking tools like Facebook. These numbers speak to the power of social media to spread the word, fast. The Army has recently partnered with the National Cancer Institute's Cancer Biomedical Informatics Grid (caBIG) to create a cohort for an online longitudinal study and to make its data available via caBIG to the cancer research community. Is this kind of standing Army the answer to our perennial clinical trials recruitment challenge? And what alternatives are there if you're not likely to gather an army of 300,000?
5) Privacy: Should what happens in Vegas stay in Vegas? The law developed to protect your privacy, the Health Insurance Portability and Accountability Act's (HIPAA) Privacy Rule, as currently implemented, impedes important health research according to an Institute of Medicine (IOM) report issued in early 2009. Additionally, an IOM-commissioned survey of the public found that only 13 percent of respondents said they did not want their medical data used "under any circumstances." Patients suffering from disease have shown themselves remarkably willing to share their health information -- privately and not-so-privately -- to advance the search for cures. Congress and HHS should act this year to implement the IOM's recommendations to appropriately alter existing HIPAA rules to better enable research, to serve the interests of progress as well as patients.
6) Healthcare reform: is that all there is? What will Congress and the rest of Washington do in 2010 with healthcare "reformed?" We hope to see attention devoted to medical research, which is key to reducing healthcare costs, ensuring a productive workforce, allowing us to compete globally, and most importantly improve quality of life. A good starting point is Sen. Arlen Specter's Cures Acceleration Network proposal (which will be discussed further in conference for the healthcare reform bill) and also Rep. Patrick Kennedy's bill on genomics and personalized medicine. Maybe an incentive program called "Cash for Cures" a-la "Cash for Clunkers?" (Just kidding -- or maybe not?)
7) Please be disruptive. The concept of "disruptive innovation," introduced by Harvard Business School's Clayton Christensen, is all the rage in business circles -- an innovation (in technology and business models) that transforms an existing market or sector, making it simpler, more affordable, and more accessible. This idea is making inroads into the healthcare debate as well. But, what does it mean in medical research? Is it possible to re-imagine the "business" of curing diseases, to fundamentally rethink the ties between and the rewards system of researchers (basic/translational/clinical), funders (government/industry/philanthropic), and patients? One place to start: the disease research organizations in FasterCures' TRAIN program. These are groups whose bottom line is finding a cure and for whom business as usual isn't an acceptable option. They've already begun a disruptive "movement."
a) Speaking of disruptive, we continue to be on the lookout for efforts that embody exploration, innovation, and new ways of thinking. In past years, we've watched how prizes can incentivize action, how ideas can bubble up from the wisdom of the crowds, how citizen action can be mined to advance a common goal. We thought DARPA's Network Challenge featured all three (kudos to MIT for finding all 10 red balloons in record time). Can we channel such imagination to advance medical research?
8) Partnering for cures (small "c"). Shameless promotion time (it's our list, after all): FasterCures held its first Partnering for Cures (P4C) conference in December, and we were in awe of how this interesting idea morphed into a remarkable reality. Originally conceived as a venue to highlight the importance of strategic philanthropic investment in medical research, P4C used the industry investor conference model to provide structured opportunities to bring together people who have the same interests across sectors -- nonprofit, philanthropy, industry, academic, and government. It proved to be an awesome place to "get stuff done," in industry parlance. It was, in the words of one blogger, "A matchmaking fest ... money chasing ideas chasing money chasing results." So what now? What more needs to be done to facilitate this kind of interaction and deal making, frankly, among all the key players in research across sectors?
9) All health is glocal. No, that's not a typo. Chronic conditions including cardiovascular diseases, cancer, chronic respiratory diseases, and diabetes cause more than half of all deaths worldwide each year, a statistic that is mirrored in almost all developing regions. Meanwhile, the 2009 H1N1 "swine" flu pandemic highlighted the fact that we in industrialized countries are far from immune to suffering from acute, communicable illness. As the disease map shifts, there is growing acknowledgement of the blurring lines between global, domestic, and even local, health. How will this shifting paradigm impact the way we conduct medical research? It's not just about conducting lower-cost clinical trials overseas, or about corporate social responsibility anymore; it's about building research capacity and knowledge-sharing networks that are truly global, and thinking about markets in new ways. Will we finally begin to break out of the silos that have kept domestic and global health research separate?
10) Gaining a pre-competitive edge. One thing we're fairly sure of is that biotechnology and pharmaceutical companies know how to compete. But do they know how to pre-compete? As discovery and development costs soar, success rates decline, and the landscape of medical research shifts toward more targeted therapies, whether companies can fill their pipelines may depend on how well they partner -- with other companies, with government and academia, and with medical research foundations - to support research in pre-competitive areas. What types of incentives or mechanisms can facilitate these collaborations? Are our conflict-of-interest policies aligned to support convergence of interest while guarding against true conflicts?
Best wishes for a happy and disruptive 2010!