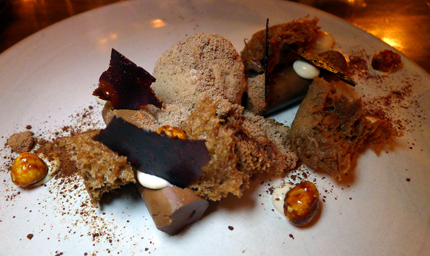 Bringing modern science into the kitchen, molecular gastronomy uses avant-garde cooking techniques and equipment to transform flavors and presentations. Examples include deconstructions, foams and "caviars" composed of reductions that have been converted into textural dollops with tapioca-like consistency. GAYOT.'s top 10 molecular gastronomy restaurants in the U.S. will let you know the best places in the country for this cutting-edge cuisine.
Alinea
1723 N. Halsted St.
Chicago, IL 60614
A multi-course dinner at Alinea is concocted with dozens of components and in an order and a fashion revealing the art of Grant Achatz. The dishes are ever-evolving but the precision and level of excitement remains constant.
Moto
945 W. Fulton Market
Chicago, IL 60607
Chef Homaro Cantu of Moto breaks all the rules, blazing trails that are both uncharted and titillating for those who view dining as a theatric, multi-sensory affair.
Atelier Crenn
3127 Fillmore St.
San Francisco, CA 94123
In Dominique Crenn's fanciful atelier, dishes are served bathed in bubbles, atop pristine logs, and in myriad unusual presentations that feel taken from a Tolkien novel.
Baumé
201 S. California Ave.
Palo Alto, CA 94306
Baumé strikes a seamless balance between molecular gastronomy and modern French cuisine.
wd-50
50 Clinton St.
New York, NY 10002
Chef Wylie Dufresne has made a name for himself as a chemist and provocateur with his eccentric cuisine at wd-50 in New York.