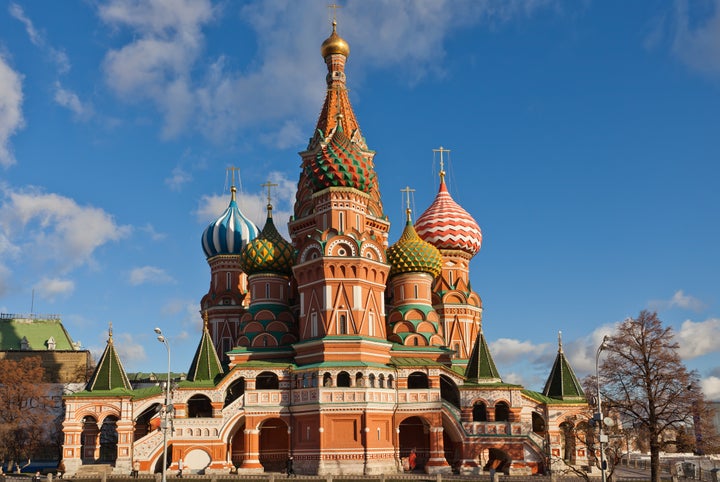 Moscow is one of the largest cities that may still, in the minds of many Westerners, seem to qualify as "adventure travel" thanks to the combination of mafia portrayals in Hollywood movies and the unrelenting bad press in Western media. Take it all with a huge grain of salt, and don't let it dissuade you from exploring Moscow's many cultural wonders, from top-notch exhibits at the Tretyakov Gallery to some of the world's most gorgeous subway stations replete with stained glass, marble and intricate mosaics.
1. Apply for your Russian visa three months before your arrival date. You can't apply earlier than three months for it, but you also don't want to wait until the last minute due to processing times. For a step by step guide, see Three-Year Russian Visa Application Requirements and Tips
2. Fly first class to Moscow on a Lufthansa or Singapore Airlines award ticket. Treat yourself to some luxury even before you get to Russia by flying Lufthansa New First Class to Moscow via Germany (67,500 United miles each way), or Singapore Airlines First Class from Houston to Moscow, using KrisFlyer miles.
3. Take the Aeroexpress to and from the airport. There's really no reason to haggle with taxi drivers, since the Aeroexpress train takes even less time between the airport and Moscow city center, and you can connect to the Metro at Paveletskaya to get to wherever you need to go (just pack light).
4. Where to Stay, Luxury: For modern luxury, stay at The Lotte Hotel Moscow. It's no wonder the hotel was named the best city hotel in Russia in the 2012 Conde Nast Traveller Readers' Choice Awards and has quickly become a favorite among both discerning business travelers and well-heeled Muscovites alike. The attention to detail and consistently high quality service at The Lotte is still a relative rarity in Moscow. And don't miss stellar French cuisine at Les Menus par Pierre Gagnaire, or a soothing Balinese massage at Mandara Spa.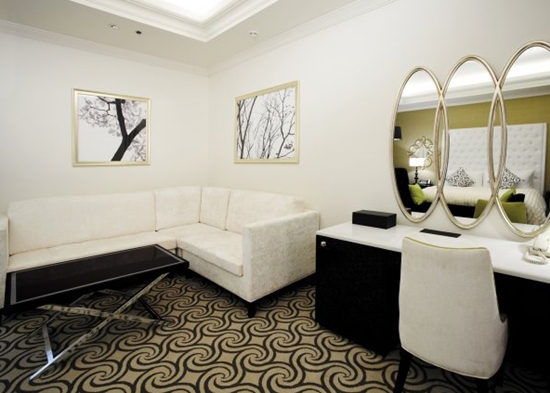 5. Where to Stay, Budget: While there are Moscow hostels and rented apartments, your best bet for an almost-free stay that is still conveniently located in the center is to use loyalty points. Hyatt, Marriott, InterContinental and Radisson all have hotels in Moscow, so by earning points either with hotel stays or by signing up for the best travel credit cards, you can enjoy some free nights in one of the most expensive cities in the world.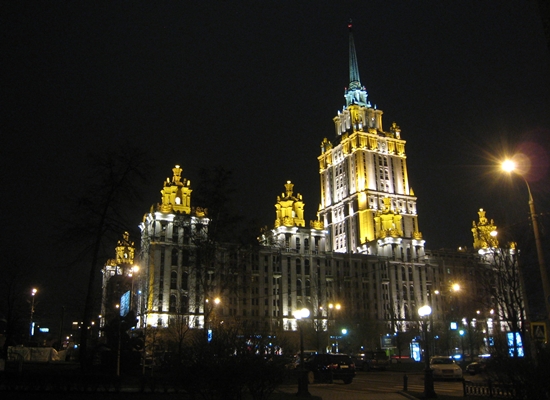 6. Try Georgian Food: Georgian food and wine was beloved during the Soviet Union and continues to be popular in Moscow. Try hip local chain Café Khachapuri which specializes in different varieties of the namesake khachapuri, a traditional Georgian bread stuffed with melted Georgian sulguni cheese. There are plenty of other Georgian dishes on offer as well. The business lunch special on weekdays is also a good deal. Check out some other great things to eat in Moscow.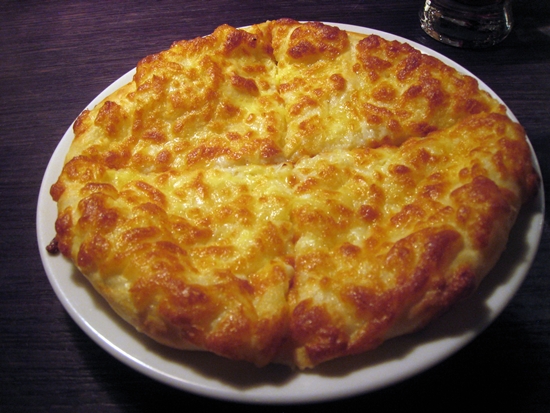 7. Take in the View: The City Space Bar, on the top floor of the Swissotel Krasnye Holmy, is your best bet for incredible 360-degree views of Moscow while sipping elegant and innovative (albeit very pricey) cocktails and excellent service. In the summer, another great place is the terrace of the Sky Lounge, located atop the Russian Academy of Sciences. Here, cocktails aren't as innovative as the City Space Bar but the food menu is far more extensive. Reserve a table here for just before sunset. Another option is the O2 Lounge atop the Ritz-Carlton Moscow, with its lovely view of Red Square and the Kremlin.
8. Go Underground: Chances are, unless you've experienced other Russian or former Soviet subway systems, you've never seen more beautiful stations. Don't miss Novoslobodskaya, Komsomolskaya, Mayakovskaya and Ploschad Revolutsii, to name a few, whether you visit on your own or as part of a Moscow Metro Tour. Just as impressive is the subway's efficiency -- you'll often wait less than a minute for the next train to come.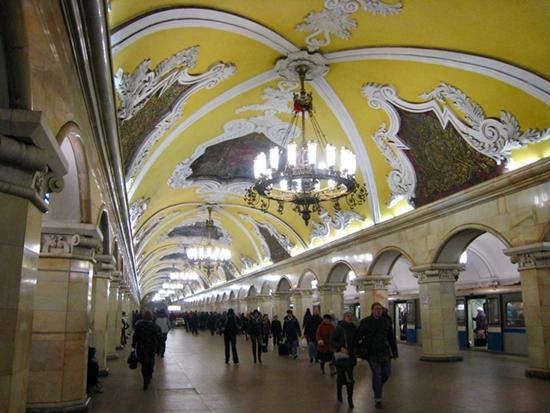 9. Go to Church: You'll probably visit Red Square and the Kremlin, but don't forget to buy a cathedral pass so that you can visit Uspensky Sobor, the masterpiece of Italian architect Aristotele Fioravanti and the coronation site of Russian monarchs from 1547 to 1896. Take in the beautiful frescos and icons, but note that photography isn't allowed inside.
10. Visit a Russian Versailles: Arkhangelskoe Estate takes a bit of getting to (take Metro Line 7 to Tushinskaya, then a 20-30 minute Number 151 mini-bus ride) but is well worth the trek on a beautiful summer or crisp autumn day. Take a picnic with you and enjoy walking around this Russian version of Versailles.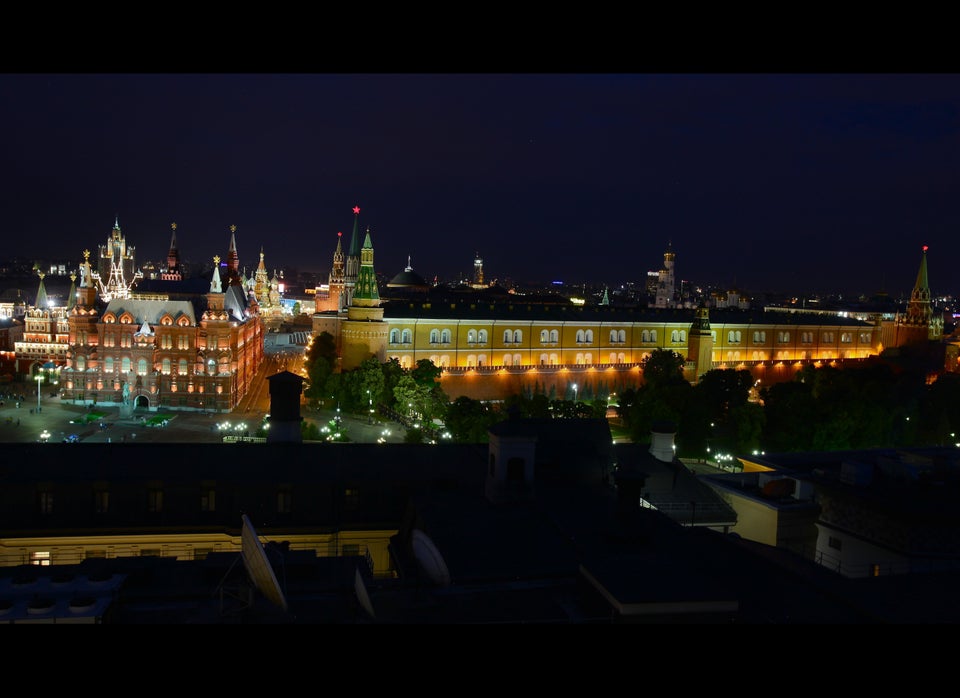 Top 10 Moscow Travel Tips