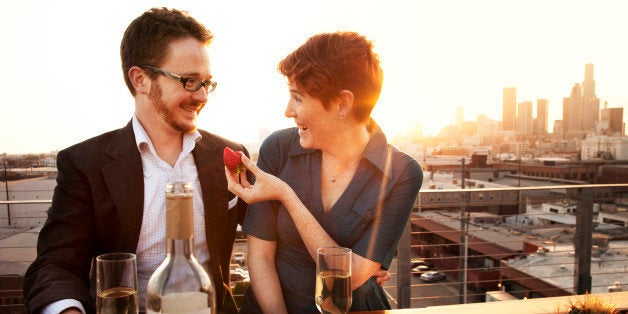 Many of us have a type. While tall, dark and handsome may be most popularly represented in media, other characteristics, such as religion and marital status, may enter in to the ideal partner calculus as well. Depending on the city you live in, you may be more likely to date individuals who have more or less flexible views on what constitutes their ideal partner. Zoosk recently conducted a study of one million online daters and determined the top 10 most and least open-minded cities for dating in the U.S.
The Top 10 Most Open-Minded Cities
Las Vegas, NV
Detroit, MI
Columbus, OH
Sacramento, CA
San Antonio, TX
Oklahoma City, OK
Indianapolis, IN
Jacksonville, FL
Nashville, TN
Memphis, TN

The Top 10 Least Open-Minded Cities
Raleigh, NC
San Jose, CA
Birmingham, AL
Richmond, VA
Pittsburgh, PA
Washington, D.C.
San Diego, CA
Atlanta, GA
Riverside, CA
Orlando, FL

According to the study, individuals living in cities that were negatively impacted by the Great Recession, including Las Vegas and Detroit, may be more open-minded regarding their partner preferences. The preferences of individuals in more educated cities, such as Washington D.C and Atlanta, may be more fixed, however. Individuals with higher levels of education may have stronger preferences and be more in demand from a dating market perspective, which leads them to be less open-minded about their prospective partner's characteristics.

After examining several demographic characteristics, Zoosk determined that singles in Birmingham, Alabama are the least open-minded about dating someone who has a different religious background whereas singles in San Jose, California are the most open-minded. With regards to education, singles in San Jose, California are the most likely to prefer a partner with a similar level of education and singles in Salt Lake City, Utah are the most willing to date someone with a different level of education. Singles in Salt Lake City, Utah, are also most likely to be open-minded about marital status. Salt Lake City, Utah singles are the most willing to date someone who is divorced and individuals in Hartford, Connecticut are least likely to be open-minded about dating a divorced individual.
Dating is not easy. Geography not only can complicate existing relationships, but relationships that have not yet formed. The next time you are searching for love be sure to consider where you are looking for love!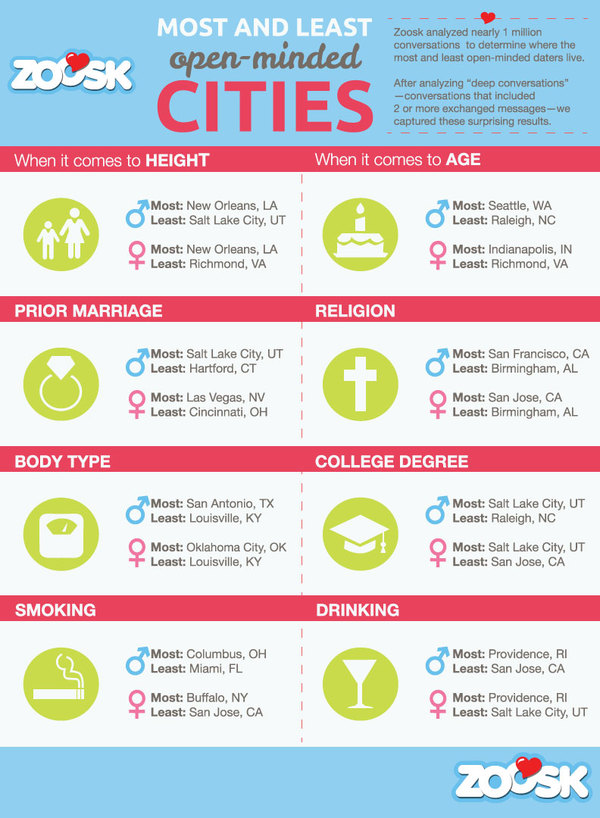 REAL LIFE. REAL NEWS. REAL VOICES.
Help us tell more of the stories that matter from voices that too often remain unheard.