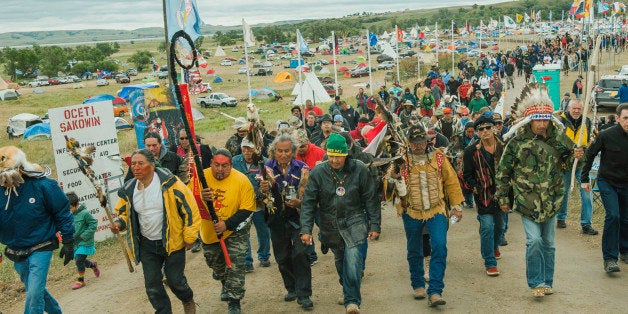 2016 was a year of extremes: from the Paris Agreement going into effect to a White House full of climate deniers, from the halting of the Keystone XL Pipeline to the horrendous treatment of protesters standing up against the Dakota Access Pipeline. Although the trajectory of environmental policy has taken a divergent turn, the commitment from the international community, states, cities, businesses, and individuals has only gotten stronger. Here is the 2016 list of the top 10 movers and shakers in sustainability (in no particular order):
1. Dakota Access Pipeline protesters. These protesters are standing up for the protection of sacred land and clean water in the fight to reroute the Dakota Access Pipeline (DAPL). Facing intimidation and abuse from police, these "water protectors" are members of the Standing Rock Sioux tribe who rely on the Missouri River, the water source that the (almost completed) pipeline threatens to pollute. Leaders of indigenous peoples in South America, U.S. military veterans, and environmental activists have also joined Standing Rock. Many of the protesters are women too: these interviews and stories from the frontlines provide enlightening insight into why this fight is so important. At the beginning of December, after months of protest, the movement was successful in getting the Army Core of Engineers to deny the oil and gas company a permit. However, the fight is not over as the company will pursue other strategies to continue the pipeline and will have friends in the White House starting in 2017. Although cold winter weather has set in and fears have already been realized in early December when 180,000 barrels of oil spilled 150 miles from the protests, the water protectors continue to stand up for justice.
2. U.S. National Park Service. National parks conserve natural resources and provide us with the opportunity to reconnect with nature. Celebrating its 100th anniversary this year and receiving more visitors than ever, the U.S. National Park Service received some well-deserved attention. In honor of the 100th anniversary, the Obama Administration designated more land (and sea) as national monuments, to be managed by the National Park Service. Designations include 87,500 acres of the North Woods in Maine and an expansion of the Papahanaumokuakea Marine National Monument in Hawaii by 442,781 square miles, creating the world's largest marine protected area. The National Park Service is also looking at how to reduce the environmental footprint of operations such as through an innovative partnership with Subaru that intends to go zero waste at Denali National Park.
3. Leonardo DiCaprio. One of the most prominent environmentalist activists in the U.S., Leonardo Dicaprio recently called tackling climate change the "biggest economic opportunity." Leo gets it. Not only does he represent ... He also released a new documentary Before the Flood in October of this year, where he travels the world talking to scientists and world leaders to bring awareness to the issue and urge the world to act on climate.
4. REI and their call to "Opt Outside." Although the outdoor company's campaign started in 2015, the call they made for their customers to opt outside on Black Friday rather than shop took root in 2016. Some may even be surprised to hear that it was REI that originally started the move to spend time outside exploring nature on the day after Thanksgiving rather than spend money on material goods.
5. Civil society. All over the world, individuals, nonprofit organizations, and communities are coming together to act on climate and sustainability. From getting pensions, governments, universities, and churches to divest from fossil fuels ($5.2 trillion in assets have committed) to voting "no" on deceptive solar power amendments (Florida voted down an amendment that would have made it harder for solar in the sunshine state) to demanding land rights in spite of big interest groups (in Peru, Goldman Prize winner Maxima Acuña de Chaupe and her family were attacked for not giving their land up to a big gold-mining project), civil society is making moves towards a healthier planet and community. Although it can be difficult to see the momentum, we as a society are coming to terms with the need to change the way we do things for the better.

6. Climate scientists. Climate scientists are the backbone to climate policy and action. Yet they have faced much opposition over the years and at the end of 2016 science was under attack once again. Climate scientists under various federal agencies such as the U.S. Department of Energy (DOE), Environmental Protection Agency (EPA), and National Aeronautics and Space Administration (NASA) in particular will be faced with tough times over the next four years (the new administration plans on cutting climate research from NASA and individuals working on climate change at the DOE have already been targeted in a questionnaire). In order to stand strong to such opposition, more than 800 scientists and experts sent an open letter on climate change to Trump, laying out six specific steps "to strengthen, not weaken, this nation's efforts to tackle this crisis." Moreover, despite the planned gutting of climate research, in December NASA announced a long-term climate mission to monitor vegetation stress and greenhouse gas emissions.
7. Germany. There is no surprise that Germany is an environmental leader: the country continues to boast the largest installed capacity for solar power. However, the country's leadership was brought to light in 2016 with the designation as the #1 recyclers in the world (thanks to widespread separation bins and recycling culture). In December, the German development minister also told World Bank to put "an end to investments in obsolete and climate-damaging technologies."
8. Google.
In December of this year, the tech company announced it would reach its goal of
renewable energy in 2017 and has committed to purchasing 2.6 gigawatts of electricity under long-term contracts with renewable energy providers-- that's more than many large utilities, and up 0.6 GW from a year ago. This is significant not only for Google in reducing its own greenhouse gas emissions but also because it sets the standard for other tech companies (and others) to follow. Apple is another tech giant that is on track to meet its 100% renewable goal.
9. World leaders and the Kigali Amendment. The Kigali Amendment amends the successful Montreal Protocol, the multilateral environmental agreement that phased out ozone-depleting chlorofluorocarbons (CFCs). With the Kigali Amendment agreed upon in October, world leaders built on the success of the Montreal Protocol to provide a framework for reducing hydrofluorocarbons (HFCs), a substitute for CFCs that turned out to contribute to climate change. HFCs are thousands of times more potent as a warming agent than carbon dioxide and are found in refrigeration and air conditioning. The phasing out of HFCs globally could "prevent 0.5 degrees Celsius of warming by the end of the century."
10. President Obama. As President Obama gets ready to leave the White House, it's essential to highlight all his work this year in pushing for environmental conservation and action on climate change. The Obama Administration showed the world what a U.S. government leading on environmental issues looks like. Besides signing and ratifying the Paris Agreement and the two national monuments mentioned above, President Obama designated millions of acres as national monuments in Utah and Nevada (the Bears Ears National Monument and Gold Butte National Monument). The administration also protected over 118 million acres of America's Arctic and Atlantic oceans from oil drilling, canceled 25 oil and gas leases in Colorado, and banned gold mining in the entrance to Yellowstone National Park. President Obama may even open a post-presidency office at the World Wildlife Fund (WWF) headquarters. Although what this means is unknown, the fact that he plans on spending some time in the greenest building in the nation's capital is pretty cool news, if you ask us.
We do understand it's becoming increasingly difficult to remain optimistic about environmental and climate action in the U.S., but the top movers and shakers in 2016 provide us at The Sustainability Co-Op motivation and hope for the next four years. These brave and committed individuals and organizations inspire us to continue to fight for sustainability.
Related
Popular in the Community