From southern food to breathtaking views: What not to miss in America's most charming city.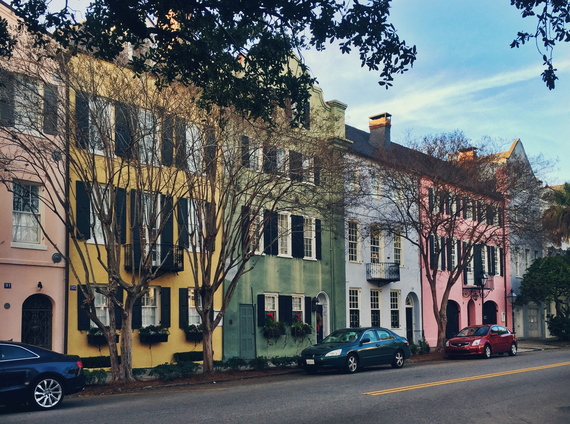 1. Hot Little Biscuit
This hole in the wall shop serves up an assortment of the best house-made biscuits you'll ever have. The blackberry jam, cheddar and chive, black pepper bacon, country ham and cinnamon flavors are all to die for. Be prepared for a wait time-- but it's totally worth it!
2. Charleston City Market
Dating back to 1840, this open-air market stretches four city blocks and holds everything from the famous sweetgrass baskets and handmade jewelry to artwork and southern-style food. I highly recommend stopping in for lunch, as the South Carolina BBQ booth is melt in your mouth good.
3. Waterfront Park
Home to the famous Pineapple Fountain, this picturesque park is perfect for a picnic or afternoon stroll. Grab a wooden swing and you may even catch a glimpse of dolphins jumping in the distance!
4. Rainbow Row
This stretch of East Bay Street is one of Charleston's claims to fame. The series of thirteen Caribbean colored homes makes for some pretty vibrant photos, and instantly puts any passerby in a cheerful mood.
5. East Battery Street
With some of the most breathtaking mansions you'll ever lay eyes on, a walk down East Battery Street is a must! The scenic street runs parallel to the water and is filled with horse-drawn carriages and tons of historic monuments.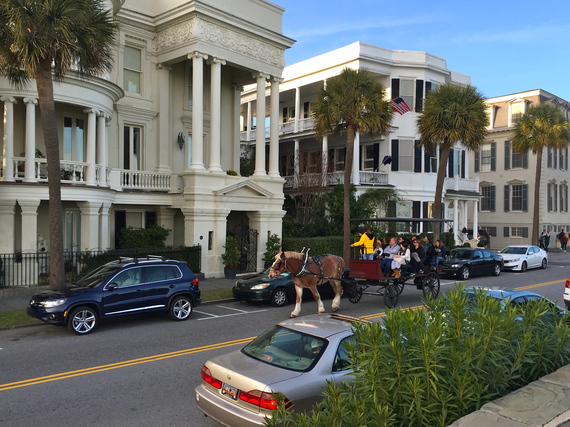 6. Christophe Artisan Chocolatier
This French themed chocolate shop has some of the best French-press coffee and hot chocolate I've ever had. But the beautiful macaroons, chocolates and pastries are what they're really known for! Stop in for breakfast or an afternoon pick-me-up.
7. The Vendue Rooftop
Rated the best in Charleston, this boutique hotel's rooftop bar is a prime happy hour spot. The quaint environment is ideal for grabbing a handcrafted cocktail while watching the sunset. P.S. The Gouda Mac N' Cheese with braised short ribs is out of this world!
8. Shopping on King Street
If you're looking to do a little window-shopping, this is where you'll want to be. King Street is home to some of the best antique, fashion and home furnishing shops in the country.
9. Slightly North of Broad (S.N.O.B.)
Holy smokes... Where do I start? I'm still dreaming about the shrimp and grits and apple tart I had at this restaurant. Everything was truly incredible, including the décor and southern hospitality. Request to sit at the chef's table to get a front row view of the open-air kitchen
10. Angel Oak Tree
If you don't mind going for a drive, the Angel Oak Tree is definitely worth a visit! It's believed to be over 1500 years old and is truly stunning. I'd recommend packing a little picnic and grabbing a shady spot under one of the massive limbs.