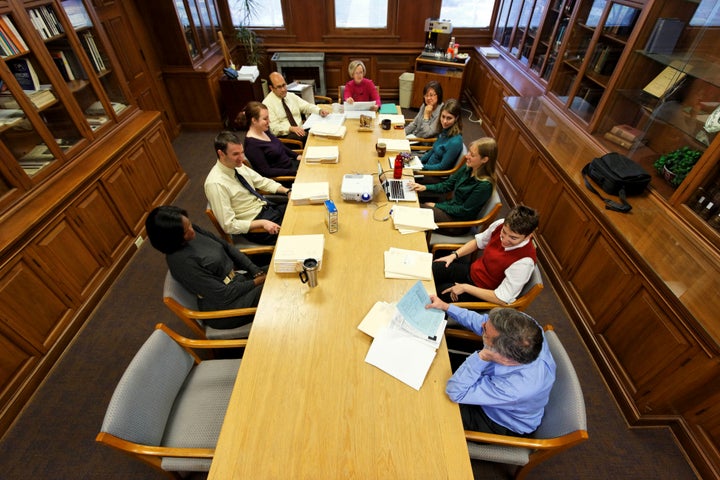 With tips and tricks learned from over twenty years of college consulting, Luterman and Bloom created a step-by-step, proven strategy for creating an application that stands out and gets students IN!
The first step to eliminating admission-induced stress? Exploding these ten most frequent myths about admissions:
1. Colleges prefer well-rounded students.
Fact: Colleges want well-rounded classes. To create them, they need students who excel or spike in one particular area.
2. The Common App makes applying to lots of schools just as easy as applying to a few.
Fact: Though the same application can be used for more than 400 schools, many colleges have supplements to the Common App, with additional essays to write and questions to answer.
3. Don't tie yourself down to one school by applying early decision.
Fact: If you have a first-choice college, you should absolutely apply to it early decision. Early decision has been shown to increase one's chance of admission by as much as 25% over regular decision admission rates.
4. Wait until you get accepted to visit.
Fact: Colleges view you as a more serious applicant if they know you've visited. But don't just take the tour -- audit a class and arrange to spend the night to get the true feeling of the school.
5. Take the easiest courses that your school offers in order to maximize your GPA.
Fact: Colleges know the most difficult classes your high school offers and they factor that in when reviewing your application.
6. If you're getting a C in an AP course, just keep at it. Colleges will be impressed with your determination.
Fact: Don't take a class in which you can't maintain a B. Colleges are impressed by students who know their capabilities and don't bite off more than they can chew.
7. No college will take the time to look at your Facebook page.
Fact: Admissions officers will absolutely look at any and all of your social-networking profiles, so make sure you're not putting anything out there you wouldn't want to see on the front page of The New York Times.
8. Get a recommendation from the most important person you or your parents know.
Fact: Get a recommendation from a person who knows you best. The strongest recommendations include specific anecdotes that show why you're an excellent candidate.
9. Be modest when writing your resume.
Fact: Admissions officers won't read between the lines. They have to read between 75 and 100 applications a night, so make it easy for them. Give them the facts, and don't be afraid to brag.
10. By the time you get to the application, the hard work is done.
Fact: You have 5 pages to represent 17 years of your life. Every word has to count, and essays must be written and rewritten many times. Don't underestimate the time it takes to make sure your application is the best it can be.

Related
Popular in the Community