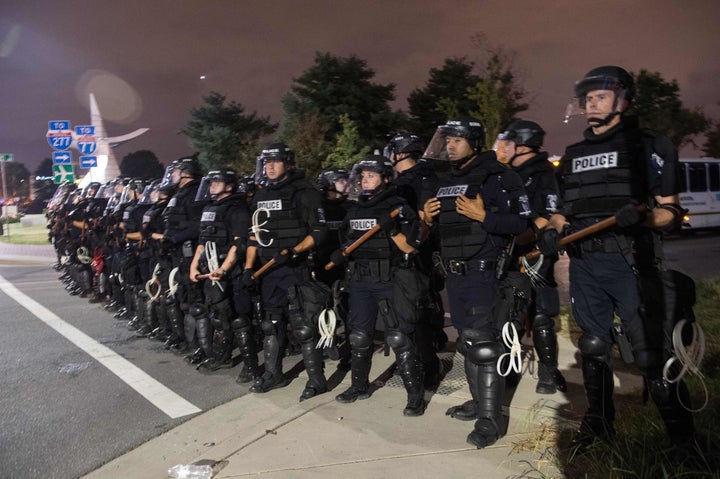 As a former New York City prosecutor and current criminal defense attorney, I have had a great deal of personal and professional experiences with local, state and federal police officers. And while there is much work to be done with both the police and our communities, in order to establish mutual trust, respect and dignity, the following are some key recommendations that in the short term and long term, police organizations can implement for cultural, organizational and operational change, to drive transformational change within their departments.
1. Hillary Clinton's comments make sense on the use of deadly force, but universal guidelines on the use of force are only as good as the police officers who implement them. Not enough.
2. We need to find the racists, narcissists and sociopaths before—not after—we hire them, and give them a gun, a badge and a license to arrest, maim or kill, under the color of law. Hence, we need universal, stringent testing guidelines on the selection of candidates for police departments around this country.
3. Many of these police shootings are rooted more in fear, with racism as a possible root of that fear of African Americans. If so, that fear has no place on our police forces around the country. Racists, cowards, or racist cowards need not apply. Racists, cowards, or racist cowards who happen to be on police forces need to go.
4. Routine police stops should not turn into homicide scenes: a busted tail light or traffic violations require low level interaction, and not over-policing that escalates into violence or the use of deadly force.
5. The youngest and least educated person in the criminal justice system is the most powerful person making initial decisions on the street: the police officer. He or she can arrest, maim, kill or otherwise, on the street, under color of law. We need to change that narrative: why not require officers to have college degrees? Most police officer positions only require high school diplomas. And some require no educational degrees or diplomas.
6. Discharging your weapon and killing a civilian without justification, on purpose or by mistake in judgment, should cost a police officer something—pay, position, permanent reassignment of duties, suspension, expulsion, criminal conviction...something. Right now it varies by jurisdiction.
7. The officers bill of rights in several jurisdictions should be modified to require a police officer to provide a statement immediately after the shooting of a civilian.
8. We have too many police departments (18,000). These departments can be under-resourced, undertrained and undermanned. Reduce this number by half and set up regional police departments with additional resources and superlative training facilities with federal, state and local funds.
9. Police departments should have a real, defined, courageous, brave, community discussion on race and class, on a regular/monthly basis, in their respective jurisdictions.
10. Stop gratuitously hurting and threatening citizens in communities of colors and peers in the halls of justice. Stop being afraid of us, because of some preconceived racial notion. Stop thinking of us and treating us or referring to us as mopes, perps, dogs and animals in the halls of your police departments and DA's offices.
This the beginning—not the end—of our discussion on transformational changes in the way police can do business internally, and with communities of color. Part of creating long term change is beginning a brave, fearless and honest dialogue within the police family and with communities that are suffering. Topics from distrust of authority, high unemployment, crime, poverty and unequal educational opportunities need to be honestly discussed, and solutions need to be aggressively sought and rapidly found.
Calling all HuffPost superfans!
Sign up for membership to become a founding member and help shape HuffPost's next chapter
BEFORE YOU GO