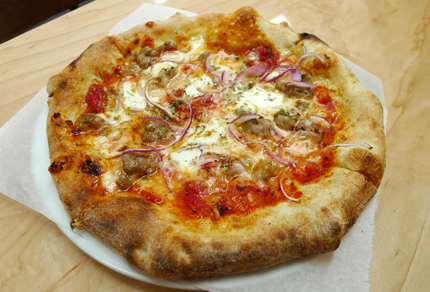 While pizza is known as an Italian specialty, Americans are passionate when it comes to their pie. From Chicago deep dish to New York thin crust, pizza is found in a variety of shapes and styles across the country -- and we love them all! Check out GAYOT.com's list of the Top 10 Pizza Restaurants in the U.S. to find great stops for a slice from Seattle to Atlanta. Mangia!
Regina Pizzeria
11 1/2 Thacher St.
Boston, MA 02113
This throwback pizza joint is 87 years old; long live the Queen! Robust house-made sausage makes the white St. Anthony's a guilty favorite; on the slightly healthier side, the Spinaci e Broccoli is a winner.
Serious Pie
316 Virginia St.
Seattle, WA 98101
This cozy, dark pizzeria from chef/restaurateur Tom Douglas is packed with tall wood tables and filled with a subtle aroma from the wood-fired oven. Choose from sophisticated toppings -- sweet fennel sausage and roasted peppers, or Penn Cove clams with house-made pancetta to anoint the slightly burnt, blistered crusts.
Stella Barra Pizzeria
2000 Main St.
Santa Monica, CA 90405
Try the fresh local burrata before commencing the pizza feast at Stella Barra Pizzeria in Santa Monica. The white pizza (no tomato) with crispy purple kale, pecorino and black peppercorn is a must.
Tony's Pizza Napoletana
1570 Stockton St.
San Francisco, CA 94133
Tony Gemignani, owner of Tony's Pizza Napoletana in San Francisco, is more than a pizzaiolo — he's a champion at the craft. His sweet Neapolitan margherita won the gold at the 2007 World Pizza Cup in Naples, Italy.
2 Amys
3715 Macomb St. NW
Washington, DC 20016
Two women, both named Amy, have turned a commonplace neighborhood street into a mecca for top-flight pizza with their small and cheery, white-tiled restaurant. They've even gone to the trouble of making several of their pies, those marked with the D.O.C. (Denominazione di Origine Controllata) status, the old-fashioned way. This signifies the pizza maker has followed the traditional Neapolitan method for making pies: the right flour, water, yeast, salt and toppings.