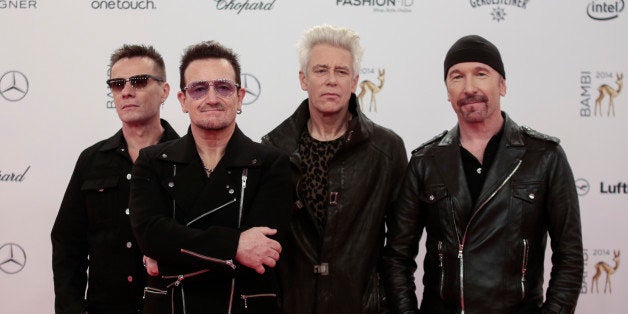 This has been a raucous year in the public arena, expressed perfectly by a parade of PR blunders that is as impressive in scope as it is in sheer absurdity.
Yeah, it gets even worse... or better, depending of course. Enjoy the crème de la crème...
10. A GOP hashtag disaster
#IamARepublican is, to put it politely, an ill-conceived social media campaign dreamed up by former Romney marketer Vinnie Minchillo that backfired spectacularly in its attempt to provide a platform to highlight GOP pride and Raison d'être. Once opponents got wind of the hashtag, they instantly co-opted it, and the hilarity ensued. Looking back, the Republicans had a rough year in social media, producing a supremely lame video that failed to connect with its hipster-intended audience and another Minchillo brainchild, a "Republicans are People Too" campaign. Keep trying, guys!
9. Apple drops U2 album; gravity not impressed
Digital monolith Apple decided install a new U2 album, Songs of Innocence, directly into the library of millions of its iTunes subscribers, launching an avalanche of negative response that forced the company to devise an app that allowed users to delete the unwanted offering. The U.K.'s Independent snarked the giveaway "seems to have proved that you can't give U2 music away these days, and that Apple has misread its relationship with its customers."
8. Rants cost Ira Hansen his Nevada Assembly Speaker post
The Nevada speaker-elect of the Assembly, Ira Hansen, was forced to give up his leadership spot after a Reno newspaper exposed a number of newspaper columns and radio commentaries Hansen had authored, filled with disparaging statements about blacks, Latinos, gays and women. It was an ugly peek into America's lingering race problem, which sadly got worse as the year went on.
7. Microsoft CEO tells women not to mind that plate of glass overhead
During an onstage interview, at an event acclaiming women in computing, Microsoft CEO Satya Nadella was asked his thoughts on women who are uneasy asking for a raise. He answered "faith in the system will actually give you the right raises as you go along" and seemed to suggest "good karma" could be had by not asking for a raise, which didn't sit too well. Nadella quickly walked back the comments, calling his response "inarticulate." Disclosure of his $84 million compensation package didn't help, either.
6. In other callous CEO news...
A CEO to a food services company was caught on video in a Vancouver hotel mistreating a Doberman pincher puppy, sparking a tempest of Twitter rage. The video shows former CEO Des Hague kicking the puppy at least seven times. His apology did nothing to calm the storm and Centerplate, a multi-billion company that supplies concessions to major sports arenas other event venues, moved to distance itself from the offensive behavior. The puppy place-kicker resigned soon after.
5. Uber's terrible, horrible, no good, very bad year
4. The Cos is sweater-deep into more than a PR crisis
It took a joke by Hannibal Burris, but America finally began to pay attention to horrible allegations that one of America's most-beloved TV dads and preeminent pudding pitchmen is a lecherous cur that uses drugs to molest women. That's the story of nearly two dozen women who have come forward, joined most recently by Katherine McKee, former girlfriend of Sammy Davis Jr., who accuses Bill Cosby of raping her back in the 1970s. Claims the comedian used his position to intimidate anyone who might have the temerity to question him over the decades-old allegations came to the forefront when video from an Associated Press interview was released, showing Cosby asking the reporter to "scuttle" the questions about the allegations. "If you want to consider yourself to be serious," he said, "it will not appear anywhere." Later, Cosby said he "thought AP had the integrity to not ask."
3. Ravens, The League badly fumble the Ray Rice assault
For the better part of the year, the Baltimore Ravens and the National Football League have been managing a PR pickle after Ray Rice assaulted his then-fiancé Janay Palmer in an Atlantic City casino. Video footage of Rice dragging an unconscious Palmer out of an elevator was released within days of the incident. Later it was learned that elevator surveillance cameras also caught Rice punching Palmer -- and that the Ravens were made aware of the incidentwithin hours of the assault. The Ravens even sought leniency for their running back, and the NFL issued a paltry two-game suspension. When the elevator surveillance footage was broadcast by TMZ, critics howled at the NFL's laughable response.
Ancillary blunder: Frozen pizza company DiGiorno seizes the moment and joins in on the #WhyIStayed hashtag, created to share stories of domestic violence in face of criticisms of Palmer's choice to stay with Rice. According to the company, it was an employee naïve to the hashtag's meaning who tweeted "You had pizza." The tweet was deleted, and an apology was issued.
2. This is Homeland Security?
Ferguson PD's massively excessive military response to the protests over the shooting of unarmed teenager Michael Brown made a bad situation worse. Military veterans who observed the equipment and tactics used by police were critical. Former Army officer Jason Fritz, an international policing operations analyst, was quoted as saying "You see the police are standing online with bulletproof vests and rifles pointed at people's chests. That's not controlling the crowd, that's intimidating them."
1. Turns out opening a picture about assassinating the leader of North Korea is really hard
One thing is crystal clear in the twisting tale of the release, then cancellation, then re-release of the Seth Rogan comedy The Interview: companies need to seriously beef up their cyber security... like yesterday. For the last couple of days, I've been wondering if the whole nefarious email hack, threats of attacks on theaters from online terrorists, and the cancellation of the film's opening wasn't some grand ginning up of a controversy just to test what streaming a release by a major motion picture company would look like.
So, this bungled movie launch was a disappointing cave to terrorist threats or a scheme so clever it would have thrilled Machiavelli. Either way, it wins our Best Picture™ for the Biggest PR Blunder of 2014.
Calling all HuffPost superfans!
Sign up for membership to become a founding member and help shape HuffPost's next chapter