A corker flips his bike over in the middle of an intersection and looks to the sky, searching perhaps for a plane, a bird, anything, as the car he's blocking sits on its horn. Get out of the way! Then... get out of the way, dammit and expletive, expletive! The corker points out Haley's Comet, ignoring the now screaming driver stuck at an intersection we're riding through, two thousand deep. Other drivers are delighted to watch the parade of bikes flying by, a sight unusual in most parts of Miami. They honk just as insistently in solidarity. The energy gets thick about 20 minutes in when the throng of Miami Critical Mass riders have hit their stride and found their places among each other. We pass by like superstars. Kids come running out of the house to giggle, point, scream out in awe and wave furiously. Papi Chulos whistle and wink. Exhausted parents are happy for the unexpected excitement keeping their kids enrapt at the end of the work week.
It's a glorious mashup of the senses. And here's why:
1. Anarchy -- Fling away convention, straight lines and behaving. The organic nature of joining 2,000-plus bikers to disrupt the streets of Miami by gathering and moving en masse brings sweet joy to the non-conformist in me.
2. A Real Melting Pot -- Miami defined as "melting pot" is just B.S. Miami is like a Bento Box, many cultures exist in proximity, only really united in indifference towards one another. But at Critical Mass, the melting pot settles into a delicious stew, at least for two hours. Look to the right. See that kid with the do-do braids? Look to the left -- there's a woman IN A SUIT and heels (seriously). Hispanic, black, white, old, young (I've seen 7 year olds), super serious bikers bent over Tour De France style, girls in dresses and big handle bar lady bikes, Brickell-esque professionals, skateboarders. They're all riding side by side like family.
3. My New Electra Townie -- I got this super cool new bike! Like a kid in a candy store I named her before I even left the store. Tangerine Crush because she's a bright orange hottie! I was sold on the flat foot technology, an upright seating position that lets me see the world better and place my feet flat on the ground whenever I feel like it. It's a joy to ride. "Tangie", her nickname, has all the bells and whistles, like an actual oversized bell that's a work of art -- custom grips with funky leather fringes, an embossed leather cruiser saddle seat that's so cool I wish I could turn it into boots, white butterfly valve caps (who knew?) and a bright yellow/blue/orange basket bag with a drawstring. So when I get off Tangie, I can pretend it's a purse and walk like a boss into wherever I'm going.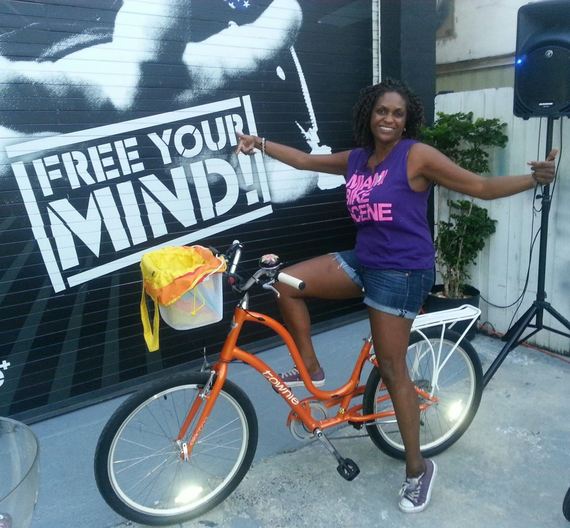 4. The Music -- Along the ride a few guys are always blasting tunes. Some pull a wagon-like contraption with serious club level speakers; some just have a loud Ipod on their handle-bars. We've cycled to hip hop, salsa, L.L. Cool J, Celia Cruz and Bohemian Rhapsody. Next to the music is where you want to be. Two wheeled euphoria with a soundtrack.
5. The Contact High -- I'm not saying the people riding are smoking weed, not saying that at all. I'm not saying it's a particular neighborhood. But it's amazing how the waft of marijuana is only present during the same five blocks every time. I'm just saying.
6. We're a Tribe -- I really believe and have lived the tribal mentality. That group of people you're thrown together with (maybe your office mates) that if anyone messes with, you become a tribe. Case and point: the pissed off guy getting blocked by our ride. Its understandable. But if any foolishness pops off (and it does), if any cussing ensues (and it does), and if any one gets out of their car trying to "break bad" (and it does), you would think we're all mama bears the way we rally behind biker brethren. Lots of middle fingers.
8. NOBODY cares who you are -- I've ridden with an Ambassador's wife so close to the President she spent inauguration night in the soul train line at the White House. No one knew, asked or cared. I've ridden with international bon vivants, highly acclaimed authors, multi-millionaires, masters of the universe, some of the most powerful people in Miami. At Critical Mass nobody cares! And its great. There was one exception. The night Le Bron James, Dwayne Wade and Gabrielle Union showed up.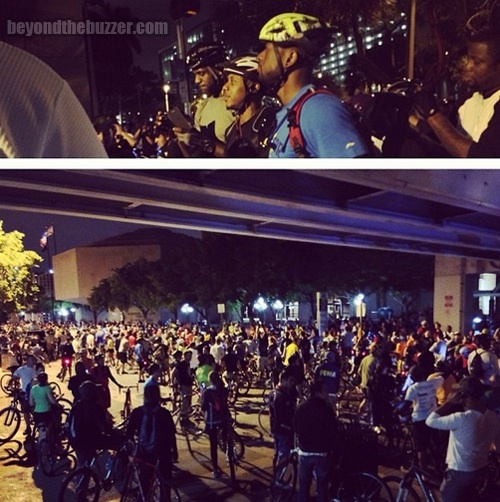 9. Little Havana -- Because we ride the last Friday of the month and 8th street is usually on the route, we end up moving through Culturales Viernes (Cultural Fridays) in Little Havana. The streets are lined with families and food trucks. Store fronts are blasting salsa and bachata. And if you're riding on the outside, you can catch the line of people who high five you while you ride.
10. Rain or Shine, We Ride -- The first time I rode, it poured. While a few lame riders (yes, I called you lame!) ducked out under cover, the vast majority ride anyway. What a surreal experience to ride, laugh and listen to music while being pummeled with rain. Sounds crazy but it cranks the whole multi-sensory thing up another notch (#Gladiators).
Miami Critical Mass is a phenomenon that you should not miss. Not if you consider yourself dialed in, or a connoisseur of fun.
We ride every last Friday of the month, meeting at Government Center, Downtown Miami, pushing off at 7:15 p.m.