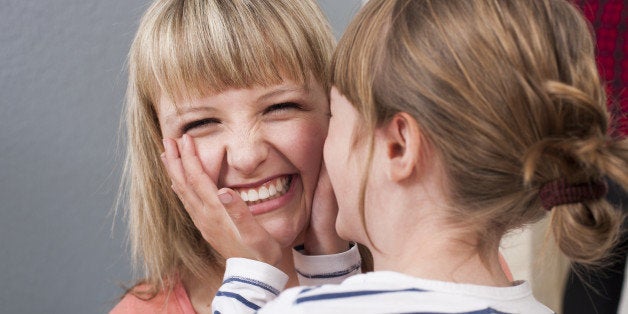 A good babysitter is always worth her weight in gold, but never more so than during the busy holiday season. She can be your lifeline and save your sanity in more ways than you may realize. While you're penciling in invitations and commitments and wondering how you'll pull it all off this holiday season, consider hiring a sitter to give you a hand in helpful ways that you may not have considered. Here are the top 10 reasons to book a sitter during the holidays:
1. Shop without a stroller.
Your holiday shopping is likely squeezed in between obligations and rarely done without the company of your children. Shopping with kids in tow can be slow-going and frustrating. Rather than fighting to maneuver a stroller through throngs of shoppers and pacifying your reluctant helpers with your iPhone and an endless stream of snacks, let a sitter keep them entertained at home. You'll enjoy a little peace while knocking out your shopping list, and your kids will be happy to play at home.
2. Attend or help with class parties.
If you have an infant or young child, you're likely held captive by his nap schedule. Rather than turn down an invitation to your older child's class playdate or holiday party because it's inconveniently scheduled during naptime, hire a sitter to stay with the baby. You'll be free to surprise your older child with not only your attendance, but also your undivided attention.
3. Celebrate the season with a Girl's Night Out.
In the flurry of holiday obligations, it's easy to overlook the women who keep you connected to your former self -- your girlfriends. Rather than sacrificing time with your friends, book a sitter and enjoy some time together. Whether you toast the season with a glass or two of wine or simply knock out some errands together, you'll have a little more pep in your step after some time together.
4. Take care of your homework.
While there's plenty to do away from home during the holidays, there's also loads to accomplish in your own house. Addressing holiday cards, baking, cooking or preparing for guests, decorating or wrapping gifts is far from easy to pull off if when you're also juggling the needs of your children. Hire a sitter to entertain the kids outside or take them to the park while you stay home and tackle check off items on your to-do list. Sometimes, there's no better luxury than time alone at home.
5. Tackle holiday kids' crafts or activities.
You hate for your kids to miss out on fun holiday crafts and activities, but sometimes there just aren't enough hours in the day to make it happen. Heck, maybe it's just that you cringe at the thought of getting crafty. Regardless of the reason, let yourself off the hook by hiring a craft-loving sitter who will be more than happy to spend an afternoon or evening constructing gingerbread houses, making homemade ornaments or baking sugar cookies with your crew. It'll be a special treat for your kids, and you might just get some endearing holiday decorations out of their time together.
6. Turn any spare hour into "Date Night."
If your time is limited and too many nights are already dedicated to school, work and family obligations, sneak in a date by hiring a sitter so you can have a lovely brunch with your spouse, meet for lunch while she takes the kids to the park, or knock out your shopping together before ducking into a café to share a cocktail or coffee. You'll be glad you took the time to reconnect.

7. Entertain guests.
Houseguests are an enjoyable part of the holiday season, but they can also be among the most stressful aspects. It's difficult to entertain guests and make them feel welcome when you're managing your family's everyday needs and fighting to keep carefully created schedules and routines on track. Avoid disrupting nap schedules and blowing up bedtimes by leaving the kids home with a sitter while you show your guests the town and share a dinner with them later than 5 p.m..
8. Get a Santa picture.
Really. How many times have you foregone the traditional photo of your kids on Santa's lap because you simply didn't have the time to stand in line? No need to sacrifice your time or the photo if you bring along a sitter. Having a sitter along for the holiday event, which often accompanies holiday shopping, allows you to be two places at once -- waiting for your kids to visit Santa and tackling your shopping list. The sitter can text you when their turn is approaching so you can beeline it back to the queue and not miss out on the sweet experience or the photo opp.
9. Enjoy a New Year's Eve alternative.
Scoring a sitter for the biggest date night of the year, New Year's Eve, is no small feat and is therefore an added pressure during the holidays. Why not take the pressure off by recruiting friends to celebrate the New Year a few days early? Pick a night when you're more likely to score a sitter and a decent restaurant reservation. You'll still get a fun night out, as well as a bit of stress relief when you likely need it most.
10. Get some exercise.
'Tis the season for indulging. Go ahead and enjoy an extra helping of turkey, a slice of pie, a few more cookies or another round up of cocktails. You can ease your conscious and manage your waistline with a solid, unencumbered workout. With services like UrbanSitter, you canBook a sitter find a sitter to free you up for a morning run, a mid-day yoga break or an after-work spin class. Taking care of your own needs makes it a lot easier to take care of everyone else's.
Having a little help during the holidays can be a lifesaver. To enjoy a good babysitter and protect your holiday budget, consider sharing a sitter with a friend. The holidays are a fantastic opportunity to share childcare. It's likely your friends have lined up some help to take care of their own obligations and they, too, would love to save a few dollars by splitting childcare costs. If you're looking for a new sitter to share with a friend or keep to yourself, UrbanSitter makes it easy to find one who's just right for your needs. Go ahead and book some holiday help. You deserve a hand!