Travel is a huge part of my life. I am either traveling around the United States or internationally for business and pleasure. I capture and share my experiences through photographs and videos. One of the most asked questions I receive from people on social media is what type of camera do I use when I travel. Social media is very much about visuals; and, thus, being able to share interesting, beautiful images and video is important.
If someone asked me that question two years ago, my answer would be a lot different. Now, thanks to technology, I reply instead with "the best camera is always the one that is with you." That usually means a smartphone of some kind.
Nowadays, the smartphone is something you'll go back for if you leave it at home. If you travel a lot like I do, you know the hassle of going through airport security with heavy equipment and camera gear.
Lately, I have experimented with just bringing my Nokia Lumia Icon with me when I travel and I've been amazed by the convenience and the image quality I've been able to achieve. To be quite honest, I was pretty skeptical about giving up my dedicated camera but it turns out I had nothing to fear.
Enter the smartphone: a traveler's new best friend.
Aside from convenience, I have compiled my top 10 reasons your smartphone can be your new best friend when it comes to taking photos and recording videos when traveling.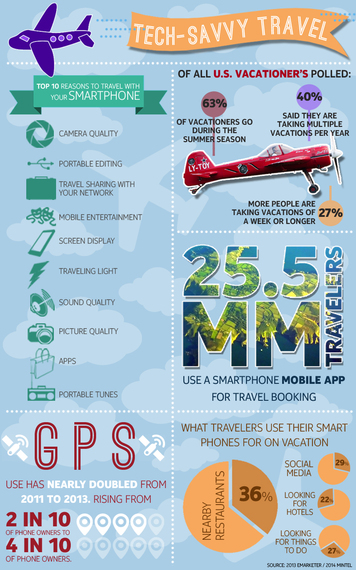 1. Camera quality. Finding a smartphone with 20MP camera is no longer a challenge, the Lumia Icon is one that I use and I found that it allows you to blow up a photo and find massive amounts of detail in each picture.
2. Portable editing. Apps will allow you to edit your images on the go. No matter what type of phone you use, there are apps that can help you enhance and edit any image, no need to bring your laptop.
3. Travel sharing with your network. You can easily share images and video real time on social media. Apps are available and free. Capturing and sharing in the moment is what makes travel more fun and engaging.
4. Mobile entertainment. It's accessible to watch video clips and movies on the go.
5. Screen display. Find a smartphone that has a five-inch display with full 1920 x 1080 HD resolution. I find it simple to work when the screen big and bright, but not too large to work with one hand.
6. Traveling light. You can leave your heavy and bulky DSLR camera at home.
7. Sound quality. What I love about the smartphone I am currently using is it has 4 separate microphones. It's amazing how clear the sound is even being able to record someone speaking several feet in front of me.
8. Picture quality. The camera should be razor sharp with bright, saturated colors. I must be able to pinch and zoom into the photo and still see details clearly. The smartphone I use has a great camera and has very few compression artifacts that I usually see on other smartphone cameras. The screen is sharp and clear, even in direct sunlight.
9. Apps. Look for a phone that has built-in photo apps that allow you to crop and reframe photos. This is important, as it's quicker than opening a separate app to edit my photos.
10. Portable tunes. Music is crucial for me when travelling. I always take advantage of the free music streaming apps that are pre-installed and ready to use on my phone.
When you travel, what features do you look for in a smartphone?
Support HuffPost
The Stakes Have Never Been Higher
Related
Popular in the Community