1. Uluru or Ayers Rock: An impressively large, red sandstone monolith rising from the Central Australian desert. A spiritual and sacred place for the local Yankunyjatjara and Pitjantjatjara Aboriginal clans. Ancient rock art can be found throughout the monolith. Standing 1, 142 feet high and 5.8 miles in circumference, this huge red rock is part of the Uluru Kata-Tjuta National Park. This rock is breathtaking and watching the sun set against this background will stay with you for the rest of your life. (http://www.parksaustralia.gov.au/uluru/people-place/amazing-facts.html)
2. Alice Springs: The heart of the Red Centre of Australia and the 50,000-year-old cultural/arts center of the Aboriginal people. Home of the Royal Flying Doctor's Service, and gateway to Uluru and Kata-Tjuta (the sister rock to Uluru). A good walking city and I loved the parks and art galleries. Enjoyed the local shopping mall and looked at how foodstuffs were displayed. Stayed at Lasseters Hotel - it's a casino too! Great food and friendly people in the casino and bar. (www.lasseters.com.au/)
3. The Ghan Train: Named after the Afghan cameleers who worked the trade route between Adelaide and Darwin. One of the finest luxury trains ever, it traverses right through the middle of Australia. One wonderful stop was at Katherine to visit the Katherine Gorge to see Aboriginal rock art. Best train cabins, food and drink - and all while watching the most spectacular landscape ever rolling by. (http://www.australia.com/explore/itineraries/sa-ghan.aspx)
4. Kakadu Crocodile Hotel: Found in Kakadu National Park, and managed by local Aboriginal clans, this hotel is shaped like a large saltwater crocodile! So unique, with the guest rooms forming his body and other rooms forming the rest of his body. A picture of the hotel from the air gives you a good idea of the shape and layout. Artwork throughout the lobby and other areas is from local artisans. The restaurant has great food and a delightful pool that provides a cooling diversion from the park heat and humidity. (http://www.gagudju-dreaming.com/Kakadu-Crocodile-Hotel/Overview.aspx)
5. Kakadu National Park: A two-hour drive from Darwin, the park is not only Australia's largest national park but was designated in 1992 as a UNESCO World Heritage site. Full of wildlife - including wild camels, horses, pigs, feral cats, and water buffalo, which are not natural to the environment but left over from earlier importations for agricultural needs. Ancient Aboriginal rock art (more than 1500 sites), are found throughout the park. It's worth the climb to see most of it and don't miss the chance to climb the steepest escarpment to see a 360 degree view of the landscape. This is one of the most beautiful wildlife and conservation parks in the world. (http://www.parksaustralia.gov.au/kakadu/)
6. South Alligator River: No... there are no alligators in Australia but a European explorer mistook the crocodiles for alligators and thus, named the rivers and the name stuck. (There are three rivers in the area: South, North and East Alligator Rivers.) Cruise with a local Arnhem Aboriginal Ranger and learn all about the river and the history of their culture along the rivers. See the large water lily pads with huge pink flowers and beautiful birds as you float along the river - so beautiful.
7. Nigel - Our Arnhem Ranger/Guide on the South Alligator River: One of the most spiritual and knowledgeable rangers I have ever met while on any "safari." We couldn't count the number of crocodiles we saw - and some big ones too! Nigel shared clear and in-depth information about his people and their mores and culture. He was respectful and articulate. He demonstrated spear-throwing techniques, and when we left we respected the park, the Aboriginal people and ... the crocodiles. (http://www.australia.com/explore/states/nt/arnhem-land.aspx)
8. Warradjan Aboriginal Cultural Center: As part of Kakadu, this center represented and offered information about the many cultural aspects of Aboriginal life. Art was displayed from the Arnhem, Binijn, and Katherine clans. It was a great place to buy local art pieces, which support their communities. (www.gagudju-dreaming.com/)
9. Darwin and the "Top End": This tropical capital city of the Northern Territory is the closest Australian city to Asia, and accounts for its diversity. This friendly, laid-back city has so much to see and do that if you ever go to Australia - don't miss it! Darwin has a history of natural and manmade catastrophes - the city was totally destroyed in WWII and, in 1974, Cyclone Tracy destroyed most of the city again. But, like a "Phoenix", the city rose and is bustling and important on several levels. Take the "Hop on Hop Off" bus to get the best overview of the city. ( http://www.tourismtopend.com.au/)
10. Museum & Art Gallery of Northern Territory: In Darwin, this museum holds a large collection of natural flora and fauna of Australia and specifically from the Northern Territory. Make sure you see "Sweetwater", a huge crocodile who was very famous in the area. The display of contemporary and ancient Aboriginal art is outstanding. Each piece tells a story of the history and culture of this civilization which is thought to be the oldest continuous civilization on earth and more than 50,000 to maybe 60,000 years old. (www.magnt.nt.gov.au/)
11. Okay I said just 10 but we can't forget the people and food of the Northern Territory. We ate kangaroo and crocodile prepared many ways and it was good! My favorite - a gelato parlor near our hotel in the center of the Darwin. I would go back just for this treat!
Granny Regina, dreaming of Uluru and listening to music played on a didgeridoo!
Truck made of yarn.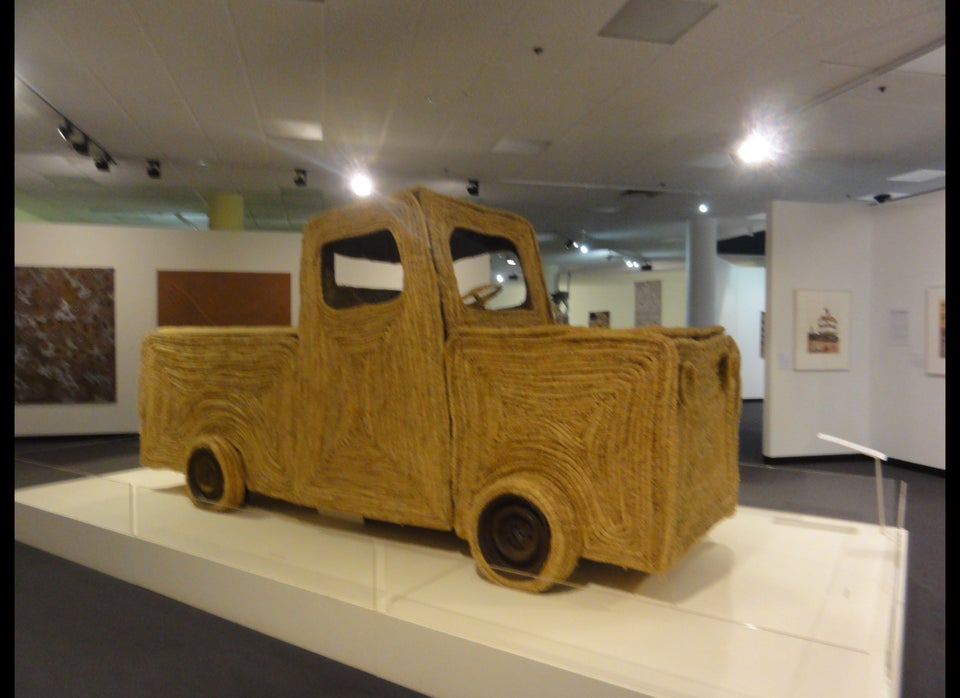 Aboriginal Decorated and Hand-Painted Christmas Ornaments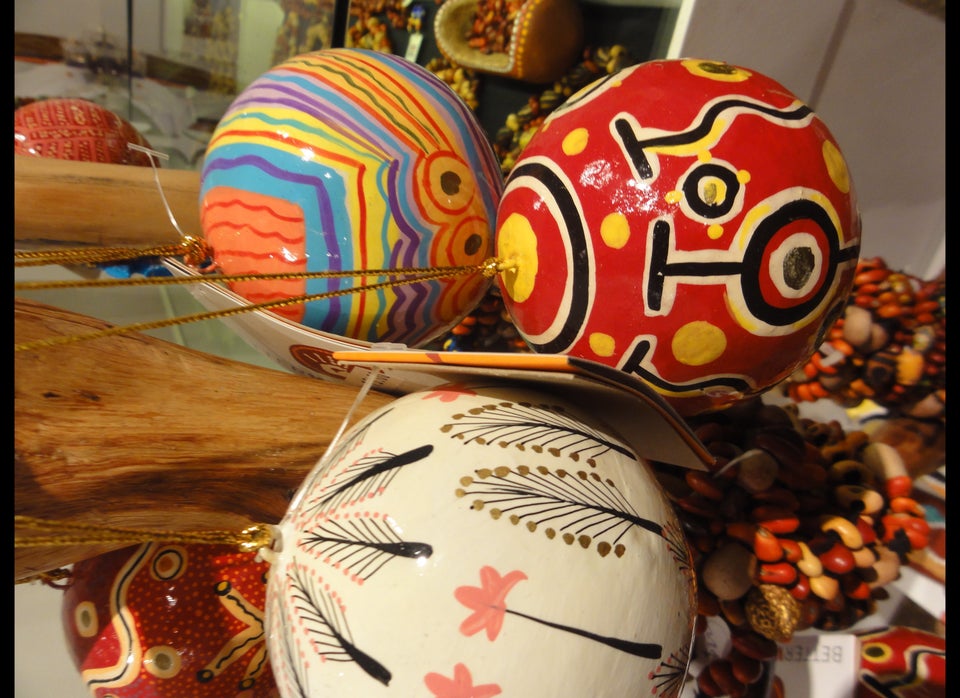 Apple Tart - Ghan Train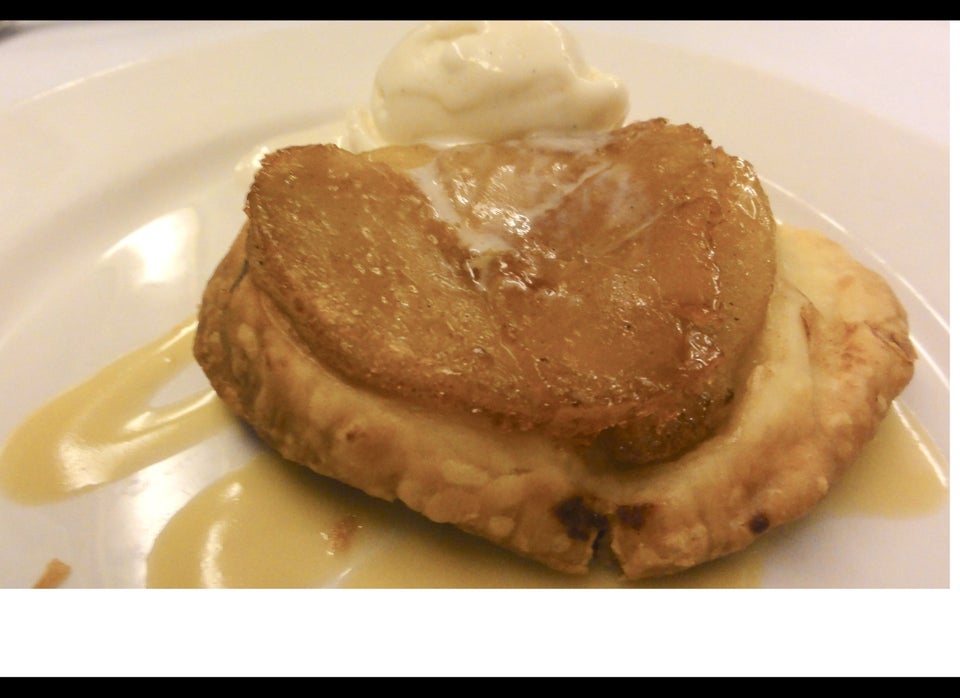 Crocodile on East Alligator River - Kakadu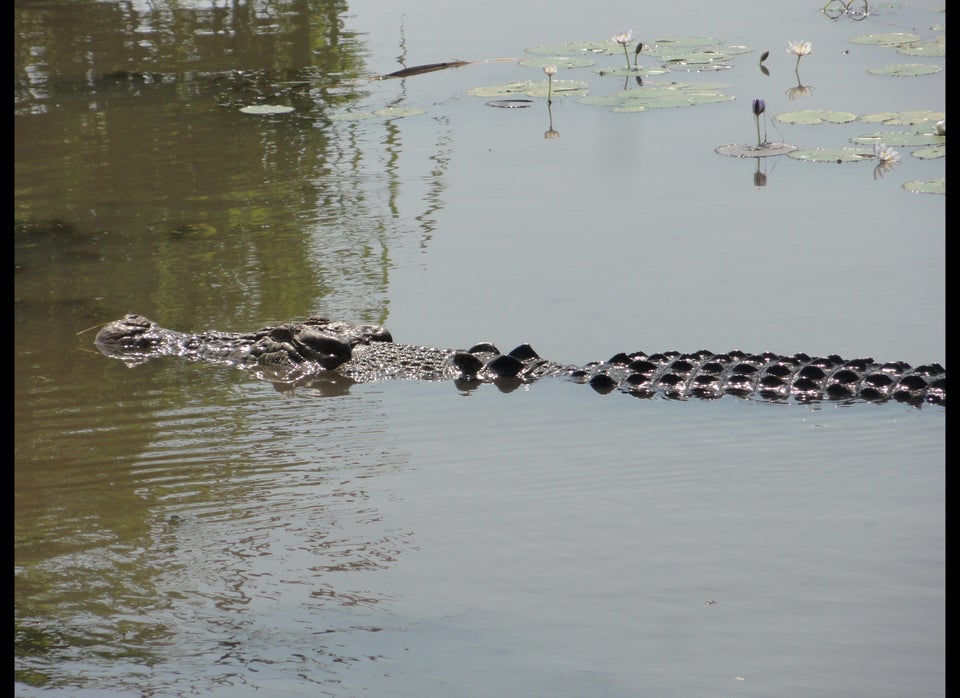 Cruising on the East Alligator River in Kakadu National Park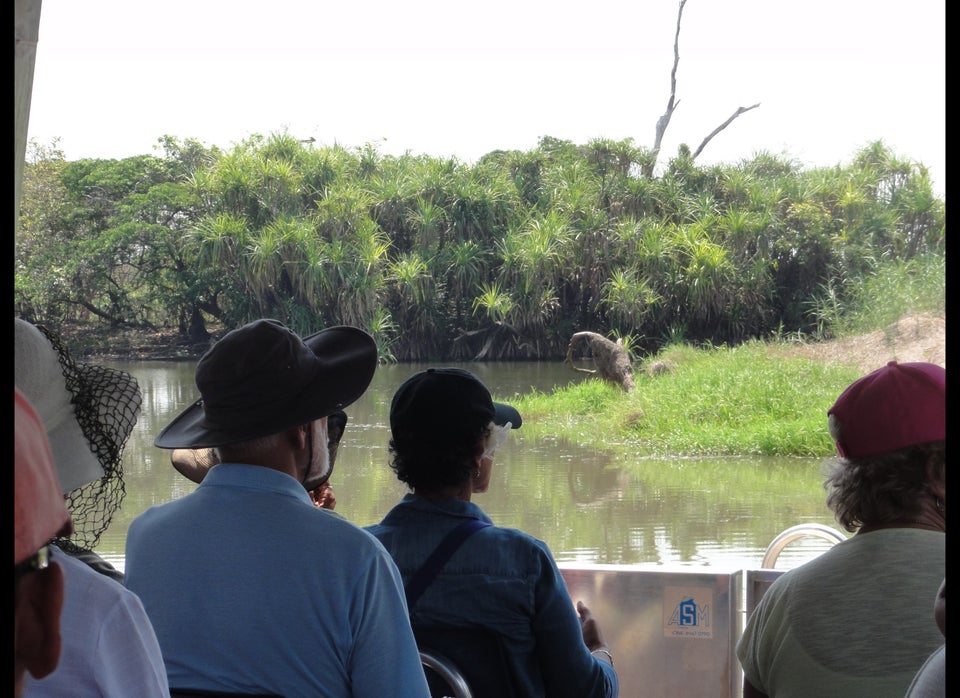 Frangipani Flowers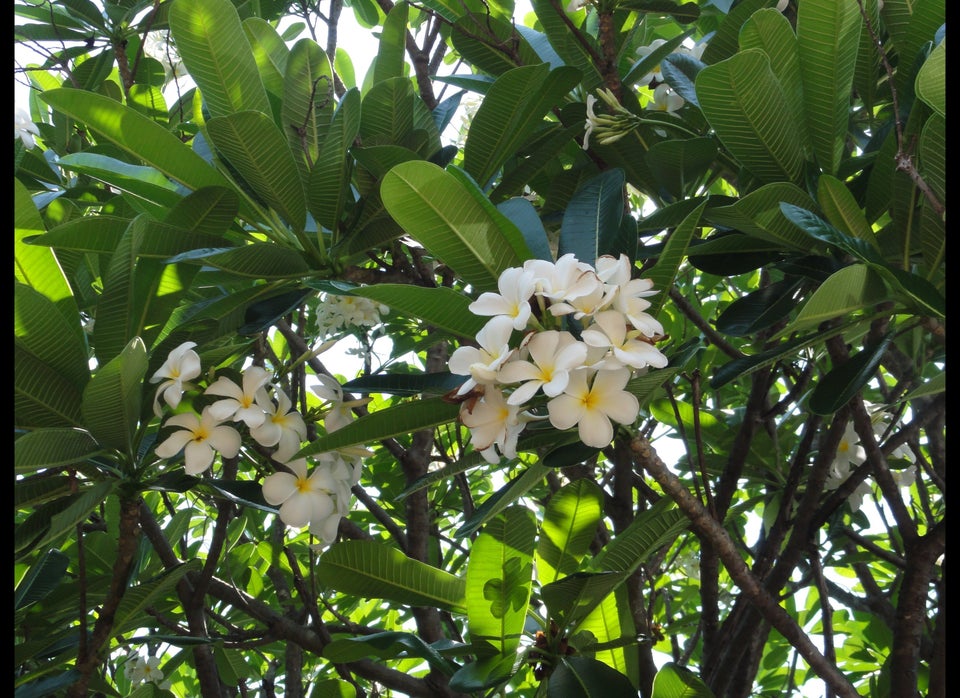 Destinations Sign-Post in Alice Springs Park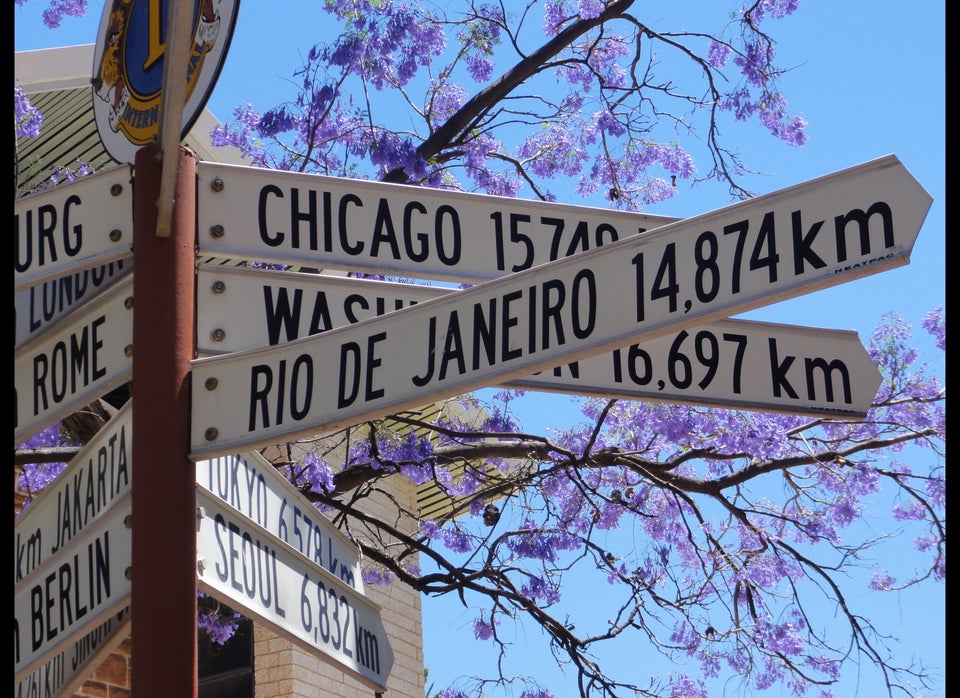 Giant Lily pads floating on the East Alligator River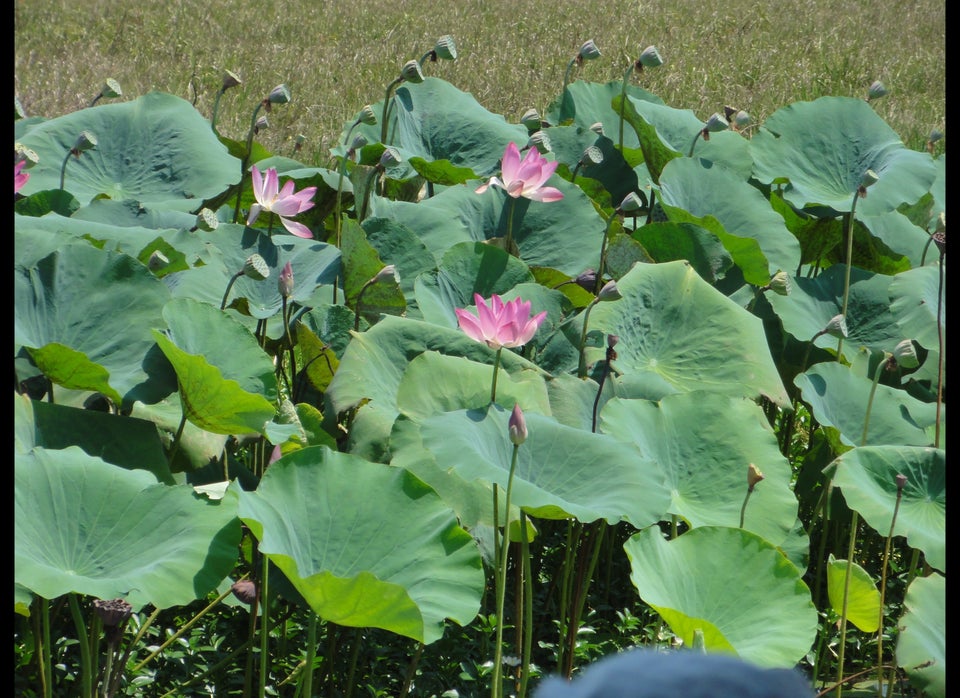 Danger sign on beach in Katherine Gorge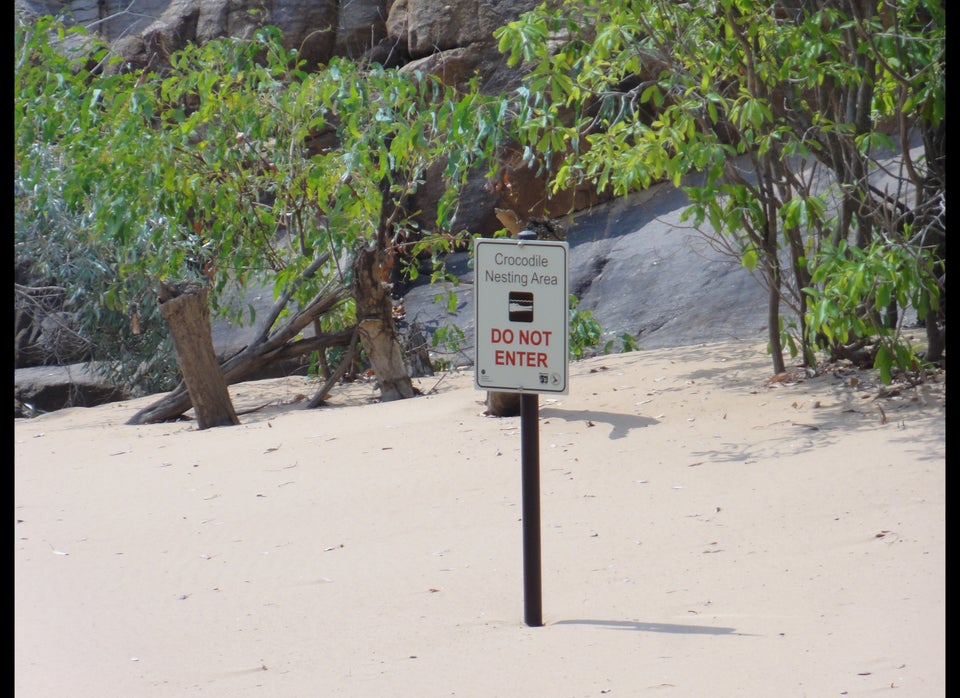 Bougainvillea Plant at door of house in Alice Springs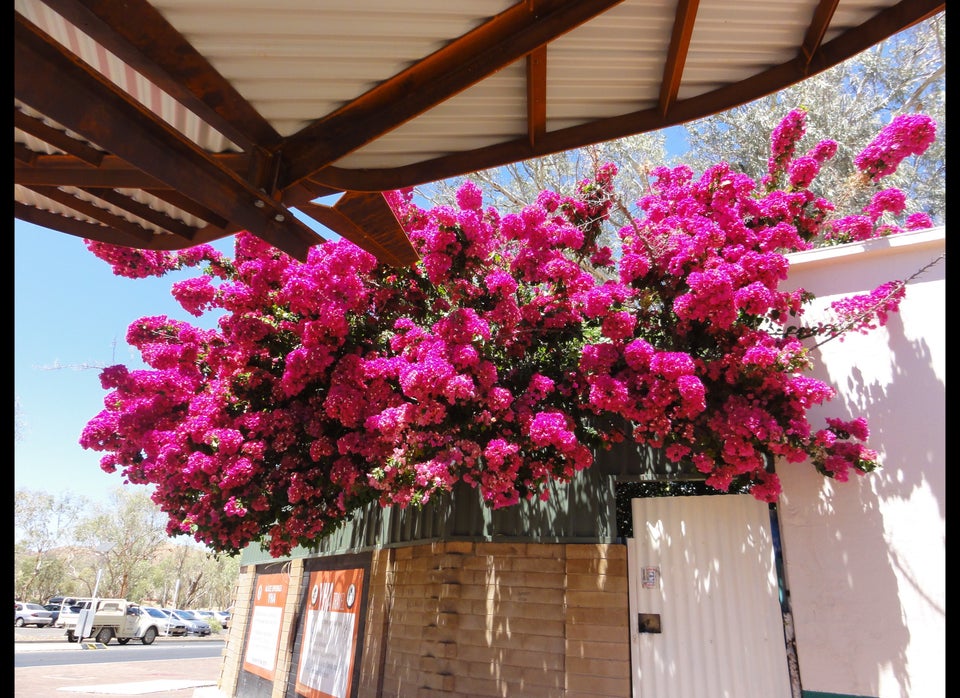 Ancient Aboriginal rock art in Katherine Gorge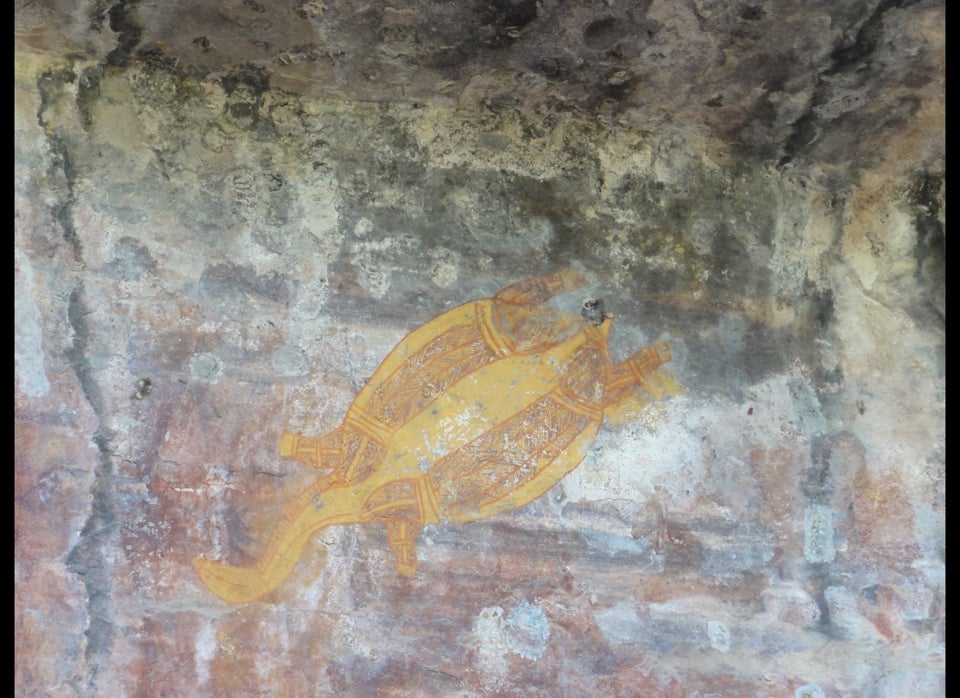 NIgel our Arnhem Aboriginal Guide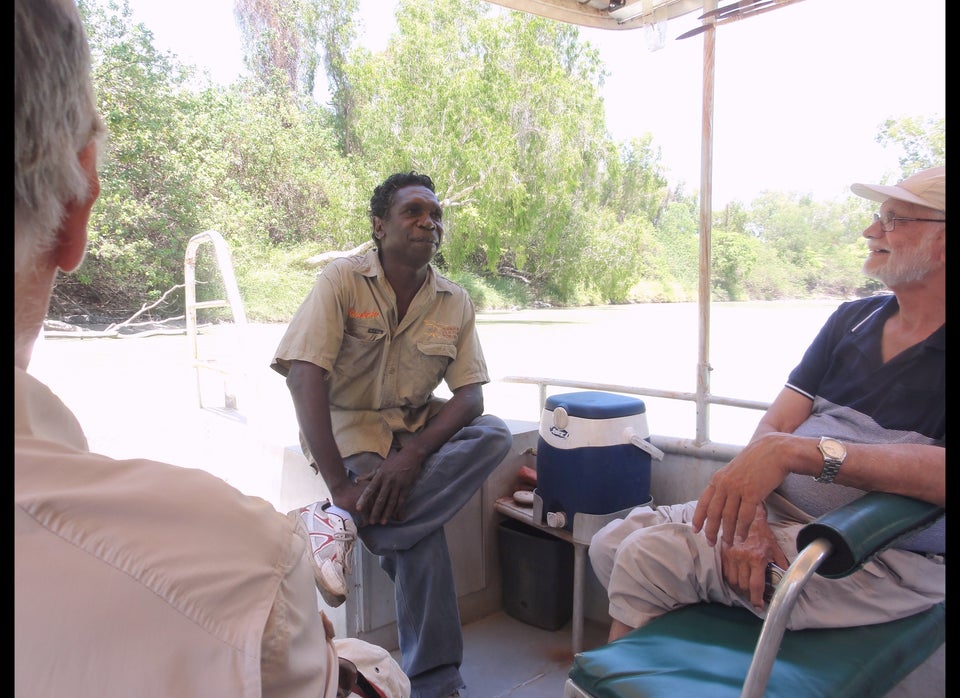 Uluru - Ayers Rock Central Austalia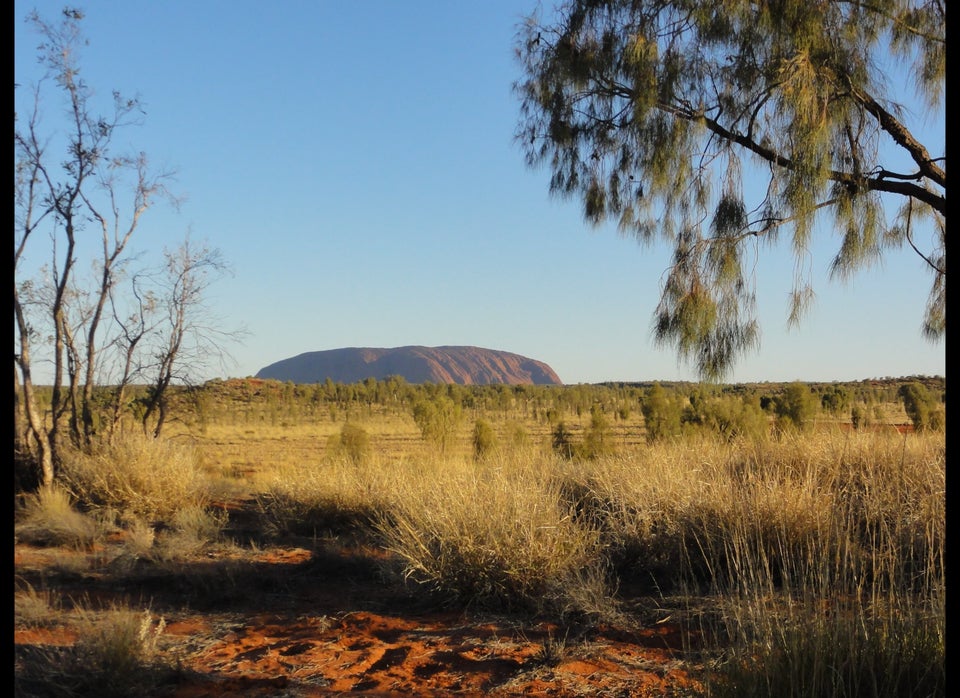 The Ghan Train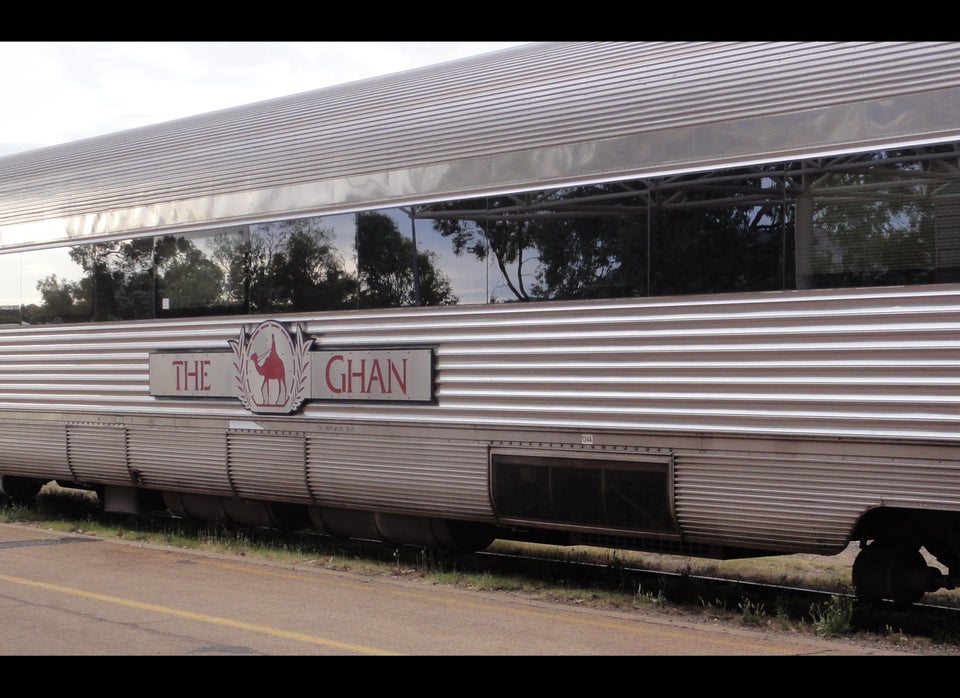 Boats in harbor of Darwin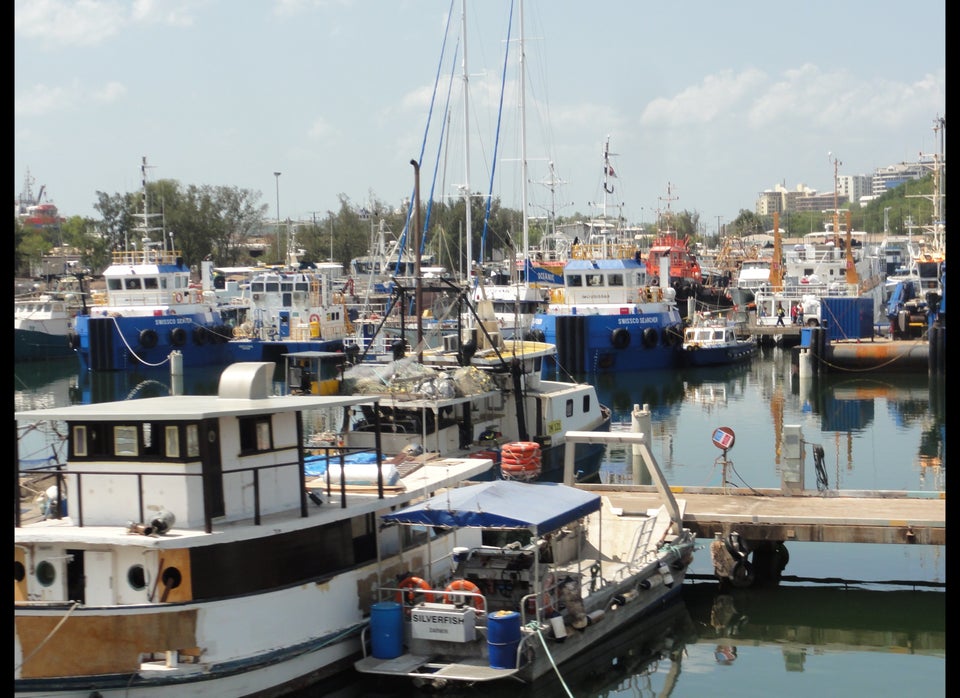 Home in Darwin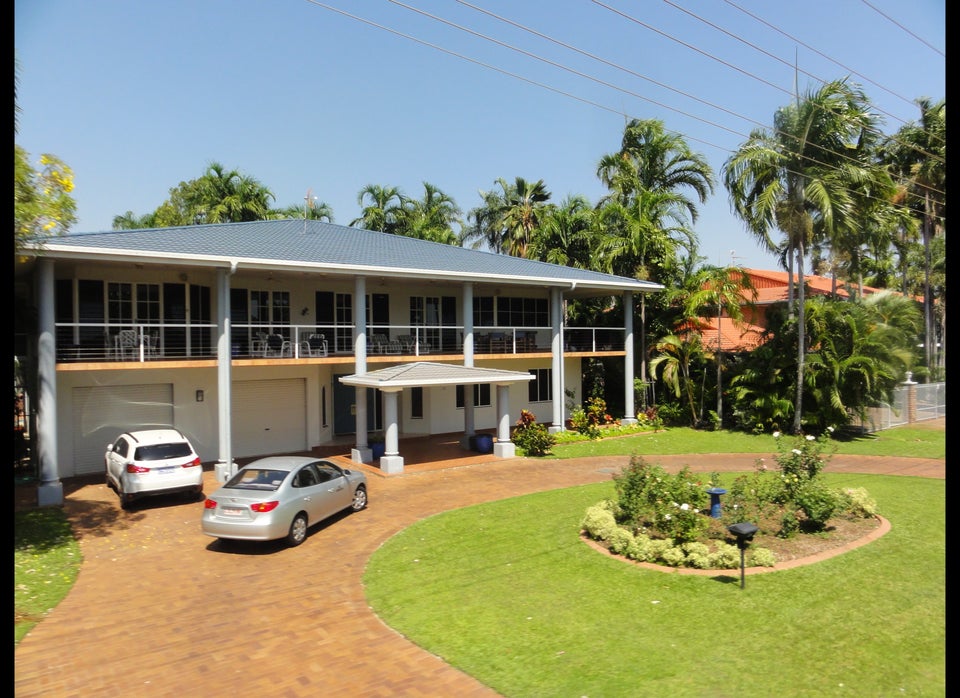 Rock art in Kakadu National Park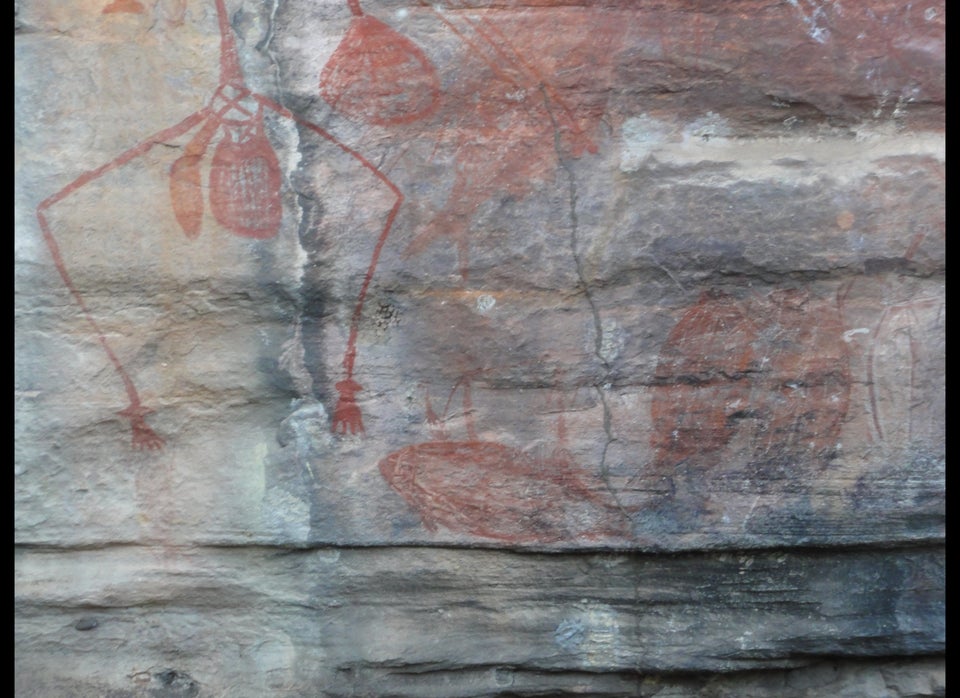 Aboriginal Calendar at Warradjan Cultural Center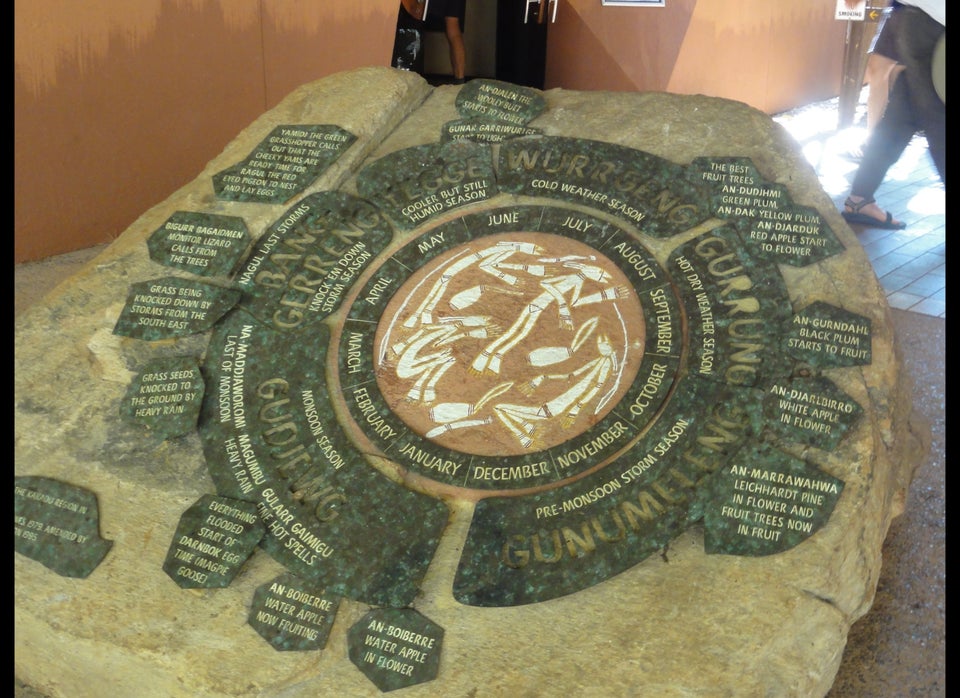 Museum & Art Gallery of the Northern Territory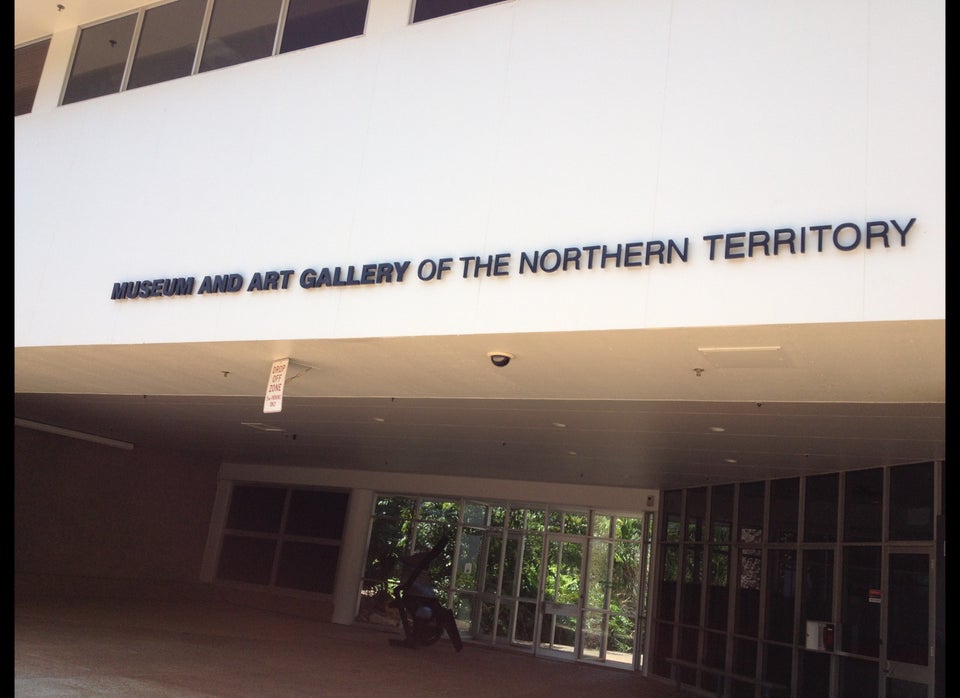 Dinner on the Ghan Train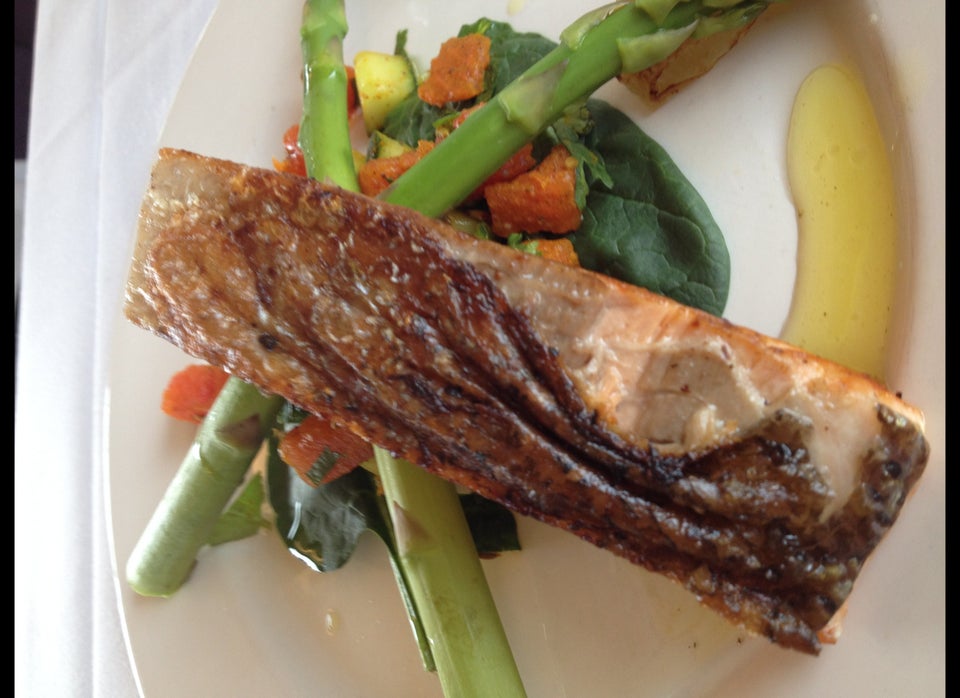 Kakadu Crocodile Hotel