Visiting China's "Cradle of Civilization"
The extraordinary display of 8000 Terra Cotta Warriors posed in formation to protect the first Chinese emperor in his afterlife is customarily the #1 reason tourists visit
. But the 200 BC life-size regiment is only one reason to visit the ancient imperial capital which is called the Cradle of Chinese Civilization.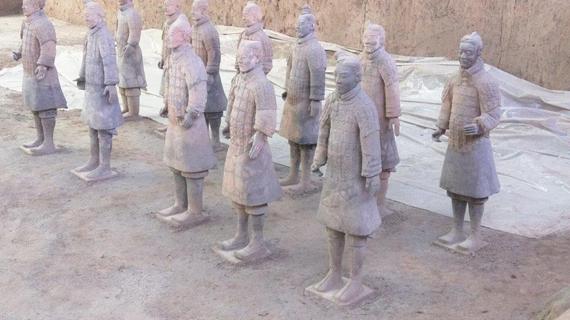 The Terra Cotta Army is the most famous tourist attraction in Xi'an

#1 The 8000 Terra Cotta Warriors

Since their discovery in 1974 thousands of the life-size soldiers in the Terra Cotta Army have been unearthed and the government has constructed handsome stone buildings to house them in situ. Visitors can walk around three "pits" to see the individualized soldiers standing in formation to guard the Emperor Qin Shi Huang in his afterlife. Some sections are left only partly excavated so that visitors can see the magnitude of the job that entails carefully digging out the broken fragments of the fully dressed soldiers. In one area set aside as the 'hospital" the pieces are reassembled and glued together and painted areas are wrapped in plastic to protect them. A sound surround film and auxiliary exhibits add to the visitors' experience.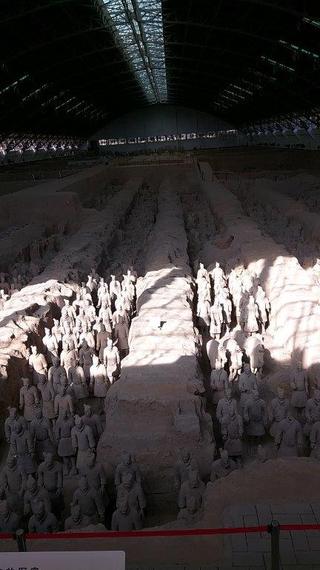 Terra Cotta Army in formation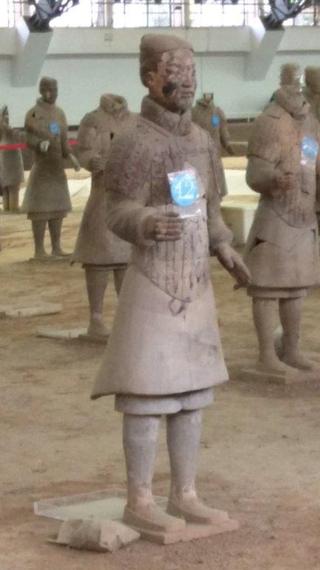 Terra Cotta soldier


#2 Mausoleum of Han Yang Ling

The Terra Cotta Warriors commemorate only one emperor. Scattered around the hills on the highlands northwest of Xi'an there are more than 72 imperial tombs. Preparing for the afterlife, nobles were buried with entourages similar to the Terra Cotta Army but on a smaller scale. Still grand in scope is that of the sixth Ching emperor Han Yang Ling whose 5000 acre mausoleum includes artifacts, tombs of the emperor and empress, burial pits and a human sacrifice gravesite.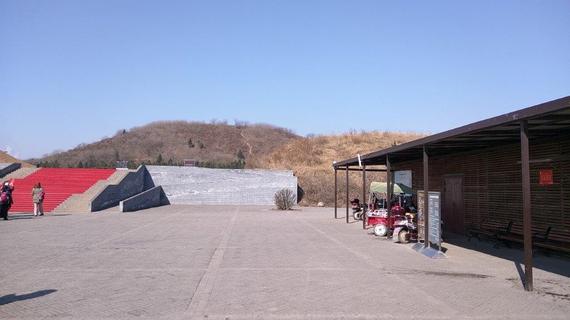 Entrance to the mausoleum mound of Emperor Han Yang Ling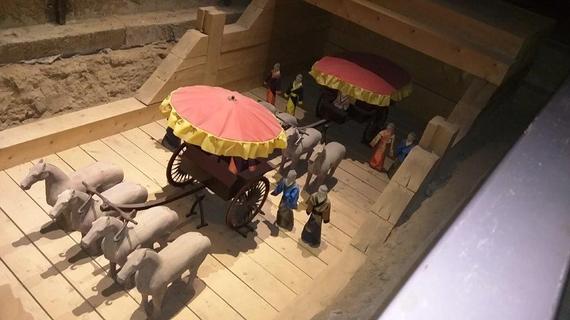 Model of chariot in Han Yang Ling's afterlife entourage


#3 Walk the Wall

Next to the Great Wall, perhaps the most notable mammoth stone fence in China is the Xian City Wall which encloses the old section of Xi'an, now the city center. Almost 40 feet tall, it has been restored with some archways added to allow traffic to pass through and winds almost nine miles around the city with a massive fortress gate facing each direction. Accessed by intermittent stairs, the 40-foot wide top can be walked or cycled and offers views out over the city.

#4 Bell Tower, Drum Tower, Giant Wild Goose Pagoda

Three highlight sites in the city are an historic pagoda and two towers. A favorite of tourists, the seven-story Giant Wild Goose Pagoda is surrounded by fountains and parks. Besides serving as a handy orientation point, the Bell Tower, located on the city's central crossroad, is picturesque and provides an overview of the central business district. A few hundred yards away, the equally quaint Drum Tower marks entrance to the city's bustling Muslim Quarter.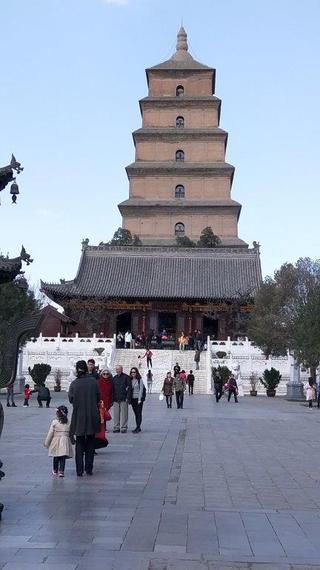 Great Wild Goose Pagoda is a popular tourist site


#5 Muslim Quarter

Descendants of silk road traders who stayed behind, Xi'an's Muslim Hui population is concentrated in a teeming and colorful maze of streets which interrupt the otherwise regular grids of town. A plethora of tradesmen and restaurants hawk souvenirs, sweets, and ethnic meals.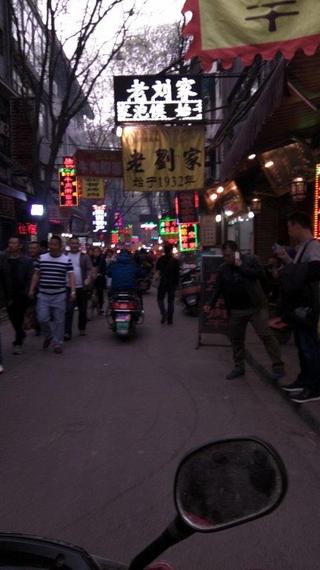 Colorful scene in the Muslim Quarter


#6 Shaanxi History Museum

While no authentic Tang palaces are still standing, the Shaanxi History Museum is based on that historic design. Originally China's most important museum, it has subsequently been superseded by the national museums in Beijing and Shanghai, but is still full of treasures from the first three dynasties. There are Neolithic artifacts more than 7000 years old and one room serves as an introduction to the Terra Cotta Warriors, with some of the actual soldiers on display along with arrowheads, spears, and crossbows.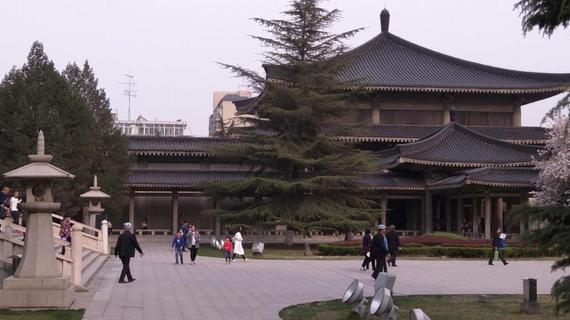 Shaanxi History Museum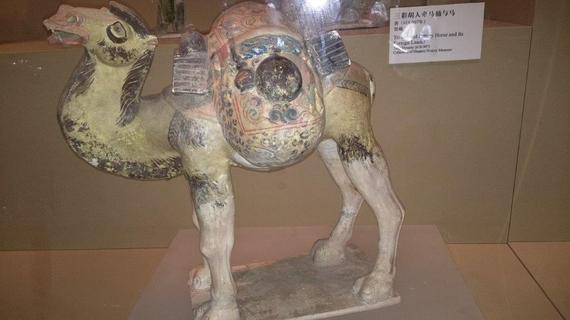 Camel artifact displayed in the Shaanxi History Museum


#7 Beilin Museum

Back before printing presses, writers copying manuscripts couldn't be trusted not to make mistakes. To ensure standardization, in 837 AD Tang Emperor Wenong arranged for the complete works of Confucius to be engraved on 114 stone tables which are preserved and displayed in the "forest of stone stables" Beilin Museum.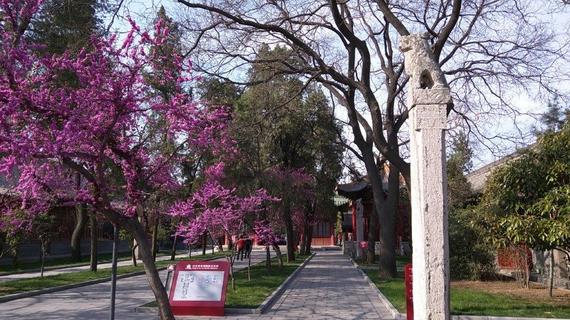 Entrance to the Beilin Museum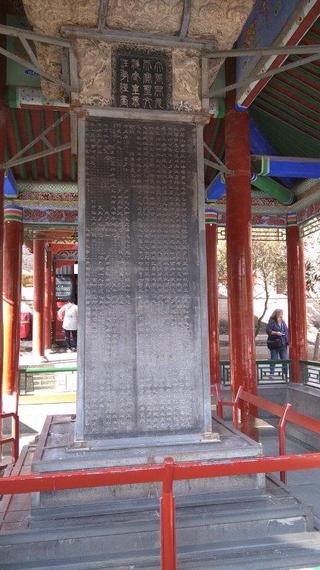 Stone stele


#8 Hua Shan

One of the five sacred Taoist mountains, the five granite peaks of Hua Shan, 70 miles northeast of Xi'an, is popular with pilgrims and locals who clamor up and down its stone steps lined with big chain guard rails. Taoist temples interspersed with souvenir stands and snack shops offer plenty of diversion and there is a cable car for those who chose to avoid the hike.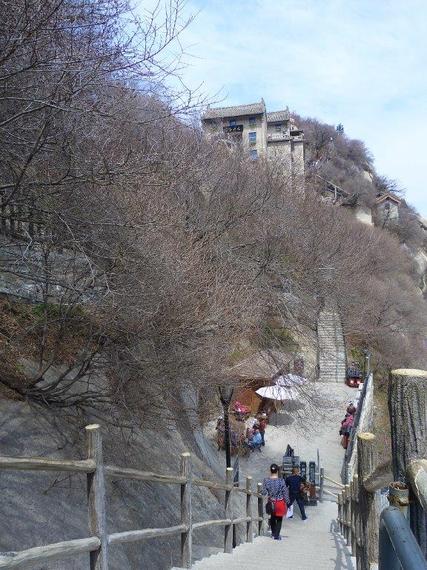 Hiking Hua Shan Mountain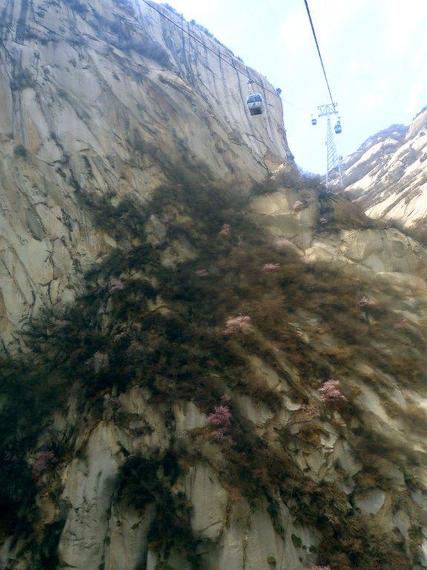 Hua Shan cable car


#9 Yuanjiacun Village

Overseen by an enterprising local official, the ecosystem life experience village of Yuanjiacun has been rebuilt in the style of a typical Quin Dynasty town. Snack and souvenir shops are housed in charming buildings which mimic old-style construction and activities give a sense of life in the old days. A circling donkey powers the flour grinder, bakers concoct peanut candies in open air kitchens, craftswoman embroider bags which are sold in their shops.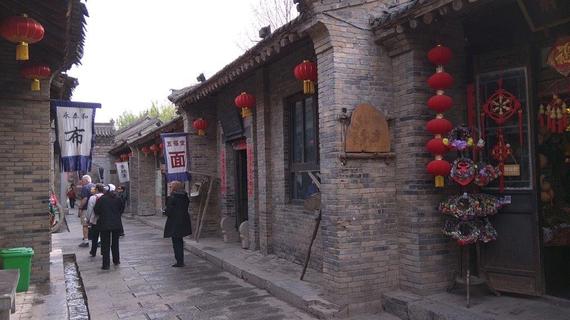 Yuanjiacun recreates an historic village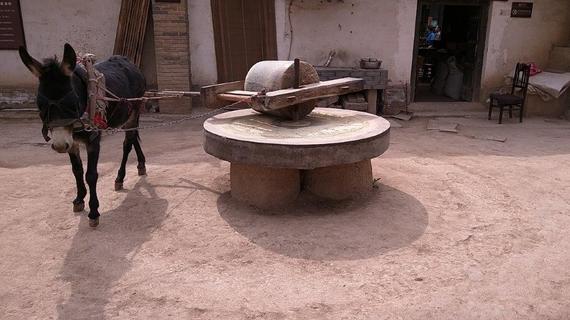 Donkey operates the grinding mill


#10 Dinner theater

Performers in colorful costumes present the Tang Dynasty Music and Dance Show, a performance rooted in ancient tradition. A multi-course Chinese meal is served along with the entertainment.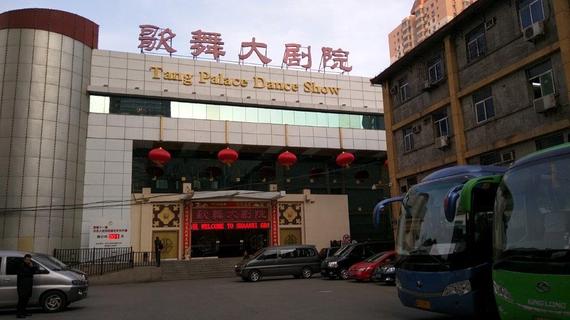 Tang Palace theater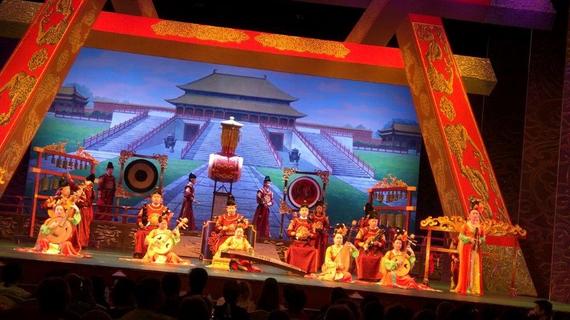 Tang Palace performance on stage


Photos by Sharon King Hoge and Barbara Angelakis