Paris is known for many things - historic monuments like the Eiffel Tower, prized museums like The Louvre, fashion icons like Chanel, and of course, its rich, delicious French cuisine.
Below is a list of the restaurants you must try when visiting Paris, recommended to me by Belinda Leong of 2 Michelin Star restaurant, Manresa. Don't fret, this list is not limited to fancy and expensive restaurants. Some of these favorites include hole-in-the-wall eateries that are easy on the wallet but impressive to the most developed of palates.
1. Le Comptoir Du Relais
If you can only try one place out of this list, then make it Le Comptoir, where you may just experience the best meal of your life. If you go for dinner, you must make reservations in advance and be prepared to have the set menu. However, you can walk in for lunch (12-3PM) and order a la carte. The chef is Yves Camdeborde and the GM is Daniel Boulud's nephew.
Must Try: Pig's feet, sliced pork belly, brandade, cochon de lait, fois gras and haricot vert salad, soups, charcuterie and beef cheek.
Address: 9, Carrefour de l'Odéon
2. L'Avant Comptoir
This is an excellent place for French tapas. It has limited seating and is located next door to Le Comptoir.
Must Try: pig's feet stuffed with oxtail, brandade, charcuterie, ribs, croquettes.
Address: 9, Carrefour de l'Odéon
3. L'Ami Jean
A must-try for dinner but make sure you call ahead to make a reservation. Get the 3 courses for 34 EU. The chef is Stephan Jego.
Address: 27,rue Malar, 75007 Paris, France
4. Bistrot Paul Bert
This is a quaint, classic French brasserie. The menu changes regularly on the blackboard. Get the 34-euro, three-course menu. Chef also came from the Michelin star restaurant, Le Regalade.
Address: 18, rue Paul Bert, 11e, Paris, 75011
5. L'as Du Falafel
This is the most popular falafel spot. You can order at the window, which is just 5eu, or if you eat inside, it is 7eu. This place is CLOSED Friday and Saturday
Must try: Get a falafel with everything in it (2 types of cabbage, hummus, tzatziki, eggplant, spicy sauce, falafel) Also, try the chicken. (this isn't called falafel, just order chicken and they will know. It has everything the same as a falafel, but with chicken instead)
Address: 34 rue des Rosiers
6. Pierre Herme
Known as "The King of French Pastry". Be prepared to wait in line to get your fix of macarons, cakes and croissants.
Must Try: Litchi Raspberry Croissant, Tarte Vanille, Tarte Cafe, 2000 Millefeuille, Isaphan, Croissant and Kouign-Aman
7. Breizh Cafe
Regarded as one of the best creperies. Try the galettes (savoury crêpes made out of buckwheat flour).
Address: 109, rue Vieille du Temple
8. Le Chateaubriand
This popular bistro placed 11th in S.Pellegrino's world's best restaurants list for 2010 for good reason. Expect inventive, good quality food in a simple, unpretentious environment. The bistro offers a fixed five-course menu every night. Make sure you call ahead for a reservation. Phone: +33 1 43 57 45 95
Address: 129 Avenue Parmentier, 75011 Paris, France
9. Laduree
The pioneers of the double decker Macaron since 1862, you will find yourself in macaron heaven upon setting foot in this patisserie. There are shops throughout Paris and you can also get great gifts like caramel black tea and hot chocolate in their iconic pastel green packaging.
Must Try: Caramel macaron is splendid, and they are one of the only shops that use real caramel.
10. Berthillon
MOST popular ice cream shop/tea salon in Paris. Delightfully good. Located near the Notre Dame.
Must Try: There are over 60 flavours to choose from, but two of my favourites included the Caramel au beurre salé (salted butter caramel) and Café Dauphinoix (coffee and chocolate).
Address: 31 Rue St Louis en l'ile
For a full list of restaurant/patisserie recommends, visit the full list here.
Where to Stay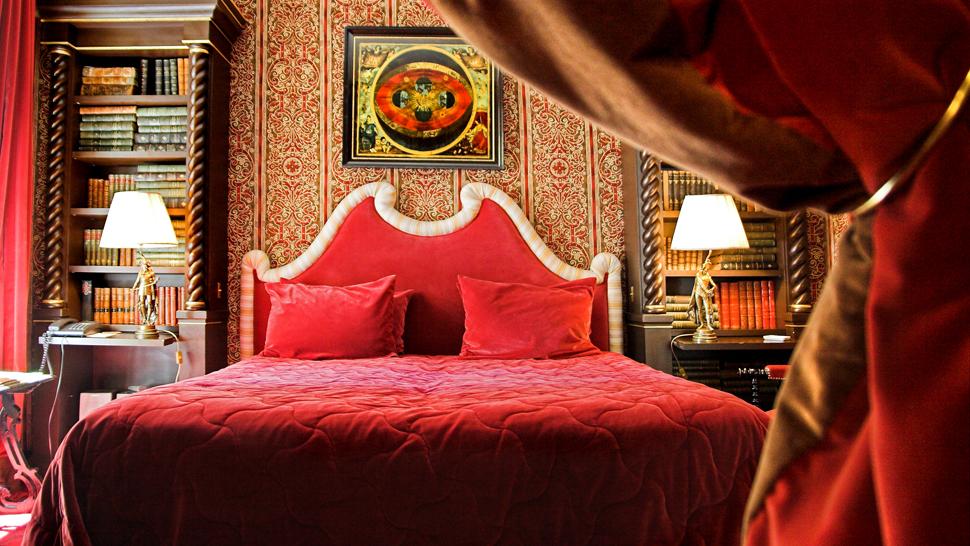 I stayed at two different hotels so that I could explore different neighborhoods. I absolutely loved the charming, old Parisian feel of L'hotel (not to mention it's a block away from Laduree). If boutique isn't your preference, you may like the second hotel, Le Royal Monceau. 149 rooms and designed by Phillippe Stark, this hotel is what I'd call the epitome of Parisian luxury.