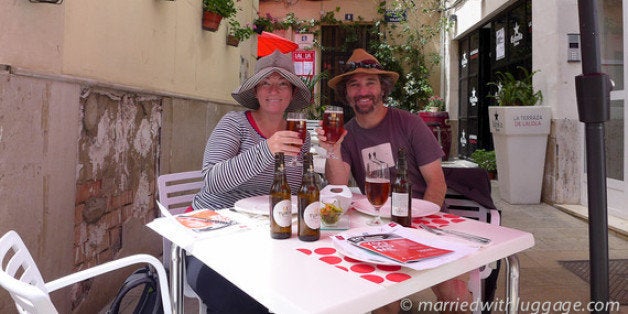 As the third largest city in Spain, Valencia is often overshadowed by Barcelona and Madrid. But if you're on a romantic holiday in Spain, you'll want to head straight to this seaside city to get your fill of culture, food, nature and love.
Thankfully, Valencia did not disappoint, and we left satisfied and yearning for more.
What We Loved About Valencia:
LaLola is a funky eatery in the historic old town of Valencia. The owner Jesus has taken great care with the decor and the food, so you can sit outside in the cobblestone street terrace or inside the modern eatery with rose petals sprinkled on your table. You can order a la carte, or you can take advantage of the excellent lunch (15 Euros) or dinner (25 Euros) "menu" options. We had the lunch menu and especially enjoyed the fresh cream of almonds with try tuna and cantaloupe sorbet and goat cheese in phyllo pastry sachets. Our main entree was the Valentian moist rice of duck confit and wild mushrooms, and we enjoyed all of this outdoors on a sunny day with local Turia beers. Dessert was an oddly delicious beet root and chocolate cake with ice cream. Bonus: They have a gluten-free menu.
Bike ride along the park that used to be a river with Valencia Bikes. You can take a three-hour guided tour with a stop for tapas for just 25 Euros or rent the bike for the day for 15 Euros. The terrain is flat, so just about anyone can enjoy this ride through a beautiful park and historic town center.
Go to the beach, which is just two miles from the city center and easily accessible by the metro. The beach is wide and clean, and you'll enjoy access to several eateries along the boardwalk. It's also a romantic place to watch a sunrise if you happen to stay at one of the hotels on the beach. The wind has a tendency to kick up in the late afternoon, so to avoid turning into a "croqueta" with sand all over your wet body, plan your beach time for before 4 p.m.
Stroll through old town. Every Thursday, you can watch the thousand-year tradition of the Water Court, where a judge queries for irrigation disputes among the farmers in the Plaza de Virgen. You can also sample tapas, shop or wander around the old town gates together.
Visit Alfubera Parc. This large nature park just outside the city boasts a large lake and is surrounded by rice fields (that's where you get your paella!). You can take a tour on a traditional wooden boat and watch the migratory patterns of dozens of birds. It's a lovely way to spend the late morning, and you can follow up with a paella lunch (because Valencians do not eat paella for dinner) at Restaurant Le Mateu. We snuck into the kitchen to watch the cook make six different paellas at one time, and it was impressive. You'll love the food and wine at this nice and reasonably-priced restaurant. Le Mateu is just a short walk from the boat slip at Alfubera Parc.
Visit the Bioparc. This African-themed zoo has compatible animals living together in the same zones. You'll see zebras, rhinos and ostriches all living together, as do the hippos, monkeys and pelicans. Our favorites were the lemurs, which were in an open area close enough for them to frolic at our feet. Go in the late afternoon to visit the Bioparc and you'll avoid large groups of children, which typically keep the animals too far away to enjoy. Watch the animals nuzzle and cuddle and raise their young while you stroll hand-in-hand through the park.
Horchata tasting. This is a drink made from the tiger nut, and it is as sweet as your love. Spike it with some booze, and it can be as intoxicating as your love. You can find horchata all over the city, but one of the historic locations is Horchatería Santa Catalina, which is over 100 years old.
Enjoy dinner at the five-star Westin Valencia, which used to be a old wool factory. This is the hotel where stars like George Clooney stay, and if you have 4,000 Euros a night you can stay in the Suite Real. The courtyard at the center is a romantic place to enjoy a drink or meal with your sweetie.
Tapas for dinner at the historic Casa Montaña, a 178-year-old restaurant within walking distance of the beach. This lively neighborhood restaurant has the warm feel of a night out with friends, even if you don't know a soul there. The manager Alejandro speaks four languages and is always ready with a joke, and the sommelier will not steer you wrong with over 1,000 bottles to choose from.
Taste the traditional Agua de Valencia at Cafe de las Horas. This eclectic bar hosts poetry readings and theme nights. The night we went it was a diva theme, and we saw everything from cabaret-style clothes to a sultry songstress to an impersonator of Eurovision winner Conchita Wurst. Even though you'll probably be the least creatively dressed person there, you won't feel left out. It's all good-natured fun and the most excellent people watching around. The owner Mark is a flamboyant and gregarious man who never let our drinks go dry and always left us "to go kiss some more people." If you want a good vibe to end your time in Valencia, arrive at Cafe de las Horas at midnight and don't leave the party ends. Check their Facebook page to find out the theme of the evening before you go, and dress up if you can.
Valencia is a city built for romance and sensory indulgence. This was our first time there, and you can bet we'll return.
But first, we have nine other European cities to visit on this International Love Affair book tour, and I hope you'll stick around to find out what else we learn about love as we travel this world!
Popular in the Community