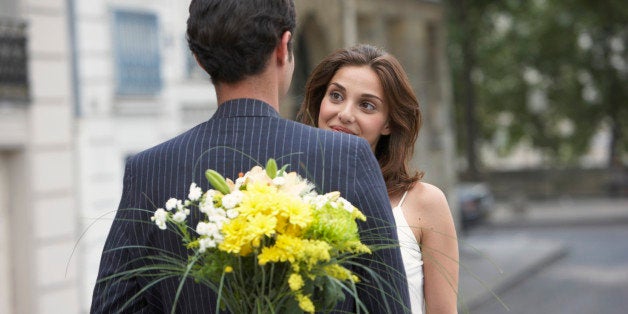 So, I am recently back on the dating market after a long hiatus, this time with the cutest little boy ever (fact). My life is complex and chaotic... but it's all mine now, and I am embracing it fully (well, on Wednesdays and every other weekend anyway... my main squeeze always comes first).
I dropped my married last name on social media. Big move. Definitely saw an uptick in male correspondence (which may or may not be because my new moniker -- my first and middle names have a porn star vibe). While I can't afford to take out any billboards that I am single again, word has managed to spread in suburbia (shocker!). Turns out a happier, ring-free, 40-something is an aphrodisiac to some and inspires others' inner matchmaker.
Who is the "perfect guy"? To me, he's a spunky, funny, handsome, smart, talented, superhero lovin' 4-year-old with a good arm, bold dance moves and a flair for the romantic. Just the other day, my son noticed the ice cubes in his juice glass had holes in them while we were out to dinner. He took a big one out (kid doesn't mess around), slid it on my finger, and said, "Mommy, will you marry me?" Who could possibly compete with my little Casanova? He's the one who melts my heart on a daily basis.
In my mind that never shuts the f*ck up, I consider man detox or remaining single for the next 14 years. I think about dating against my type. I tell myself I will leave my past boyfriends in the past as they come knocking. I ponder saying yes to all fix-ups within reason (sorry random guy at Starbucks who thinks I am perfect for his nephew). On optimistic days, I believe I should simply let my life unfold. On tougher days, I click my heels three times with the hope I will become a lesbian (no such luck).
What do I want at this stage of my life? I am trying to figure that out... and I am not in a hurry. But I can share some rules for dating single or divorced women. I have a handle on them already.

1. I spend most of my time double-checking if my kid wiped his butt, bribing him to brush his teeth and trying to keep him presentable long enough to leave the house. I work, take out the garbage, make dinner and do the dishes. I clean up never-ending emotional and physical toddler cyclones. I elevate reasoning with the unreasonable to an art form. Cliff's Notes version: I am really busy. My free-time is limited, well-earned and precious. Treat it as such.
2. I worry constantly about how my son is coping with divorce. Hell, I even wonder whether I should be concerned that his favorite character on "Scooby Doo" is Shaggy (he's obviously a stoner with a perpetual case of the munchies). I mean, I am one of those moms who gets my son's foot measured on the regular to make sure he doesn't need the next size up. Be patient. Moms anticipate issues. Some of us are a tad bit anxious. All of us are moms first.
3. If you want to play games, please batter up elsewhere. There are women who may actually wonder and worry about your texting frequency. They may analyze an instant replay of your date, fret when you haven't called for a couple of days or call an emergency session with their girlfriends about your perplexing behavior over cocktails. Cute, right? If you're into that, move along. Stat. Single and divorced moms don't have time for that sh*t.
On a related note, if you want to ask us out, ask. Chances are, we will welcome wine (affectionately known as mommy juice), food we don't have to prepare, and adult conversation. You have to be more interesting than watching the same episode of Power Rangers Super Megaforce over and over, right?
4. If you're just looking to score, be honest. See rule #1. Not all single or divorced moms are looking for love. We didn't have kids through immaculate conception. You know what I mean? [Insert wink here].
5. A surprise in our lives often revolves around a call from the principal, an accident in big boy underwear, or a trip to the Emergency Room. Surprise us -- in a good way. You can do it. It doesn't take much. Bonus points for being creative.
6. Being a single or divorced mom is exhausting. It can be a thankless job with impossibly long hours. Spoil us. Make us dinner once in a while. Be kind. Give us a reason to get dressed up (we have to fight for our right to shower on most days). Make us laugh. Give massages willingly. Listen. Be spontaneous. Tell us we look beautiful even if we have stray Cheerios in our hair -- and mean it. We spend our lives taking care of others; take care of us if we give you the opportunity.

7. We're not going to settle for crumbs. We sweep crumbs, yes, but not yours. You see, we can do it all on our own. We're doing it every single day of our lives. We don't need men who offer crumbs. Aim higher than the floor. Much higher. We're worth it.
8. Don't be offended if we never want to introduce you to our kid(s). Personally, the only way a man I date will even breathe the same air as my child is if he survives the firing squad of loved ones looking out for us this time around. I would have to be completely smitten with a belly full of butterflies to even consider a meeting. "I'm looking for love. Real love. Ridiculous, inconvenient, consuming, can't-live-without-each-other love." (Yeah, that was Carrie Bradshaw, single girl extraordinaire. And, yes, it best articulates the way I feel at this juncture in my life. I can pass up anything else.)
9. When you date a single or divorced mom, we're a package deal. It's buy one and get one (or two... or four, you get the idea) free. Our children are an extension of us. They're the new and improved versions of us. Our love for them is innate, overwhelming, incomparable, unconditional. If you're considering the possibility of loving us, your heart needs to be big enough for them.
10. Little boys need not apply. Men only.
Do you agree with #4? Do you have more rules to add to the list?
Support HuffPost
A No-B.S. Guide To Life
Related
Popular in the Community