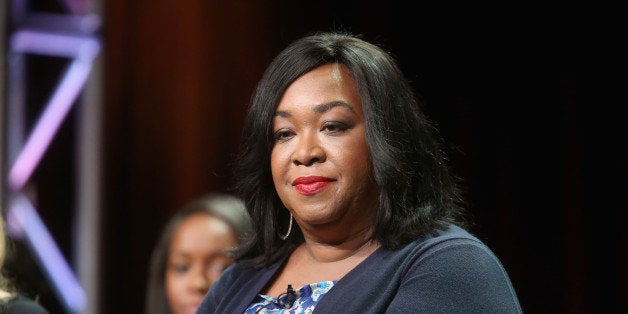 Co-authored with Scott Richardson, Ph.D., Millersville University, author of eleMENtary School
Sadly, the mainstream media's addiction to sexism has yet again provided us with a long list of competitive material for our annual top 10 sexist media moments. The media are sexist in a variety of ways, but most apparent is the manner in which news is reported and that they just can't seem to control themselves at inventing stories that, well, aren't really news -- think: the endless reporting that happens about celebrity looks and gossip. Sure, we should share the blame. Most of us have at one time have thumbed through People's "Sexiest Man Alive" edition, perused photos of celebrities who "destroyed themselves with plastic surgery," or wondered if Jennifer Aniston really ever recovered from the heartbreak of Brad Pitt. But is there nothing better to use the media landscape for? Can they not choose a higher ground?
Thankfully, 2014 has brought a ground swell of work aimed at confronting societal sexism and has used the media to make their point. Take for example: FCKH8's "Potty-Mouthed Princesses," Always's "Like a Girl," Columbia University student Emma Sulkowicz's senior thesis, the work of artists Hannah Brancato and Rebecca Nagle of FORCE: Upsetting Rape Culture, and smaller organizations -- like hu-MAN Up -- that are popping up all over the country. Independent writers, bloggers, organizations, artists, companies and activists are all getting in the game. This is not to say that some of their attempts might be problematic -- even to the point of helping to reify sexism -- but at least they are trying to provoke important conversations. Will the mainstream media listen? Will they join?
In 2013 our annual list included a story about a female celeb's face, an attack on Black masculinity, the delegitimizing of female politicians, and a Rolling Stone bomb. Remarkably, our 2014 list includes much of the same! From innumerable possibilities, here's our pick for the top 10 sexist media moments of 2014:
1. Shonda Rhimes: AKA "angry Black woman" according to a lame critic reporting for The New York Times. Why are people of that caliber publishing in major newspapers? We're glad Shonda called out the stereotype and the larger issue of always being referred to on the basis of her race and gender, but we're bummed she had to.
2. Renee Zellweger: After attending Elle's 21st Annual Women in Hollywood Awards, Renee Zellweger's face was major news -- you know, because she has aged just like all other human beings.
3. Don Lemon and the Bill Cosby Coverage: In an interview with Joan Tarshis, who accused Bill Cosby of rape, Lemon advised, "You -- you know, there are ways not to perform oral sex if you didn't want to do it." Lemon contributes to the deeply disturbing narrative supported by our nation's rape culture that victims are partially, if not mostly, to blame for the violence they endured. Of course this is just one example. The media has a larger role here. For a hot minute, the media finally paid attention to the allegations of numerous women that Bill Cosby has drugged and raped them. But these allegations have existed for years. It was only after a man, and comedian, Hannibal Buress, called Bill Cosby a rapist, and a social media campaign that the media seemed to take notice. Why did it take so long?
4. Jennifer Lawrence: This past fall, Jennifer Lawrence's iCloud was hacked, and private photos were distributed on the Internet. When this news broke, the media reported with headlines like, "Jennifer Lawrence's Nude Photos Leaked," not "Jennifer Lawrence is Victim of Cyber Crime" -- these are two fundamentally different narratives. This story was shamefully reported as a sex scandal, not a sex crime.
5. #CancelColbert: As a follow-up to a skit that exposed the absurdity of Dan Snyder's Washington Redskins Original Americans Foundation, The Colbert Report tweeted, "I am willing to show the Asian community I care by introducing the Ching-Chong, Ding-Dong Foundation for Sensitivity to Orientals or Whatever." Suey Park, a writer, comedian, online feminist activist, and fan of The Colbert Report used this as an opportunity to provoke white liberals, who undeniably make up a large portion of his viewership, into a conversation about privilege, the limits of satire, and liberal racism by calling to #CancelColbert. Park's hashtag campaign, just like the majority of what Colbert says on his show, was never intended to be taken literally. The press and Colbert, however, missed the point.
6. The Late Show Host: While we're talking about Stephen Colbert, we're sad to report that the late night television White, male power structure remains intact. Seriously, uh, anyone else think it's time to see a woman in late night? We know, there are no qualified candidates, right? Hmm... Tina Fey, Amy Poehler, Wanda Sykes, Ellen Degeneres, Maya Rudolph, Margaret Cho, Melissa Mccarthy...
7. "Boobs on the Ground": The Five on Fox News featured a story about the first ever woman, Major Mariam Al Mansouri, to serve as a fighter pilot for the United Arab Emirates. The major heroically led strikes against the terrorist organization ISIS, but Greg Gutfeld joked, "The problem is, after she bombed it, she couldn't park it," and co-host Eric Bolling chimed in, "Would that be considered boobs on the ground, or no?" What deplorable cowards making such a commentary for those who bravely serve to protect freedom in this world.
8. Hillary Clinton: Powerful women have long served as fodder for sexist journalists and lazy comedians, but we're pretty sick of it. Yes, Hillary Clinton wears pantsuits. It's an appropriate, professional way to dress for many people, regardless of gender. Stop reporting on this crap like it's news.
9. Rolling Stone's coverage of rape at UVA: Fact-check! Rape victims don't deserve lazy reporting.
10. Black Masculinity: America continues to villainize Black masculinity. In January, the media fueled angst toward Richard Sherman, the Seattle Seahawk's standout cornerback, who was unnecessarily labeled a "thug" because he played well and gave an impassioned interview after Super Bowl XLVIII. As the year progressed we witnessed the media's coverage of Ferguson, which depoliticized the "riots" as the acts of "thugs" and normalized the idea of Michael Brown a "hulk-like" figure. Things only worsened with the minimal and depoliticized coverage of the historic world-wide protests in response to the non-indictment in the choke-hold death of Eric Garner. #WeCan'tBreathe
PHOTO GALLERY
The Best Moments For Women In 2014
REAL LIFE. REAL NEWS. REAL VOICES.
Help us tell more of the stories that matter from voices that too often remain unheard.