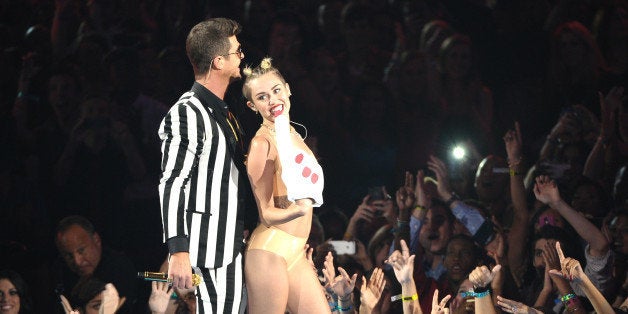 Co-authored with Scott Richardson, Ph.D., Millersville University, author of eleMENtary School
In 2012, the media shamefully spun stories that sexualized women athletes (the U.S. Women's Gymnastics Team), called women voters too emotional and mindless, tried some good old-fashioned "slut shaming" (Rush Limbaugh on Sandra Fluke) and kept insinuating Jennifer Anniston had a "baby bump." We are sad to report that little has changed.
Whether it was the continued assault on women's bodies in tabloid culture, such as Kim Kardashian's pregnancy and post-pregnancy body, or magazines trying to scrutinize the size of Angelina Jolie's breasts implants post double mastectomy (seriously), media culture continued to focus on women as body parts. And as you'll see in our pick for the media's worst moments, "slut-shaming" and degrading women in politics continue on. We felt 2013 was also a year filled with coverage that shared both overt sexist and racist overtones, well beyond the endless assaults on President Obama. For instance, consider the media's treatment of Rachel Jeantel, witness in the Trayvon Martin case.
In fairness, we want to point out that there have been signs of hope. For example, we were pleased that the media devoted significant airtime to the Supreme Court's ruling on DOMA. But we have a long way to go. From endless possibilities, we've whittled it down and here is our list of the top 10 sexist-media moments of 2013:
1. Steubenville: The media's coverage of the Steubenville rape case was just about as appalling as the horrifying crime. The media's focus on the rapists as victims, grieving the loss of the "promising" high school football players to juvenile detention, was outrageous and contributed to the same rape culture in which this egregious gang rape occurred.
2. Robin Thicke and Miley Cyrus: Robin Thicke's "Blurred Lines," despite receiving critiques by academics, feminists, and listeners worldwide that it was "rapey," enjoyed massive mainstream media support. For example, Matt Lauer of The Today Show featured it as one of the hottest songs of the summer of 2013 and exclaimed, "It's just fun!" Later, when Miley Cyrus and Robin Thicke performed a medley of their songs together at MTV's Video Music Awards, the media crucified Cyrus for her performance. Admittedly, her act was bizarre. That poor foam finger! And she received well-deserved criticism for manhandling black women's bodies and using them as props, but Thicke went virtually unscathed. His act was equally sexualized. He dressed like a pimp and paraded around on stage as though he "owned" Cyrus and the other female performers. Let's not forget the main drama was surrounding his song, not hers. This was a flashback to how the famous "wardrobe malfunction" of Super Bowl XXXVIII (2004) was handled. Janet Jackson was hung out to dry while Justin Timberlake skated away. The media continue to normalize male sexuality, no matter if it is at the subjugation of women and people of color, while female sexuality continues to be taboo.
3. Ashley Judd: When the actress, activist and Harvard grad was exploring a senatorial run in Kentucky the political attacks directed at her were as sexist as they come. Claims that she seemed "obsessed with rape" (simply because she was courageous enough to come out as a survivor) were pretty low.
4. Women in politics: While the coverage of women in politics always leaves much to be desired, this year it seems especially lame. There was no one in the country who wasn't negatively impacted by the government shutdown. Seriously, don't we think these folks should have been fired? But when women played a central role in getting the government back to work, where was the media to give the much deserved credit?
5. George Zimmerman: White male aggression and black male victimization was utterly confused by the media, particularly in the post-trial reporting over the killing of Trayvon Martin. Additionally, despite the fact that this was one of the most high-profile trials of the past decade, the media has devoted such little effort in following new Zimmerman run-ins with the law. Most recently, women were the subject of his aggression (his estranged wife and a new girlfriend). It seems white masculinity continues to have a "pass" in the media.
6. Marissa Alexander: There was some coverage about Marissa Alexander's case, but not enough. In 2012, Alexander, an African-American woman and resident of Florida (same as George Zimmerman), was sentenced to twenty years in jail after firing a warning shot in the air and harming no one, in an attempt to fend off her allegedly abusive husband during a dispute. The judge threw out Alexander's defense that claimed she was protecting herself under the "stand your ground" law -- the very same law that helped to acquit Zimmerman. The media could have had a field day with this. It was a simple comparison. White male shot and killed black teen versus African-American female shot the ceiling. Throughout 2013, the NAACP and Alexander's supports have worked for a retrial, and have been successful but only because it was found that the judge did not properly inform the jury. Uh media, hello, anyone awake out there?
7. Seth MacFarlane and the Oscars: The "I saw your boobs" song was an all-time award show low. It was worse than 12-year-old humor. At least kids may have stopped at degrading actresses in sex scenes but MacFarlane also went after actresses portraying real-life rape victims. Classy.
8. Kennebunk Prostitution Case: When a "client list" with potentially well-known men was about to be released in the Zumba prostitution case, the national media descended upon Kennebunk, Maine (the town next to the famous Bush estate in Kennebunkport). What had been a local story was national news, with coverage across television and print and even making the cover of Vanity Fair magazine. The media relentlessly reported on the 150+ men's families as victims and the need to protect them, but the sex worker was also wife and mother, and no one was concerned about her family. Even Dr. Drew espoused concern for the men's families while failing to show any concern for Alex Wright's young son. Given the sheer volume of coverage of this situation, it's remarkable how the media failed to report on the unreal discrepancy between Mark Strong's sentence (the pimp who got 20 days) and Alex Wright's sentence (10 months of which she served six). Hmmm, how was this fair?
9. Rolling Stone: Yeah, we get the justification the mag put forth when they decided to put the surviving Boston bomber suspect on their cover, but we're not convinced. They gave a mass murderer who terrorized a major U.S. city rock star status. In response to the public outrage, media showed other examples of the mag "pushing the envelope" with cover images, as if it's all the same. Those examples were all sexualized women, such as a teenage Britney Spears lying in bed, wearing lingerie and holding stuffed animals. Is this really the same? Is the sexualization of females the other side of the coin of violent masculinity?
10. The Onion and Quvenzhané Wallis: We all like a good laugh, but the Onion failed at humor when they tweeted, "Everyone else seems afraid to say it, but that Quvenzhané Wallis is kind of a c**t, right? #Oscars2013." Calling a 9-year-old African-American girl a c**t, or maybe anyone ever, is not OK.
REAL LIFE. REAL NEWS. REAL VOICES.
Help us tell more of the stories that matter from voices that too often remain unheard.