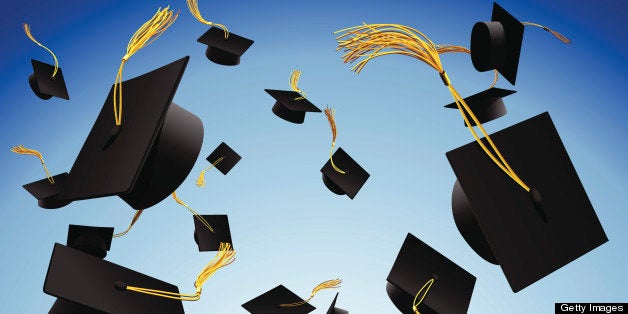 Graduation season makes me grin from the inside out. Every year at this time, we are reminded anew that every day, we get the chance to accomplish something great, take a step in a new direction and celebrate ourselves and those around us. To me, it is so much more than just getting a degree; it represents much of what we do to live a life worth living. So, as I have the privilege of attending four graduations this year -- my godson's, brother's and sister's who are all headed off to college, and my baby girl's, who just completed Kindergarten -- I thought I would share some of the reasons I am walking around with a tremendous grin on my face. I hope the grin and the season infect you as well. So here is what I love:
10. The cementing of a body of knowledge and achievement. You know what they say about education: nobody can take that away from you.
9. The shrill of classmates and friends cheering one another on, forgetting all of the he-said she-said drama, broken hearts and hurt feelings of the past. On graduation day, the nonsense tends to fade away. All that remains is an enjoined lived experience... you may know it as class spirit.
8. Teenage girls, teetering on their high heels, teetering into adulthood.
7. Mylar graduation balloons and gushy cards. The Last Lecture and Oh, The Places You'll Go, graduation parties and the jubilance that comes with them.
6. The pride, joy, relief and hope in each of the tears shed by moms, dads, grandparents, aunts, uncles, godparents, spouses, siblings and the village alike.
5. The celebration of what it took to get there: grit, endurance, collaboration, support, goals, strategies, faith and most of all, a commitment to one's own tomorrow.
4. The acknowledgement of both the community that carries us there and the shoulders on which we stand, for none of us are really self-made. We each get a little help along the way.
3. Witnessing aspiration and inspiration in the young'uns' eyes.

2. Children and adults, in that moment, learning the lifelong skills of transition, starting anew and embracing the adventure of what's next to come.