As I write this post from my favorite coffee shop in New York City, a.k.a. the frozen tundra, I'm bundled up in two pairs of socks and a wool sweater, my hands heated by an extra hot latte. Today, it's 15 degrees in New York City, and 85 degrees in the U.S. Virgin islands. So for a moment, I'll leave chilly NYC behind, and get lost in the sunny memories of my first visit to the Virgin Islands.
As winter getaways go, a trip to the U.S. Virgin Islands in the Caribbean is affordable and easy, with cheap flights departing daily to St. Thomas. I caught a direct flight out of Newark airport and seven hours later, I was here.
I recommend hopping around to all three of the islands: St. Croix, St. John and St. Thomas. In St. John, the smallest of the three islands, you'll discover natural beauty and secret beaches by day, and fun restaurants and nightlife by night. In St. Croix, the largest of the three islands, you can explore the island by horseback, shop for hand-crafted jewelry or spend a day touring the Cruzan Rum distillery. And in St. Thomas, you can attempt jetpacking and even snorkel with sea turtles. Adding to the convenience of this escape, a passport is not required for U.S. Citizens traveling to the U.S.V.I.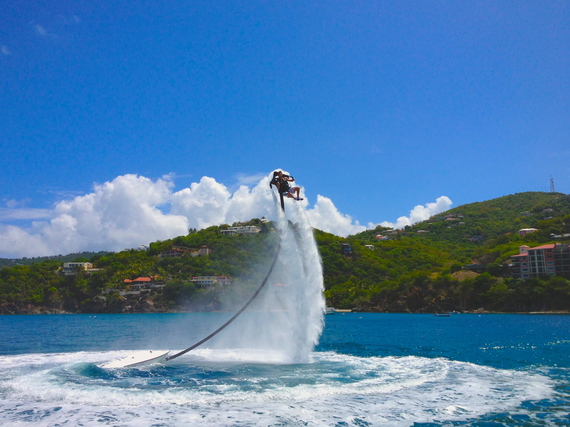 If I had to narrow down my Virgin Islands experiences to the ten best, it would be these:
1. Snorkeling with Sea turtles in St. Thomas
Just off the coast of St. Thomas you can snorkel with dozens of Hawksbill and Green sea turtles at a place aptly named, Turtle Cove. You have to be quick, though, as they only surface for a few breaths before heading back down to the bottom to feast on sea grass.
2. Jetpacking with St. Thomas Jetriders
The only place to go jetpacking in the U.S. Virgin islands is in St. Thomas, at St. Thomas Jetriders. Strap a marine engine onto your back and let 420 pounds of water-propelled thrust turn you into an aeriel acrobat.
3. Beach-Hopping in St. John
On St. John, one beach is more beautiful than the next. All of the beaches are free and public, making a day of beach-hopping easy and cheap. I especially loved Jumbie Bay Beach, Hawksnest and Francis Bay Beach.

4. Tasting St. Croix's Food Trucks
St. Croix is a melting pot of Caribbean cultures and it's home to diverse food trucks with distinctly different flavors. The trucks are usually just off the main road and serve up everything from West Indian rotis, to vegetarian platters, to friend beef patties. Watch out for the powerful Baron hot sauce!
5. Shopping for Jewelry in Christiansted, St. Croix
Sonya's famous St. Croix hook bracelet makes the perfect memento to take home to your friends and family, but it's not the only hand-crafted jewelry on the island. You will be delighted at the unique designs you'll find while shopping in Christiansted, including IB Designs and Crucian Gold.

6. Paddleboarding and Nature Hiking at Magens Bay in St. Thomas
Magen's Bay in St. Thomas is one of the most laid-back spots on the island, it's also a popular stand-up paddleboard spot. Just steps from the beach is a fantastic nature walk, not to be missed.
7. Partying, Island Style
When the sun goes down in the U.S. Virgin islands, there's only one thing on everyone's mind: happy hour. The party starts in St. Thomas at Iggie's Beach Bar, then heads to Duffy's Love Shack, then over to St. John, where Woody's and Fatty Crab are always hopping.
8. Touring St. Croix's Cruzan Rum Distillery
The first thing you'll notice when you get to the Virgin Islands is their spectacular beauty. The second thing? Cruzan Rum. It's everywhere! To get schooled on the art of rum production, the Cruzan Rum distillery is the place. The tour takes you through all stages of the process, from the sugar cane plant to your glass.
9. Horseback riding at Paul & Jill's in St. Croix
Get acquainted with your horse and set off on an adventure through the jungles and beaches of St. Croix with Paul & Jill's Equestrian Stables. Jill's animated tales will keep you informed and smiling throughout the day, and her horses each have a personality of their own. My horse, Butterball, stopped for snacks at nearly every turn.
10. Volunteering on an Organic Farm in St. John
Giving back while you travel is easier than one might think. I spent a day helping Josephine and Hugo at their farm, Coral Bay Organic Garden. They are passionate about organics and generous with the fruits of their labor. Fresh coconut water all around!
To escape the winter doldrums and plan your next Caribbean vacation, visit www.travelocity.com. For more travel videos, subscribe to Travelocity's web series, Let's Roam.