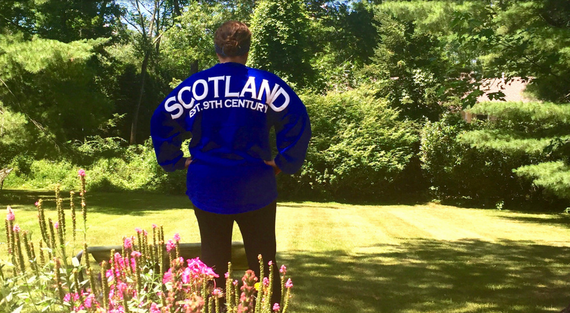 By College Tourist; Author: Niki Kirschner, University of Delaware
Between the famous tourist attractions such as the Edinburgh Castle and the Loch Ness Monster, the refreshingly clear air, and picturesque landscape, Scotland should be atop your list of locations to visit this year.
While studying abroad in London during autumn, it was a no brainer to head up north for a weekend and explore what Scotland had to offer. Scotland is one of the most beautifully historic destinations to visit year round in the United Kingdom. Spending three days traversing through the northern most country within the UK became magical experience that I wish lasted longer. Below are 10 tips to help you capture the spirit that encompasses Scotland.
1. The most magical spot to capture a sunset in Scotland: The Edinburgh Castle is a gorgeous location to watch the sun set in Scotland because you are at one of the highest points in the city. Overlooking the castle walls is one of the most unique spots to get an unobstructed view of the sun setting over the horizon.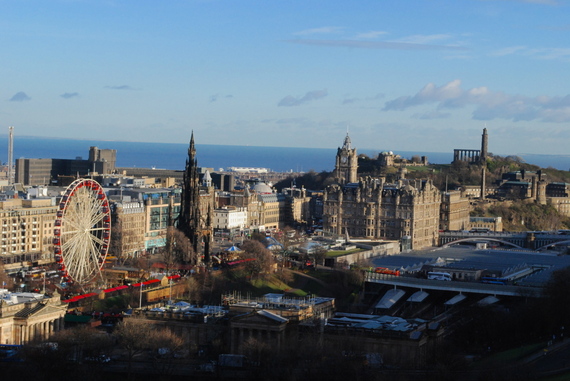 2. The most interesting local custom that sets Scotland apart: As John Mayer once sang: "Whiskey, Whiskey, Whiskey." The Scots love their liquor, but none more than whiskey. It is after all the National Drink so you can only image the traditions that accompany this hard liquor.
3. The most delicious local food that makes you never want to leave: Haggis was something I never ever wanted to try, and now it's something I've been craving for years! Much like whiskey, the Scottish traditions surrounding Haggis are incredible, but once you taste the delectable dish you'll be hooked. Not sure what haggis is? It's a Scottish dish consisting of a sheep's or calf's offal mixed with suet, oatmeal, and seasoning and boiled in a bag, traditionally one made from the animal's stomach. That doesn't sound so appetizing to some but try it! It's delicious!
4. The most amazing birds eye view: It's a bit of a hike (no pun intended) to get to the top of King Arthur's Seat, but once you do you'll appreciate everything Edinburgh (and Scotland) has to offer. And the hike to the top shows what Scotland is all about: rugged terrain, rolling hills, luscious green grass, and views that are impeccable.
5. The most entertaining tour you will go to in Scotland: Between bus tours, walking tours and, yes, whiskey tours, Scotland has its variety to choose from. With that being said, going on a haunted walking tour of Edinburgh (preferably the Cadies and Witchery Tour) is an unforgettable experience that, while making you laugh uncontrollably until you cry, gives you a historical tour of what Edinburgh was like decades before.
6. The awesome tourist attraction you will find in Scotland: Traveling to Scotland during the winter months was a great idea because Winter Wonderland was set up in Edinburgh, and there's really no better place to spend your entire evening. While some people may not want to travel that far north during December, let me reassure you, the weather is not that bad.
While it is chilly, Scotland is surrounded by water so the temperature doesn't get too frigid. When packing, layers are your best option, and ordering an original Spirit Jersey is a great addition to your suitcase! The Jersey's are perfect for keeping you warm during your late evening ride on the ferris wheel at the Winter Wonderland festival in Edinburgh. You can get your own Spirit Jersey at spiritjersey.com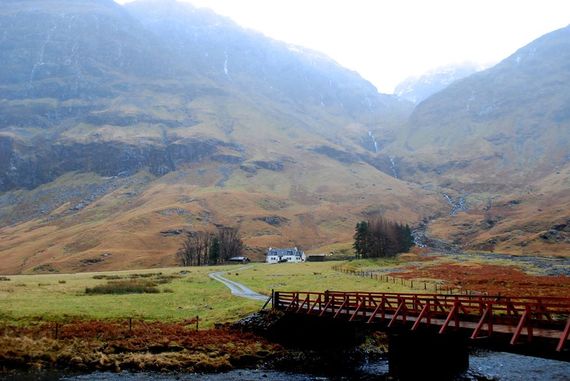 7. The best day trip in Scotland: What is the first thing you think of when I say Scotland? Correct, the Loch Ness Monster! Taking a bus tour to Loch Ness is a fantastic way to take in the scenery of a lot of the countryside in Scotland. We stopped all over the place and took a different way home so we could see even more of this beautiful country. The boat on Loch Ness will cost you around 10-15 pounds but it's so worth it because the Loch is extraordinary. Fun fact: did you know Loch means lake in Gaelic?
8. The most breathtaking historical place you will find in Scotland: Once you're at Loch Ness, which is huge by the way (over 21 miles!), ask to visit the Urquhart Castle. It sits on the banks of the Loch and is one of the largest in all of Scotland.
9. The most happening place in Scotland: The Royal Mile is definitely the happening place in Scotland! There are buzzing pubs, spectacular stores to go shopping in, and everything is situated on one long street right in the center of Edinburgh.
10. The most quirky markets you will find in Scotland: Aberdeen is another gorgeous part of Scotland, and one of the best markets is situated right in the heart of the city. The Aberdeen Country Fair happens on the first and last Saturday of every month, and it's been said to have over 30,000 people visit each time! Definitely go check it out!
Want your own authentic Spirit Jersey to bring on exchange? Custom orders are available on spiritjersey.com
Support HuffPost
A No-B.S. Guide To Life
Related
Popular in the Community