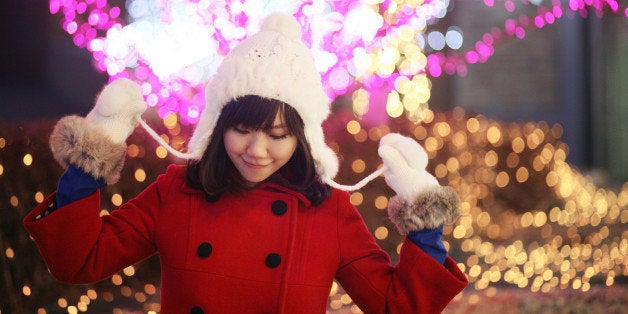 Holidays are touted as a time for family. Commercials, made-for-television movies and the images we see throughout popular culture and our own communities all reinforce that happy holidays are spent around a large dining room table with extended family, or snuggling up by the fire with your special someone. But what if for any number of reasons -- geography, the high cost of holiday travels, rifts -- you aren't with relatives? And what if you don't have a partner or you're not able to spend the holidays with him or her? Are you doomed to misery? Hogwash! There are lots of ways to enjoy the holidays on your own or with friends. Here are my top 10 tips.
1. Host a party for strays: Chances are, you're not the only person in your network on your own. Find out what your co-workers, classmates, friends and neighbors are doing. If there are others who are on their own, host a get-together. You can do this the day of any major holiday, or do a pre or post-holiday event and invite more people. My bestie hosts an annual low-key turkey-chili party (could sub tofu-chili) and another friend has a "friendsgiving" leading up to a more traditional family-centered Thanksgiving.
2. Volunteer: This is always a stellar way to use your time. Soup kitchens are especially busy at the holidays and this is a great way to receive for yourself in the act of giving to others.
3. Take a vacation: If you can afford it, go on a vacation. Good choices might include a beach vacation or spa where you can relax on your own, an activity-based trip such as rock climbing, or a singles cruise if you're looking to mingle. If you can afford a vacation that doesn't involve air travel, check-out bed and breakfast options within two hours from you. This is a great way to have a homey feeling over the holidays with just the right amount of pampering.
4. Learn or try something new: No doubt, there's something you always wanted to learn how to do but you just haven't had the time, like writing, painting, jewelry-making, learning how to do home repairs, yoga, website building, and so on. Perhaps you secretly dream about writing the great American novel or a screenplay or an episode of your favorite television show. It doesn't matter what comes of it, use this time as a chance to dabble in something new.
5. Make care packages for loved ones: If you're missing your loved ones, take some time and get creative. There are lots of simple, inexpensive DIY care packages you can put together. Sending care packages will take up some of your time in a positive way, puts the emphasis on the love that is in your life (even if you're not physically with your loved ones) and shows the people in your life how much you care. Homemade cookies, potpourri sachets and holiday ornaments are all inexpensive and relatively easy to make. Search the Internet for more ideas or just got for a handmade card.
6. Movie marathon: Always a fun use of some time off. Pick a genre or director you're interested in and see as much as you can. This also gives you something interesting to talk about when you return to work.
7. Early spring cleaning: We often feel better when our space is clean and organized. If you have extra time over the holidays this is a great way to use it, improve your environment and foster a sense of accomplishment.
8. Learn to cook or bake (or push yourself to learn more): Cooking can be fun, cathartic and a productive way to use up extra time. Check out cooking shows on television or look online for new recipes. If you're worried about cooking for one, don't be. This is a great way to treat yourself with yummy holiday food and prep a freezer full of portion-controlled meals for after the holidays.
9. Call your loved ones: Whoever the people are you wish you could be with, whether they are relatives, a long-distance partner or your close friends, skip the impersonal emailing and texting and go the old-fashioned route. Pick up the phone, dial 1, and call the people who matter most. This is a way to stay connected and let love into your life even when separated by distances.
10. Work: If you're really dreading spending the holidays on your own, volunteer to work over the holidays. You can fill your time, earn some money and relieve a co-worker who may want to celebrate the holidays. If it's not possible to work at your job over the holidays, there are things you can do from home. Remember extra credit in school? Well, what kind of extra credit can you do for your job? Perhaps you can come up with a new idea to share with your co-workers after the holidays? If your work doesn't lend itself to "home-work" then you can always catch up on emails or even household bills.
Patricia Leavy's latest book, American Circumstance, is widely available and makes for great holiday reading (with strong themes about the codes of friendship and the things we do and do not say to each other). Her book Low-Fat Love (about settling in relationships) is also widely available.
Related